MLB
Halos Have High Hopes
The Los Angeles Angels of Anaheim came off of a 98-win season last year, but were forced out of the playoffs, after being swept by the Kansas City Royals. But with the potential new face of baseball on their squad, the Angels have a lot of upside heading into the 2015 season.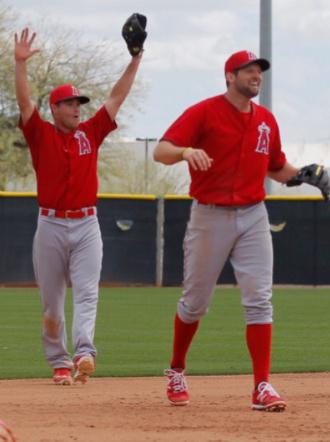 Mike Trout is the new Derek Jeter as far as the MLB is concerned. He comes to work every day ready to prepare, always smiling, and always willing to sign autographs. Trout's career so far has led to comparisons with all-time greats Mickey Mantle and Hank Aaron when they were as new to the MLB as Trout is.
The Angel's little angel is, however, coming off the "worst" season of his four-year MLB career, which was still an MVP award-wining season. Trout suffered from a decrease in batting average, stolen bases, and he struck out nearly fifty times more than the previous season. Trout did, however; see a spike in home runs and RBIs.
Despite being named MVP, Trout is not curbing his desire to develop as a player. Trout wants to improve on hitting the high fastball, something that slowed him down the second half of last season. One statistical category Trout is specifically focusing on is stolen bases. Last season was his lowest number of stolen bases by seventeen.
See More: Mike Trout's fastball breakdown
Trout will put up MVP-like numbers for the fourth straight season, and there's no telling how successful he will be.
As far as off the field conduct is concerned, the anti-Trout could easily be Josh Hamilton. Hamilton's underwhelming performance coupled with his five-year 125-million dollar contract has turned heads around the league. The outfielder has also suffered from a well-documented battle with substance abuse, specifically alcohol and cocaine. This trouble has haunted Hamilton throughout his career, and resurfaced recently when he self-reported a relapse.
Hamilton is not a first-time offender and will be facing disciplinary action from the league. The extent of both the punishment and its effectiveness is questionable because Hamilton will be out until at least May, as he recovers from shoulder surgery.
The Angels have been preparing to play without Hamilton, so his subsequent suspension will most likely not impact the team from a personnel standpoint. Hamilton's suspension will only be a big deal for the team if it extends past May, and the league's drug policy should allow him to fulfill his suspension while he is in rehab.
One issue the Angels are looking to resolve as spring training progresses is finding a second baseman. With Howie Kendrick gone, manager Mike Scioscia is searching for a suitable counterpart to shortstop Erick Aybar.
Four players have legitimate chances of being named starter: Josh Rutledge, Johnn Giavotella, Grant Green, and Taylor Featherston. All four candidates are right-handed hitters between the ages of 25 and 27 with little to no major league experience.
Scioscia has been giving Rutledge the biggest look so far. Rutledge was with the Rockies for the past three seasons and batted .269 last season. Rutledge is the most experienced candidate and has been hitting with the other starting infielders this spring.
Scioscia has not yet ruled out the possibility of holding off until after spring training to decide on a starter, and it is uncertain how much of an impact spring performance will have on the ultimate decision. The competition is something the Angels have been without for a long time, and it will be a story line to watch throughout the spring.
READ MORE: Dodgers Spring Preview: New Boys In Blue, Same Goal
Second isn't the only place where the Angels have competition. The Halos are looking to improve on the mound following an average season where they ranked No. 15 in the league with an ERA of 3.58.
They found unlikely success on the mound last season with right-handed ace Garrett Richards who posted a 2.61 ERA. Unfortunately, Richards tore his patellar tendon in August and had knee surgery to fix the injury. He will not be ready to pitch for the first two to three weeks of the season.

Jered Weaver and C.J. Wilson, veteran aces for the Angels, will be expected to perform in his absence. Also ready to be an impact player for the Halos is right-handed pitcher Matt Shoemaker. Shoemaker had a 3.04 ERA in the twenty-seven games he pitched as a rookie, and only 24 walks on the season.
There will be a battle for the fifth place in the rotation, as Scioscia has many options in his search for his final pitcher. Hector Santiago, Andrew Heaney, and Nick Trumpiano are all competing for the final two spots in the rotation, which will turn into one spot once Richards returns to the lineup.
The Angels have experience and success in their bullpen hopefully leading to an improvement on the mound to complement their offensive talent. Though they do have a few question marks to answer heading into spring training, this season gives them a special opportunity to redeem a poor playoff showing and prove that they have what it takes to compete in the highly competitive American League.
The Angels open spring training games Thursday against the Milwaukee Brewers.
Reach Staff Reporter Hailey Tucker here.