Film and TV
'SNL': Highlights Of 40th Anniversary Special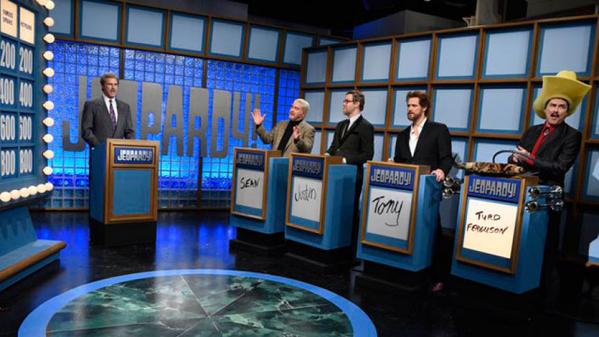 One of the most iconic shows in television history celebrated its 40th anniversary and brought back some of its most memorable moments. They brought back favorite cast members and acted out some of the best scenes of all time. A lot of the special was packed with montages of past skits and sketches, but there was still a considerable amount of time dedicated to recreating some of our favorite moments. Here are some of the best (and worst) moments from the 3 ½ hour long special.
Opening
The show opened with best friends Jimmy Fallon and Justin Timberlake rapping the history of "SNL" catchphrases. It perfectly emulated the energy that the duo consistently captures when they team up, and it summed up the show's history.
Celebrity Jeopardy
This skit brought back Will Ferrell to host a rag tag cast of celebrities who just don't quite understand the simple game of trivia. The character of Sean Connery stole the show as he mispronounced the names of various subject titles. He read "Who Reads" as "Whore Ads" and "Let It Snow" as "Le Tits Now." Characters like Justin Bieber, Tony Bennett and Jim Carrey as Matthew McConaughey also made appearances throughout the skit. There was even an uncomfortable Bill Cosby joke that showed the character preparing his favorite alcoholic drink.
The Californians
This satire of the entire soap opera genre brought some of the funniest cast members together with some big name celebrities. Kristen Wiig, Bill Hader and Fred Armisen held down the fort as the veteran cast members as they mocked the way Californians talk about things such as traffic directions. Bradley Cooper played the role of a pool boy who just seemed high the whole time, but I guess that accurately fits a California stereotype. Taylor Swift played a Valley girl who was just confused the whole time. Betty White also showed up and in the shock of the show, she made out with Bradley Cooper. The sketch ended abruptly as they were interrupted by the flight attendants who moved the show along.
READ MORE: 'Bridesmaids' Meets 'SNL' For The New 'Ghostbusters' Movie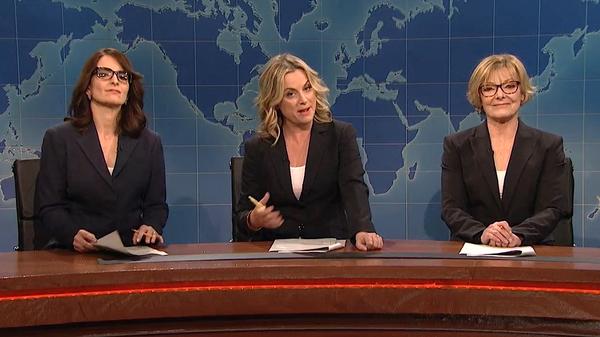 Weekend Update
The newest installment of the Weekend Update was hosted by three of the show's leading ladies: Tina Fey, Amy Poehler and Jane Curtin. They mostly cracked jokes about the history of the show before handing it over to some other famous celebrities who paid tribute to their favorite characters. Emma Stone played the role of big haired Roseanne Roseannadanna, Edward Norton was joined by Bill Hader as Stefon and Melissa McCarthy broke the entire set as Chris Farley's Matt Foley Motivational Speaker. We were then treated to a montage of past weekend updates that showed why the sketch is one of the favorites on the show.
Martin Short and "Beyonce"
Martin Short and Maya Rudolph as Beyonce started off a musical number for the ages. Rudolph perfectly captured the way Beyoncéperforms and they even had the immense amount of wind from fans to match a true Beyonce show. The performance was then interrupted by Kristen Wiig and Fred Armisen as Kat and Garth. In true fashion, they had no idea what was going on during the improvised songs and it was as funny as ever. Will Ferrell and Ana Gasteyer then performed as Marty and Bobbie Culp. They classically performed current hits like "Uptown Funk" and "All About That Bass." Next we got to hear from fan favorites Derek Stevens and Operaman who were followed up by What's Up With That and King Tut. The number continued with Bill Murray passionately singing the theme song for "Jaws," and closed with the return of the Blues Brothers. Not only was this a funny sketch, but it was full of surprises and was just genuinely fun to watch.
Eddie Murphy "Tribute"
Chris Rock was tasked with delivering a monologue praising the greatness of Eddie Murphy and how he basically saved the show. He told a story about how a show ran short one time and Murphy was tasked with improving until the end. Rock set the stage for a classic Murphy appearance on the show but Murphy pretty much spent his time thanking the crowd for the standing ovation and praising the anniversary special. The worst part about this was that he actually ran late and ran into the commercial break not really doing anything other than thanking the crowd. Really uncomfortable and unfortunate turn of events.
Seinfeld Answers Questions
Jerry Seinfeld took his time on camera to answer questions from celebrities in the crowd and he did not disappoint. He mostly turned away questions from Michael Douglas, John Goodman and James Franco, but he was excited to share the screen with Larry David and bask in the success of their teamwork. In the best moment of the segment, Ellen Cleghorne asked Jerry why he never had any black women in "Seinfeld" after he said that he is for having black women everywhere. He kind of pulled a Taylor Swift and shook it off and moved on. Tim Meadows also made a quick appearance and everyone immediately checked if "Mean Girls" is still streaming on Netflix. The questions closed with Sarah Palin, not Tina Fey, asking how much Lorne Michaels would pay her to run for president with Donald Trump, a reference to the many skits that SNL pulled off during her last campaign.
READ MORE: Who's In And Who's Out On 'SNL'
Short Films
Louis C.K. laid down the law when he said that he wished all of SNL was made up of short films rather than skits that run too long. He introduced a montage of some of the best short films that led into the newest short film from Andy Samberg and Adam Sandler called "That's How You Break." It was a music video highlighting the many times that cast members have broken character on set during a skit. There was even a solid 20 seconds dedicated to the many times Jimmy Fallon broke character because it happened so often.
In Memoriam
Bill Murray handled the segment with grace and the crowd was even better as they clapped equally for all who were honored in the segment. And because it is SNL, they even included still alive Jon Lovitz in the segment before cutting to him in the crowd. It was respectful yet still classic "SNL."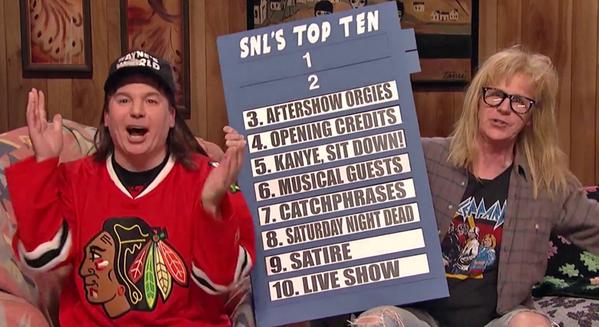 Wayne's World SNL's Top Ten
"Wayne's World" returned and reminded everyone why it is a favorite sketch. They presented a top ten of the show and it was great
10. Live Show: They stressed the fact that "SNL" is indeed live and it is what makes it truly unique.
9. Satire: The satire of the show is juvenile and the show embraces it, making it one of the best.
8. Saturday Night Dead: They mocked the fact that every year, someone calls the show "Saturday Night Dead" even though it is said year after year, thus making it irrelevant and not original.
7. Catchphrases: They talked about how some characters lean on catchphrases to be funny and how that is not the best technique; they then spit out catchphrase after catchphrase.
6. Musical Guests: They praised all of the musical guests that have performed on the show and took shots at Kanye West by saying that Beck is better than Beyoncé.
5. Kanye Sit Down: Another shot at Kanye to keep him in line as he sat in the audience.
4. Opening Credits: They mostly just talked about the beauty of the nightlife in New York.
3. Aftershow Orgies changed to Wigs: They started to tell a well-known secret of aftershow orgies but quickly changed the topic to wigs and talked about how great wigs are. Well, they both wore wigs, so I can't argue the ranking.
2. Lorne Michaels: He needed to be mentioned.
1. The Crew: They also needed to be mentioned.
Great sketch, but now people are ready for another movie.
Musical Numbers
Sir Paul McCartney was the first performer of the night as he sang "Maybe I'm Amazed." The performance itself was not all that great, but he is a legend and it was nice to see him on the stage doing what he does best. The next performance was a bit of a surprise being that it came from such a young artist in Miley Cyrus. She honored Paul Simon with a rendition of "50 Ways To Leave Your Lover" that reminded us that she is more than a crazy celebrity and actually a decent country singer. Kanye West was the next performer and he started by performing "Jesus Walks" as he lied on the ground with colored contacts in his eyes. He then transitioned into his new ballad "Only One" before debuting his new song "Wolves" with some help from Sia and Vic Mensa. West's performance was one of the most controversial of the night in the sense that he received mixed reactions on social media, Either people loved him for being creative or hated him for being Kanye West. Paul Simon closed the show with a performance of "Still Crazy After All These Years" but not before he took the time to thank the band for all the work they've put in throughout the years.
The special captured the aura that is "SNL" and made sure to please everyone who was watching, from old fans to new. Here's to another 40 years.
You can catch "Saturday Night Live" Saturdays at 11:30 on NBC.
Reach Staff Reporter Noah Camarena here and follow him on Twitter here.