Film and TV
'Bridesmaids' Meets 'SNL' For The New 'Ghostbusters' Movie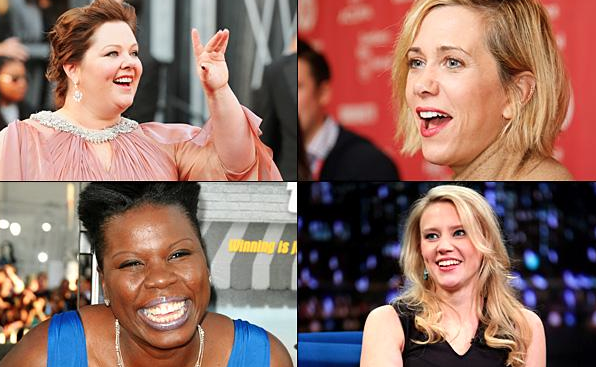 "Ghostbusters" recently had its
30th anniversary
, and now, we can celebrate with an all-female cast to reboot the ghost hunting hit film.
Here's a look at the cast:
Kristen Wiig
She's no one new to comedy. The SNL and "Bridesmaids" actress is one of the leads. According to the Hollywood Reporter, Wiig is in the process of negotiating with Sony. She co-wrote "Bridesmaids" and has proved her comedy skills in other ways. We have faith in her as a cast member for this upcoming remake.
READ MORE: 7 Best TV Boyfriends
Melissa McCarthy
We've seen her in "Gilmore Girls" and co-star with Wiig in "Bridesmaids." She too is on the cast for the new "Ghostbusters." She's played sweet and perky, and she's played obnoxious. Combine the two, and you get one funny ghostbuser.
Kate McKinnon
She's another SNL cast member, and she's not the last one.
Leslie Jones
And that's our fellow "SNL" member and fourth ghostbuster.
Rumors about Bill Murray (who was part of the original cast) joining the cast have sparked, as he has mentioned doing a third movie before. The director of the new film is Paul Feig ("Bridesmaids").
READ MORE: 7 Celeb Couples With Big Age Gaps
What's to expect? Lots of ghosts to capture, that's for sure. The cast is familiar with comedy, with some who have worked together, which calls for some comedy chemistry. The movie will start filming over the summer in New York City. If all goes well, we'll see the film premiere in July 2016.
Four girls together for an action-packed comedy? There may be no wedding, but you know you're going to call the ghostbusters for a third time.
Reach TV Editor Tanya Mardirossian here. Follow her on Twitter.