USC Sports
Five-Star Linebacker John Houston Commits to USC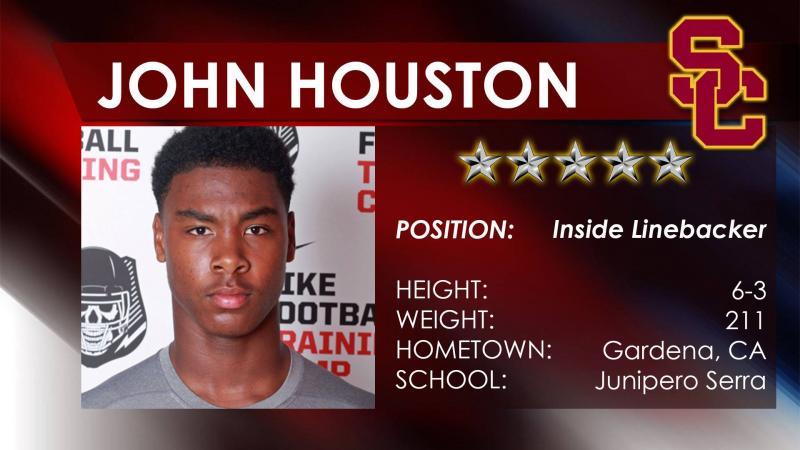 Five-star linebacker John Houston Jr. officially committed to USC on Wednesday during National Signing Day, after picking the Trojans over the Oregon Ducks.
Houston, who is a California native from Junipero Serra High School, was all but a cinch to sign with the Trojans, even after being offered by other schools such as Alabama, Florida State and Oregon, as well as UCLA.
He is 6'3'', 211 pounds and played mostly the middle linebacker position while at Serra. His combination of length and athleticism make him a force to be reckoned with, as he is exceptional at moving and wrapping up players in space. Over his senior year, Houston amassed over 147 total tackles in just 11 games, as well as three interceptions when he did drop back into coverage.
This year's recruiting class continues to impress, and Houston is the latest to take one of the final three scholarship spots that the Trojans had headed into Wednesday. Houston is also very close with five-star defensive tackle Rasheem Green, a teammate from Serra, who also chose to sign with the Trojans during today's Signing Day. At USC, Houston will be another addition to the strong linebacking core being constructed by the staff that includes recent commit Porter Gustin and returning redshirt senior Anthony Sarao.
Stars | Position Ranking | State Ranking | Overall
ESPN 4 1st 7th 56th
24/7 4 7th 16th 104th
Rivals 5 2nd 5th 30th
Reach Associate Sports Editor Paolo Uggetti here, or follow him on Twitter at @PaoloUggetti.