Style
NYFW Fall 2015: Michael Costello Review
If there is anything "Project Runway" prodigy Michael Costello cannot do, it's create a boring gown. During Mercedes-Benz Fashion Week, the famous designer
debuted a stunning Fall/Winter 2015 collection
at Lincoln Center worthy of any red carpet anywhere in the world.
READ MORE: New York Fashion Week: Michael Costello Review
Several celebrities attended the show in support of Costello, including singer-actress Christina Milian, Karrueche Tran and singer-actor Chris Brown.
They were treated to Costello's idea of fall and winter, a magical time when it's appropriate to wear sheer dresses with thigh slits. Perhaps he was designing with Southern California in mind, as opposed to New York.
The designer known for creating Beyonce's 2014 Grammys dress took inspiration from Paris, Great Britain and Japan.
He commonly mixes various styles into a single design, combining sheer sleeves with lace and sultry cutouts.
This collection is no different. Black, sheath gowns strutted down the runway with open backs and lace galore. Every dress is form-fitting, every curve is hugged. Some dresses combined an open V-neck with a middle slit. Some featured risqué front cutouts and bare arms. Lace was implemented with padded shoulders.
With the Oscars quickly approaching, any one of these dark-colored gowns is sure to make an appearance on your favorite actress.
READ MORE: New York Fashion Week: What's Up With All The Nudity?
In an effort to keep with the season, Costello designed a gray and black fur jacket (one of the few pops of "color" throughout the monochromatic collection) to cover a slit skirt.
As for hair and makeup, Costello went for bold. Every model walked down the runway with dark, standout makeup (the solid red lip provided the biggest contrast) and a fashionable mini bun standing erect with a low ponytail in back. Here, we saw the Japanese influence.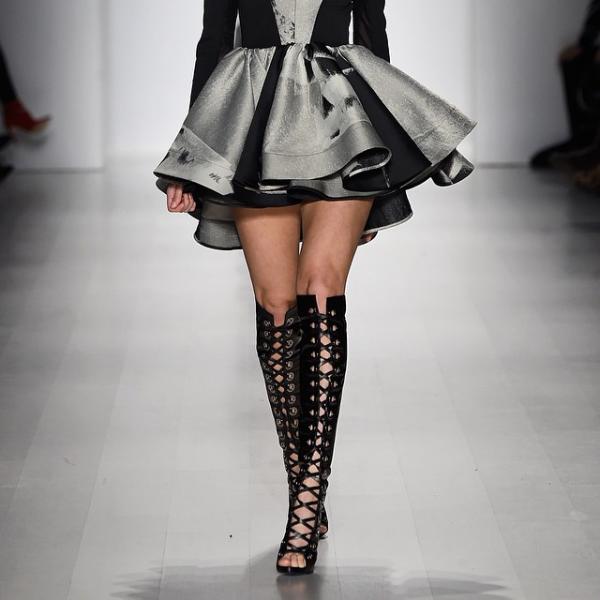 Aside from a handful of bright blue and yellow handbags, the models donned minimal accessories and most sported dominatrix-style knee-high black boots or stilettos.
"The modern woman is seductive and natural, and demands attention," Costello said about his collection.
The designs indeed reflect a sultry aura that seems effortless. And, yes, we're paying attention.
READ MORE: 11 Fashion Trends We're Definitely Not Thankful For
Mixed into the collection were a few menswear looks.
Shaun Ross, noteworthy for being the first male albino model, rocked an all-black look that pitted black on black fabric.
The sport jackets were plain in design, but featured some innovation of their own. Costello opted to use a marble-like fabric to add some pop to his otherwise mute designs. For the men, he chose more conservative looks.
See the full collection here.
See a clip from the runway show here.
Reach Senior Entertainment Editor Kathy Zerbib here. Follow her on Twitter here.