Arts+Culture
Twitter Facilitates '90s Nostalgia
If Alicia Hope-Ross, a fundraising professional from Canada, could have anything from the '90s return it would be the original Ninja Turtles.
"The '90s were a super fun decade, and it's easy to be nostalgic about it. From '90s WWF wrestling shows, to light-up shoes, Spice Girls, everything else… it was just a blast," Hope-Ross says.

So when #the90sin4words hit the twittersphere, the Calgary resident followed the hashtag and joined the conversation. Twitter allows for adults like Hope-Ross to reminisce on their formative years for a few moments and engage with other likeminded individuals.
While reveling in nostalgia from decades past is not a new phenomenon, social media sites have made how often people can experience aspects of their past easier.
"Historically, people always had mechanisms for reclaiming access to the past. There were used record stores in the '70s," Professor Henry Jenkins says.
The Provost's Professor of Communication, Journalism, Cinematic Arts and Education at the University of Southern California also says nostalgia is cyclical and "tends to be 20 years out from the current moment," resulting in today's longing for old Hey Arnold! episodes and other cultural icons.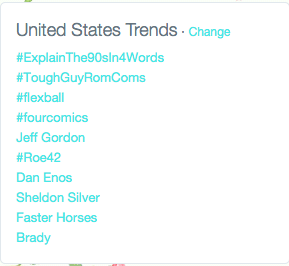 "People are returning to childhood and adolescence. It wasn't what adults in the '90s were watching, but kids," Jenkins says.
Through social media, Jenkins says people make collective decisions about what to discuss and create media designed to spread "because it serves [to create] conversation that communities want to have." He adds that since "there's been a shift in historical consciousness, it's easier to do now and therefore, more likely to happen."
"The nostalgia does spread because it's the shared experiences of a generation that grew up during that time, it's full of cultural reference points," says Jenkins.
A way in which this is done is through the revitalization of old shows, like Girl Meets World and Twins Peaks. Vendors and companies from Hot Topic to e-Bay also profit from selling nostalgia through merchandise and other collectables to those in search of the past.
SEE ALSO: 7 Best Childhood Movies Of The '90s
But some people purely love the decade for what it represents. For Miki Ramos, the '90s taught her about female empowerment through athletes like Mia Hamm.
"There was a lot of positive reinforcement within pop culture about the potential you had as a female," Ramos says.
The political organizer from Texas also says, "girl power was not just a saying but something girls my age believed."
What Ramos appreciates most about social media is the ability people have to engage with friends and stranges on the Internet about similar areas of interest. Nonetheless, one thing she misses most is something the next generation of social media users may not be able to readily identify with.
"If I could have anything return from the '90s, it would be our ability to concentrate on real life and not get so wrapped up in technology."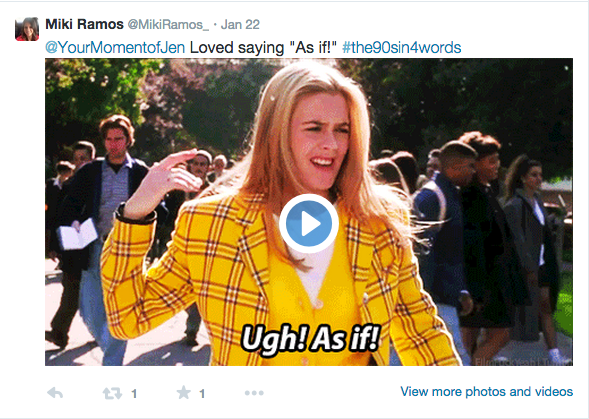 Reach Staff Reporter Jessica Moulite here. Follow her on Twitter.