Style
L.A. Fashion Designer And Architect Draws Inspiration From Africa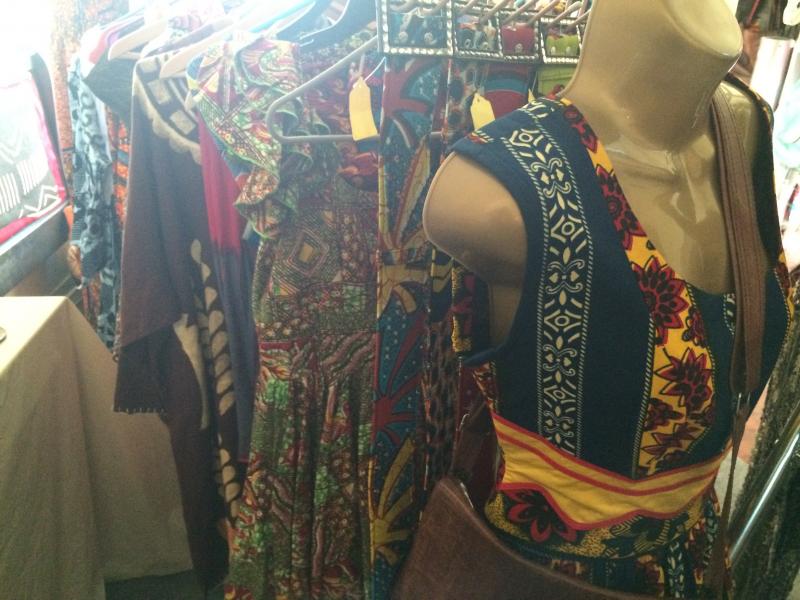 Sophrinia Cassell has been designing her own clothing for as long as she can remember.
"In Liberia, you don't buy clothes," she says. "You buy the fabric and make whatever you want." In her case, crafting apparel began as a family bonding experience. Long hours spent outside playing in the West African sun as a young girl were followed by sewing lessons with her mother and sister. "I watched my older sister make clothes, and I would take the scraps to make dresses for my dolls," Cassell recalls.
By the age of 8, she was sketching and creating outfits for herself. "There was nothing else I could do to get nice clothes because we couldn't afford it, so I learned as a necessity," Cassell says. She eventually realized that her passion and talent for clothing design could translate into a lucrative business. The positive reactions and praise she received from friends, and even strangers, for each design she wore were confidence boosts. "When people complimented me on a dress or a skirt, I began telling them that I could make it for them, too."
Cassell, dressed impeccably in a jade-green dress of her own design, exudes poise and a warm, friendly demeanor as she proudly shows off the variety of pieces—dresses, skirts, blouses, jewelry, and handbags—in Sophrinia's Fashion Collection, her personal line of unique, one-of-a-kind Afrocentric items. She established her company in 2005, promising that no two customers will ever purchase the same, identical piece.
READ MORE: The 2015 Color Trend To Watch Out For
"This is a unique one," she says, describing a chic, two-piece gray outfit with intricate beading. The outfit, suitable for a festive occasion, features a lace top with a bow and a matching wrap skirt. "It is made from different types of fabric woven together and embroidered with lace," Cassell describes. Every single piece in the collection is inspired by West Africa. "The clothes are a combination of Kenya, South Africa, Ghana, Nigeria, and Liberia," Cassell explains, as she cheerily filters through the racks of colorful garments stored in a small, cozy room in her Los Angeles home.
"I bring Afrocentric to the table because this is my heritage. I want the next generation of African Americans to understand that their African heritage is something to be proud of."
Cassell ensures that all the items she sells are made with authentic African materials by employing women in Ghana to handcraft everything. She selects the exact fabric, colors, and style she wants before sending her design sketches overseas. It takes about two weeks before the completed piece is shipped back. Afterward, the customer can take home a genuine, handmade article of West African artistry.
The clothing is made with traditional cloth like asoke, an expensive Nigerian material, while the handmade jewelry features bones, cow horns, and coconut shells. In addition, all the purses and backpacks are completely made of genuine leather. "The women would probably take a day to make something like this," Cassell explains, gesturing toward a bright-yellow ruffled blouse decorated with multicolored jewels. "They do all the embroidery first, and then they sew the other pieces together."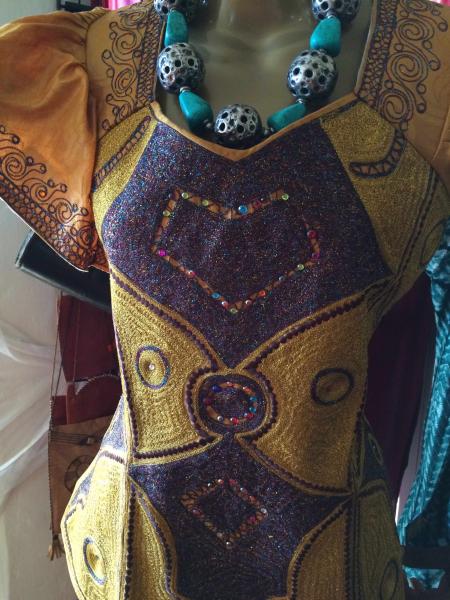 Although she has the ability to create the clothing herself on a sewing machine, Cassell believes that this aspect of her business is also a way to give back to her homeland. The Ghanaian women receive a cut of the profits of the items, which can range in price from $8 rings to $85 printed dresses to $250 multiple-piece ensembles. "The women are really hurting right now," she says. "They do not have any other income, so they look forward to getting work."
The fruits of their labor are nothing short of stunning. The dresses and skirts, spanning every color of the rainbow, are treats for eyes. The vivid patterns and striking hues simply demand attention. Halter dresses, wrap dresses, and kaftans made with thin material are perfect for the temperate Los Angeles climate. The lightweight casualwear is ideal for daytime events at the park, beach, or movies, while the fancier attire is suitable for formal affairs and church services.
Cassell also makes it a priority within her collection to encompass all body shapes and sizes, including standard and plus-size options for her female customers. Sophrinia's Fashion Collection even features African-inspired garb for men and children. "I have a lot of male customers who love the clothes," she says. "They wear it well."
Cassell never wants to alienate anyone with her designs. In fact, it's the exact opposite. She admits that her ideal customer is someone who will wear her clothes proudly and share his or her experiences with others. First and foremost, her inspiration for clothing design comes from her desire to make people feel good in their own skin. "When you are walking around in something that is really unique and everyone asks where you got it, it uplifts your spirit. Everyone wants to be noticed," she says. "If you get a distinctive item, it might cost you a little bit more, but it is also better quality and one of a kind. I don't feel like everyone should be in a uniform."
READ MORE: 8 Fashion Trends For 2015
Although Cassell has already experienced success with her collection, she hopes to watch it grow even more in the upcoming years. "I would love to see it in department stores," she says. "I want to see young African American ladies wearing the clothes and selling it right off their backs." Cassell continues to reach out to customers through word-of-mouth, attending annual festivals across the country and, of course, serving as the primary fashion model by always wearing the designs.
But while her clothing business is thriving, Cassell initially aspired to become another type of designer: an architect.
As a 5-year-old girl, she remembers watching in awe as her father helped the people in Liberia build their houses from scratch. "I listened as he instructed them to put their bedroom over there because of the sunlight or put the kitchen over here, and I remember thinking, 'How did he figure that out?' We would come back months later, and the house would be built. I knew I wanted to tell people how to do that."
In 1974, Cassell departed her home in Africa at the age of 14 to move to the United States and attend Manual Arts High School in Los Angeles, with plans to eventually study architecture in college. After graduation, her dream came true when she enrolled at the Southern California Institute of Architecture in Santa Monica. Her time spent there quickly taught her that her childhood hobby of creating clothes was actually quite similar to creating buildings. "The design and creativity aspects go hand-in-hand," she explains. "It is all about tailoring. You build a blueprint for the clothes just like you build a blueprint for a house, and then you cut it down to size to find the right fit."
Over the years, Cassell has worked and studied at multiple architecture firms, designing commercial, residential, and industrial properties. With 26 years of architecture experience behind her, she decided to venture out on her own and establish Sophrinia Design and Consultants in 2011. She works with clients on a regular basis, building homes from start-to-finish or remodeling existing houses—just like her father used to do. Similar to her process for making clothes, Cassell must consider style, size, and color when conceptualizing an idea. "When I start a design for a building, I start visualizing the windows as the eyes, the door as the mouth, and I see it coming together as a person," she describes. Most recently, Cassell completed a property in the Hollywood Hills, which sold for $2.4 million.
Cassell's flair for design is undeniable as she displays pictures of her recent projects, which include everything from contemporary to traditional spaces. It may seem unusual how she can switch between architecture and clothing so quickly, but for Cassell it all makes sense. "My main focus was to design houses, but since it is so dry and rigid, the process doesn't always allow me to do what I really want to do," she explains. "But with clothes, you can easily cut something out or take something in."
Managing two successful, independent businesses is no simple feat, but Cassell isn't deterred by hard work. The self-professed "jack-of-all-trades" manages her time efficiently and prioritizes what is important. Even more importantly, she credits her faith as her motivating force. "Having God as the main source of my strength is very important to my success," Cassell, a devoted member of the West Angeles Church of God in Christ, says.
And there is no slowing down for Cassell any time in the near future. "You have got to keep busy," she says matter-of-factly. She also laughs off the idea that she is trying to do too much with two careers. "People always ask why I'm trying to do everything, but I'm a designer, period."