Style
The 2015 Color Trend To Watch Out For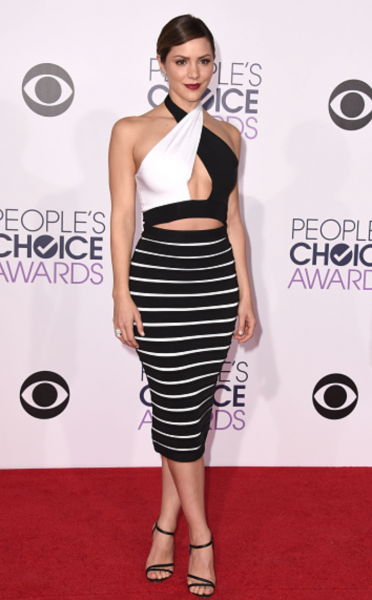 The most basic of colors are making their mark early on in 2015. Black and white has already been splashed all over the red carpets early this award season with starlets like
Olivia Munn
and
Kate Hudson
sporting the trend at both the
People's Choice
and
Golden Globe Awards
. While Hudson wowed in her curve-hugging, all-white
Versace
gown, this trend is far more than sporting colors on opposite ends of the color wheel. Designers from all walks of fashion are using this black-and-white combo to make bold statements for spring.
Moschino, Matthew Williamson, and Balmain are just a few of the designers using bold patterns to weave both colors into everything from cocktail dresses to skinny pants. Black and white do well to create illusion and compliment and highlight any figure depending on how stark the design. In a Matthew Williamson sleeveless dress, vertical black stripes are plastered on the white dress to create the illusion of a bulls-eye. This illusion draws in the waist and creates the appearance of an hourglass figure. Whether you look at this dress as black, or white, it can quickly take your little black dress from simple to stylish this spring season.
READ MORE: 8 Fashion Trends For 2015
In one of this spring's designs, Moschino opted to showcase the prints most commonly associated with black-and-white cowhide. The lambskin pencil skirt hits mid-length and features black spots, similar to the markings on a cow, on the otherwise white skirt. The skirt would do well paired with a simple black or white top or matching cropped tank for a bold look. The most popular print of both last year and this would have to be chevron. Balmain has taken a cue from this print and used it create a chic pair of skinny pants. The pants feature a black-and-white chevron print that looks more white than black. This print takes the fear away from wearing white pants and creates a black and white look that is both flattering and edgy. The pants feature two side-zippered pockets and zippers at the ankles as well, making these the pants to wear with a pair of heeled booties.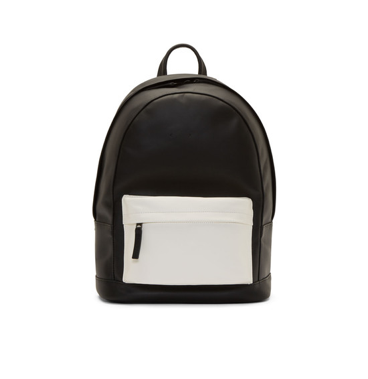 Black and white still remains in staple patterns like stripes, most recently seen on
Katharine McPhee
at the
People's Choice Awards
, wearing a striped skirt with a black and white color-blocked halter-top. The look, by
Balmain
, ushers in another way black and white is changing it up this spring. While color-blocking is seen more in brightly colored designs, designers are using black and white to create contrast by separating the colors to make eye-catching statement pieces that are sure to wow this season. From dresses to sweaters and the popular black-and-white heel, oxford, and tennis shoe, you'll be hard-pressed to miss this hot trend this season.
If a black and white ensemble isn't your thing, black and white is a trend showing up in accessories too. From vintage Audrey Hepburn-inspired sunglasses by Moschino to streetwear-inspired backpacks, wallets, and phone cases by L.A. brand Dimepiece L.A., incorporating black and white into your spring wardrobe will be easier than you think. While these black-and-white trends might seem to break the bank, more affordable retailers like LuLu's, Zara, and Nasty Gal are spearheading the trend, caling black and white the perfect holiday detox for your wardrobe. Color lovers beware, this mod look is sure to put those brights to shame. After all, less is more!
Reach Staff Reporter Mona Khalifeh here.