Music
Coachella 2015: Lineup Causes Confusion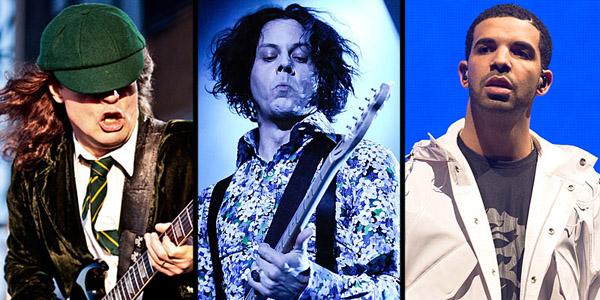 On Tuesday, January 6, the highly-anticipated announcement of Coachella 2015's lineup was finally released.
AC/DC, Jack White, and Drake will be headlining the annual two-weekend festival, which is scheduled for April 10-12 and 17-19 at the Empire Polo Club in Indio, California.
Other acts taking the stage at Coachella include Hozier, alt-J, The Weeknd, Kiesza, and Nero, among others.
Unfortunately, the lineup announcement has so far drawn mixed reactions from the public. Some love the genre diversity and superstar headliners, while others are left scratching their heads and wondering how well AC/DC, Drake, and Jack White fans - most of whom are separated not only by musical preferences, but also by age and generation - will mix.
READ MORE: Coachella 2015: Lineup Predictions
As Randall Roberts of the Los Angeles Times puts it:
"How many hardcore fans of AC/DC thought to buy tickets when presale passes quickly sold out back in May? ... Do AC/DC fans know who Drake is? Do Drake fans know who Angus Young is, and why he dresses in a schoolboy's uniform despite being 59 years old? Are AC/DC fans even familiar with the White Stripes, let alone Jack White?"
The decision to have AC/DC kick off both weekends of Coachella is especially confusing when looking back on the previous year's festival, which was heavily EDM-driven and where rock headliners like Arcade Fire and Muse didn't draw nearly as big of a crowd as Skrillex or Calvin Harris did.
Coachella's always had a bit of genre variety, but the festival did begin in the late 90s and early 2000s as a rock-heavy event that featured artists like Rage Against the Machine, Beck, Jane's Addiction, and Weezer as top acts.
In recent years, however, the festival has shifted into a more "mainstream" affair, with many recent acts coming from more radio-friendly backgrounds (see: previous performers like Lorde, Arcade Fire, The Black Keys, Lana Del Rey).
This year's lineup has a surprisingly large amount of rock acts (especially considering last year's success with an EDM-focused roster), but with artists like Kasabian, Steely Dan, Hozier, Brand New, and Bad Religion, there's still a good variety of old and new within the alternative and rock portion of the lineup.
And while the heavy hip-hop emphasis isn't that shocking given the genre's ever-increasing popularity on the radio today, it is interesting to note how almost all of the rappers - with the exception of Drake - are more of the indepedent and/or lesser-known variety (see: Azealia Banks, Tyler the Creator, and Ab-Soul), rather than the mainstream artists one might except - especially considering Coachella's track record of booking high-profile names like Kanye West, Nas, Chance the Rapper, and Outkast.
I'm sure that everyone attending will be able to find enough acts on the roster to justify the pricey Coachella weekend passes, but it's become more and more apparent that the festival's organizers have - in some ways - lost sense of Coachella's identity.
Is it a festival for people to discover new music or for them to listen to all of their favorite artists in one spot?
Does Coachella help "break" previously unknown artists into the industry or is it a sense of validation for acts that've already got a song or two on the radio?
READ MORE: Why Do People Attend Music Festivals?
Is Coachella trying to return to its roots as a rock-focused festival and can the festival successfully do this in our age of hip-hop and EDM?
Speaking of which, do acts like AC/DC and Steely Dan (no matter how legendary they are) still hold enough appeal for today's festivalgoers - many of whom probably don't listen to that much classic rock - to hold such coveted spots at the top of the lineup?
For the full roster of artists playing Coachella 2015, click here.
Reach Associate Entertainment Editor Michelle Tiu here and follow her on Twitter.