NFL
Carroll vs. Belichick: A Battle Of Good vs. Evil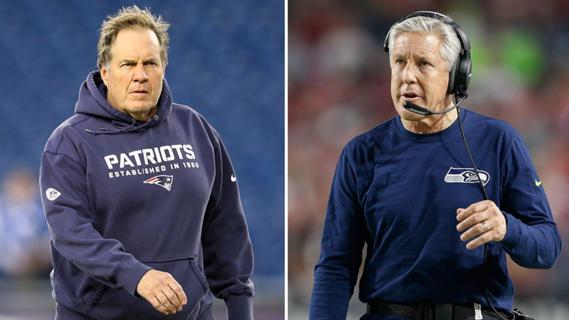 As Super Bowl XLIX approaches, there is no bigger dichotomy than that between the two coaches. There's that tough, bad guy Bill Belichick on the Patriots sideline, and the there's the lovable Pete Carroll on the Seahawks sideline.
The biggest day in American sports looms, and no one is more heavily scrutinized than the head coaches of the teams playing in the Big Game. In this year's matchup, the coaches are two of the most heavily analyzed coaches in the business. To say that Pete Carroll and Bill Belichick have their own coaching styles would be putting it mildly.
The coaches are polar opposites both on and off the field. One similarity between the two is that they have each garnered 12-4 records, which secured the number one seed in each conference. The means that each coach used to achieve his success, however, differs greatly.
Pete Carroll leads a Seahawks team that has the best defense in the league, holding opponents to under 16 points a game. This defensive stalwart will face Belichick's high-flying Patriots, led by Tom Brady. The Patriots are averaging just over 29 points a game, which is good enough for fourth in the league. As this clash between opposite strengths develops, it is easy to compare it to the coaches' divergent personalities as well.
Carroll. A name that echoes of the glory days from his career at USC; tarnished by the Reggie Bush scandal, many saw Carroll's move to the NFL as a criminal fleeing from the crime scene. Initially, Carroll was criticized for his high energy and positive synergy that he brought to practice. The passage of time has been kind to Pete, though.
With a win in Sunday's Super Bowl, Carroll would be the only football coach to have won two collegiate national championships in addition to two Super Bowls. This rare success that Carroll has found in both levels has been attributed to his undeniable reputation as a "player's coach."
He was voted the most popular coach in the NFL in a recent poll conducted by Forbes.
Voted as the overwhelming favorite, receiving 23 percent of the vote, Carroll's competition this weekend¬—Belichick—received only 7 percent in comparison.
READ MORE: LeGarrette Blount: New England's Key To Super Bowl XLIX Glory
Another aspect of Carroll that draws players to him is his highly emotional and supportive personality as well as how it translates into his coaching style.
His philosophy "Always Compete," is a testament to his dedication to his players in an effort to help them succeed in areas that they can control. The mindset is centered on a constant pursuit of bettering oneself, and competing to be the best version of a player and man that one can be.
Carroll's recent accomplishments hush those critics that say he is too much a college coach interested in having fun.
In his 5 seasons with Seattle, Carroll has a .576 win percentage in the regular season, but a much more impressive .778 percentage in playoff games. Granted, Carroll has only coached nine playoff games, but he has won 7 of the 2 and won one all-important Super Bowl.
Carroll's success is marked by his ability to balance a serious nose for winning in addition to maintaining personal relationships that all his players brag about; something his counterpart for Sunday's game is not known for.
Bill Belichick is one of the best coaches in the National Football League without a doubt. His personality and his incessant rule bending, however, will forever tarnish his reputation. Belichick has a smug air about him that is constantly conveyed in his curt interviews. He refuses to be transparent or even moderately polite on most occasions.
READ MORE: Super Bowl XLIX: Seahawks Defense Vs. Patriots Offense
Belichick is also one of the most divisive figures in professional sports today. For example, how many other coaches' wardrobe has driven statisticians to discuss the success rate of what some would say is one of the worst coaching outfits in sports— the gray hoodie with the cutoff sleeves?
Belichick has been coaching in the NFL for 20 years and has an incredible win percentage of .659%. The pinnacle of Belichick's career thus far, has arguably been his three Super Bowls during the four-year span of 2001-2004. He is the only coach to pull off such a feat.
His career has been marred, however, by four scandals:
In 2007, the Patriots were accused of stealing the opponents (the Jets) signals. Belichick apologized for his understanding of the rule.
In 2013, Belichick was accused of receiving the Jet's playbook from Alabama head coach Nick Saban.
Throughout his seasons, Belichick has received a reputation for signing players who were recently dropped by teams that the Patriots play. This is thought to be an attempt to get Intel on the opponent.
And most recently, Belichick has been involved in the Patriot's "Deflategate" scandal.
Called "Belicheat" by Don Shula, Belichick has attracted unflattering attention because of his incessant bending of the rules. Belichick has a 'win at all costs' mentality, which turns the issue into a moral one instead of a question about his competence as a football coach.
This week's preparation is a question of coaching styles. There are not two more divergent coaches in the NFL. Both styles have paid off thus far however, with each team earning the number one seed in their conference and a trip to the Super Bowl.
As Sunday approaches, Belichick and Carroll each look to solidify their claim to win both the title and the underlying debate over who owns the best approach to coaching.
Reach Staff Reporter Hailey Tucker here.