Film and TV
'Brooklyn Nine-Nine' Season 2 Episode 12: 'Beach House'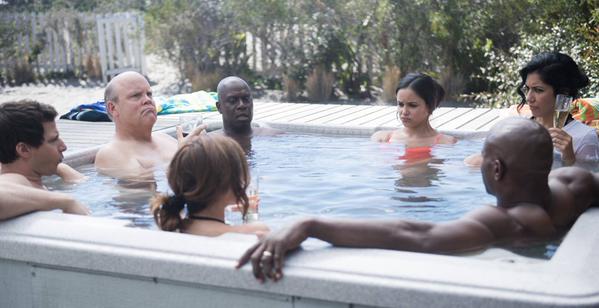 When the boss is away, the guys will play. But when the boss is there, what do they do?
Jake is under the impression that Captain Holt is sitting in his office without any pants on. He thinks Holt spilled hot soup on his pants and sent Gina to get him a new pair. The other officers do not have the same presumption as Jake so he does all he can to prove that he is right. In an effort to prove that he is right, Jake ends up in a similar circumstance as Captain Holt. At least he was right.
Jake holds a meeting with the other detectives as they discuss their annual detective only getaway. It's a time for them to unwind and spend time together at Boyle's beach house.
For the getaway, it is Gina's mission to meet Six Drink Amy. Gina has only seen Amy get to five drinks, and she is determined to meet Six Drink Amy because she thinks they could actually be friends.
Before leaving for the retreat, Jake goes in to Holt's office to say goodbye and he learns that Holt was never invited to social gatherings when he was a detective because he is both gay and black. Jake feels sorry that Holt has never "joshed around" with anyone.
Boyle and the other detectives start drinking and relaxing at the beach house and then Jake shows up with Captain Holt in tow.
READ MORE: 'Brooklyn Nine-Nine' Season 2 Episode 11: 'Stakeout'
No one other than Jake is really happy to see Holt at the retreat. Rosa is not happy because she is dating his nephew and she does not want to hang out with Holt. Amy is scared of being drunk around Holt. Scully and Hitchcock have some strange offshore casino idea that they want to pitch to Holt, so they are excited at the opportunity to get him alone to talk.
Boyle catches Rosa downstairs having trouble texting her boyfriend Marcus. She's not good at flirting via text message, so she asks Boyle for advice.
Over dinner, the detectives go through their normal routine of gossiping but Holt cuts in and makes it awkward. Holt then proposes that the group takes a walk on the beach even though it is freezing cold outside. Apparently his stoic demeanor is not affected by the frigid temperatures.
After the walk, the group hangs out in the hot tub and Amy is up to four drinks. Everyone is enjoying the tub except Holt who complains about not being able to hear anyone so he turns off the jets, leaving them quietly sitting in a warm tub of water.
Holt continues to make the retreat awkward and Jake decides to have two separate parties: one uncomfortable one upstairs with Holt, and a fun one in the basement with everyone else. He says they have to take shifts to make sure that Holt doesn't find out and everyone agrees with the plan.
READ MORE: 'Brooklyn Nine-Nine' Season 2 Episode 7: 'Lockdown'
As expected, the Holt party is not fun at all as they sit around listening to classical recorder music. Boyle continues to help Rosa with her texting and Gina continues to get Amy drunk, getting her up to five drinks before they go up to the Holt party. Jake gets distracted from watching after Holt and he joins the fun party downstairs. It is then discovered that the coveted Six Drink Amy is just a sad, lonely mess. Shortly after, with no one watching after Holt, he comes downstairs to discover the party that they are enjoying without him. He is visibly upset and he goes back upstairs.
After seeing Holt so upset, the detectives try to figure out a way to fix their mistake. Jake decides to go talk to the captain, considering that he was the one who invited him in the first place. Rosa keeps going to Boyle for help, but he tells her that she can do it on her own. Once she sends a text by herself, she is much more confident and happy with the results of her texting. Gina takes care of Six Drink Amy who is confident that she and Gina are finally friends.
Jake joins Holt in the hot tub to apologize, but Holt beats him to the punch and apologizes for messing up the party. He understands that he overstepped his boundaries. Jake figures out a way to include Holt into the festivities and everyone participates in making fun of their beloved boss.
Catch "Brooklyn Nine-Nine" Sundays at 8:30 P.M. on Fox.
Reach Staff Reporter Noah Camarena here and follow him on Twitter here.