Film and TV
'American Horror Story: Freak Show' Season 4, Episode 8: 'Blood Bath'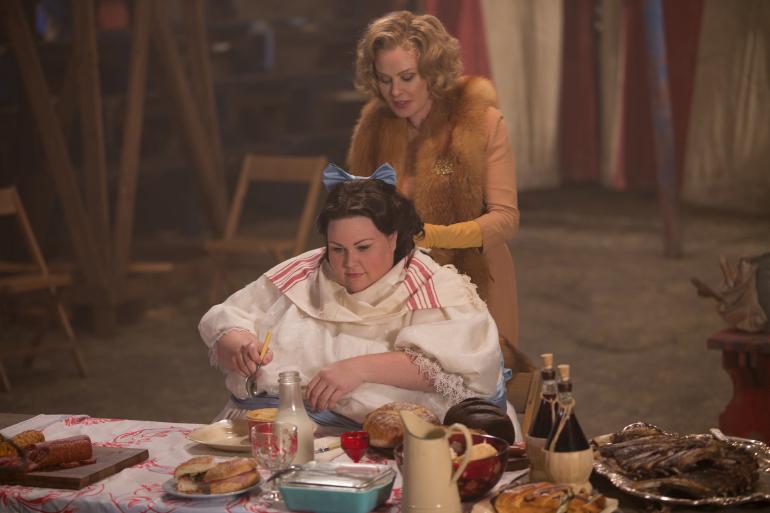 Ah, a blood bath. What a nice turn of phrase! Not so fast. In what was probably the most shocking, exciting episode of the season, several key characters meet an untimely demise as Jupiter descends into chaos. Let's break it down.
On a walk in the woods, poor unlucky Jimmy (Evan Peters) stumbles upon the bloodied little dress of dearly departed Ma Petite (Jyoti Amge). The freaks are heartbroken, and none more than Elsa (Jessica Lange), who, if you recall, once referred to the tiny woman as her "very own hot water bottle". It must have been a standard term of endearment back in the day. Ethel (Kathy Bates) has developed a very deep mistrust of Elsa at this point, and this mysterious death in the family appears to be the final straw.
She confronts Elsa in her dressing room and blames her for Ma Petite's death, an accusation that outrages Elsa.
Things escalate quickly, and suddenly Ethel whips out a pistol and sends a bullet straight through Elsa's wooden leg. "I'm just like you," she tells the bearded lady, and we get a hasty bit of backstory about the crafting of the prosthetic limbs. But here comes the real kicker (ha, no legs) – just as Ethel is about to execute Elsa for all her betrayals, she gets a knife right through the eyeball. Elsa's target practice has paid off again, and we bid farewell to the freak show's hairy moral compass.
SEE ALSO: 'American Horror Story: Freakshow' Season 4, Episode 7: 'Test Of Strength'
Elsa enlists Stanley's (Denis O'Hare) help, and they stage a questionable suicide scene in the woods. Stanley, of course, uses this opportunity to decapitate Ethel's corpse with a chain so he can bring her bearded head to the American Morbidity Museum.
Elsa reasonably decides to skip the funeral, and instead goes to a sanitarium in Miami to collect the latest addition to her dwindling collection: a fat lady! Barbara (Chrissy Metz) is a former debutante, an East side gal, and she can't weigh less than 400 pounds. Our German ringleader reels Barbara in with promises of endless food and cheering crowds, and she's a pretty quick sell. Back at the fairgrounds, she tells a mourning Jimmy to take comfort in Barbara's arms when he misses his own mother's embrace. At first he's weirded out, but he comes around.
At Ethel's funeral, newly tatted Penny (Grace Gummer) wins the sympathy of Desiree (Angela Bassett), Amazon Eve (Erika Ervin), and the lady with no legs (Rose Siggins). They decide to get their sweet revenge, and before you know it they've got Penny's creepy dad tied to a chair. They tar and feather him like you do on any average girls' night, and they've got even uglier plans until Maggie Esmerelda (Emma Roberts) runs in and tells them they'll regret it. Penny embraces her new identity as the "astounding lizard girl," and proudly reminds her father that he'll live only because she let him.
SEE ALSO: 'American Horror Story: Freakshow' Season 4, Episode 6: 'Bullseye'
And now, the moment you've all been waiting for. What has Dandy (Finn Wittrock) been up to? We find out in flashbacks that young Dandy had some issues with murdering cats and the children of gardeners. They grow up so fast! Gloria (Frances Conroy) is panicking – she tries to discreetly send Dandy to a good old fashioned psychiatrist. Dandy isn't easily fooled, though he does come up with some really colorful answers to a few Rorschach tests. And what's more, murdered maid Dora's daughter Regina (Gabourey Sidibe) has showed up looking for her mother! Dandy tells his mother to murder Regina or join him on death row, but instead she books two spots on the Queen Mary.
Her son feels utterly betrayed. He berates his mother for marrying her second cousin, blaming incest for his supposed dysfunction. And then, because apparently everyone keeps a gun in their pocket in the fifties, Dandy holds a golden gun to his head.
SEE ALSO: 'American Horror Story: Freakshow' Season 4, Episode 5: 'Pink Cupcakes'
"I can't go on if you kill yourself," Gloria says. So Dandy shoots her in the forehead. The very last scene, because a metaphorical blood bath would have been too boring for Ryan Murphy, shows Dandy dropping his robe and stepping into a bathtub full of what seems to be his mother's blood. Does that count as mother-son bonding?
It's unclear at this point who's going to make it out alive, but we're hooked on every gruesome second of it.
Reach Staff Reporter Jules Zucker here. Follow her on Twitter here.