Film and TV
'American Horror Story: Freak Show' Season 4, Episode 7: 'Test of Strength'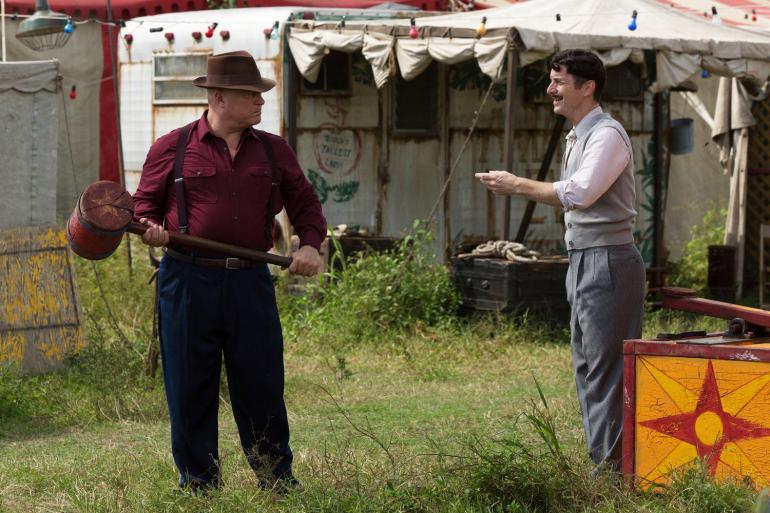 It's been a busy week in Jupiter, and everything from murder to family reunions to involuntary tattoos came into play.
Last week put Jimmy (Evan Peters) at Dandy's (Finn Wittrock) doorstep, and this episode begins as he retrieves the Tattler sisters (Sarah Paulson) and returns them to a grimacing Elsa (Jessica Lange).
It might also have dawned on him that Dandy was the second clown in the woods that fateful Halloween. Back at camp, Jimmy's about to reveal Elsa for the trickster she is (after a rousing rendition of Nirvana's "Come As You Are" about 40 years before its time), but Dot has a better idea. She claims Elsa was only trying to help them, thereby relieving a lot of the tension that was building among the suspicious freaks, and then the sisters lay out what they want in return: half the box office, a comedy show and blonde hair for Bette. Bette's becoming a bit of a diva, though, so Dot and Elsa strike up a secret correspondence. Dot asks her to find the surgeon who can separate the twins and make him agree to do the procedure.
SEE ALSO: 'The Shawshank Redemption' Celebrates 20th Anniversary
Strongman Dell (Michael Chiklis) is having a rough week. First his wifey Desiree (Angela Bassett) told him goodbye, then his boytoy went not-so-mysteriously missing, and now Stanley (Denis O'Hare) is blackmailing him. He'll tell the world about Dell's big gay secret unless the strongman kills Stanley a freak for the American Morbidity Museum. He tries his hand at six-foot-eight Amazon Eve (Erika Ervin) but that clearly doesn't go his way, and it leaves him in bad standing with the other freaks.
Jimmy, as usual, volunteers to take care of it, so he and Dell go out drinking to a local bar, where Jimmy gets absolutely shmacked and Dell almost hits him over the head with a brick. Instead they share their first tender father-son moment, because Jimmy announces what he's known all along: Dell is his dad and the genetic reason for his lobster claws. They go back to camp drunk, they mess around, it's funny. Then Dell goes and snaps Ma Petite's (Jyoti Amge) neck.
In other news, Desiree tries to go get her corrective surgery, but she's shocked to find that the doctor has killed himself. In even more news, Penny (Grace Gummer) tries to leave her overbearing dad for good to be with Paul (Mat Fraser), but he's got other plans. And by other plans I mean he recruits his convenient tattoo artist friend to drug Penny and turn her into a human snake with scaly facial tattoos and a forked tongue. Dad, you're ruining my life!
The episode ends with a jarring (no pun intended) shot of dearly departed Ma Petite floating in formaldehyde at the museum, but this time it's for real. Rest in peace, our tiny butterfly!
Tensions are building, the bodies are piling up, and it looks like the freak show's just been offered a compelling new addition! Stay tuned to see if things can possibly get stranger.
Reach Staff Reporter Jules Zucker here.