Film and TV
'American Horror Story: Freak Show' Season 4, Episode 6: 'Bullseye'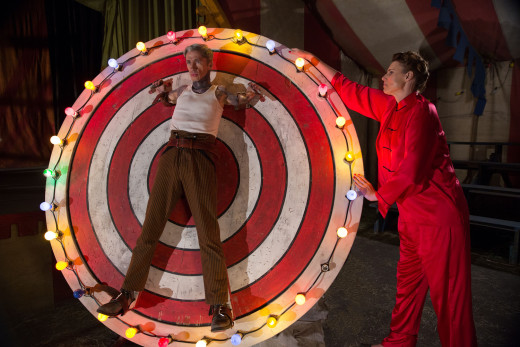 It's Elsa's (Jessica Lange) birthday, and she's getting the star treatment she's always wanted. Presents, compliments and a giant spinning target to throw knives at. She's even getting a little special birthday affection from dashing Paul the Illustrated Seal (Mat Fraser), if you catch my drift. Paul's heart lies with Penny (Grace Gummer), though, that candy striper from the first episode. They're carrying on a secret affair, but Penny's overprotective father seems to know something is up, and he's not happy about it.
READ MORE: 'American Horror Story: Freak Show' Season 4, Episode 5: 'Pink Cupcakes'
The freaks are very suspicious about what became of the Tattler sisters (Sarah Paulson), and Paul begins to catch on when he runs into Dandy (Finn Wittrock) buying two of everything ladylike from the corner store. When he confronts Elsa, she is dually offended by the accusation and the scent of another woman on her lover. She goes ballistic, screaming at the freaks for suspecting her of the Tattlers' disappearance and declaring that one of them must strap themselves onto the spinning target of doom to prove everyone's trust. Jimmy (Evan Peters) volunteers, but his root veggie hands are probably too large to miss, so Paul nobly steps in. It seems like all three knives Elsa throws hit their mark: one just beside the head, another just below the groin…and one right in the stomach. She also makes sure not to call an ambulance. Penny soon arrives, having snuck out after fighting words with her rifle-wielding dad, and tends to her wounded sweetheart.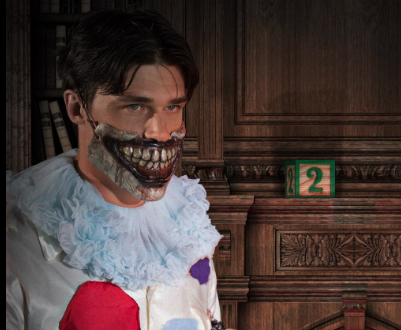 Meanwhile, Stanley (
Denis O'Hare
) and Esmerelda (
Emma Roberts
) have decided that the easiest snatch for their murderous museum plot is the tiny Ma Petite (
Jyoti Amge
), and the faux fortune teller comes shockingly close to pickling the adorable thing alive. But we get the sense Esmerelda is having a change of heart, because she returns Ma Petite unscathed and asks Jimmy to run away with her instead. Stanley, on the other hand, wants Jimmy's lobster fingers in formaldehyde as soon as possible, so clearly something's gotta give.
READ MORE: 'American Horror Story: Freak Show' Season 4, Episode 4: 'Edward Moredrake, Part II'
Then there's Dandy. He's taken a break from killing to dote on Bette and Dot, around whom he feels comfortable because he considers himself a freak as well (and he definitely is, nobody's arguing). Naíve Bette is halfway in love, but Dot hates the man's guts and is tolerating him only to raise the funds for that surgery she's so keen on getting. Her plan is ruined when Dandy reads her journal and finds out her true intentions. Boy, is he mad. He goes on to describe himself using a very weird desert analogy, and announces to his mother that he is incapable of love and his "purpose is to bring death."
Well, there you have it.
Will Esmerelda run off with Jimmy, or will she pickle his limbs for a profit? How many people can Elsa sell to serial killers or stab on spinning targets before she starts to lose her street cred? And will Dandy continue to fulfill his purpose of eating Siberian caviar and brutally murdering innocent people? All will be revealed, and only on "American Horror Story."
Reach Staff Reporter Jules Zucker here.