Sports
Where Should New MLS Club LAFC Build Its Stadium?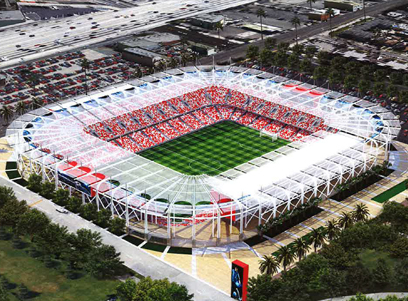 Soccer has arrived! In Los Angeles! For the third time in 20 years!
Following the league-led folding of Chivas USA, the floundering step-brother club in Los Angeles, just a few weeks ago, Major League Soccer and a cartel of 22 owners announced the launching of a new Los Angeles-based club, tenatively named LAFC.
The new side, led by Vietnamese venture capitalist Henry Nguyen, former NBA executive Tom Penn and Dodgers owner Peter Guber, was purchased for nearly $100 million and has set aside at least $150 million of privately funded capital to build a stadium in the Los Angeles area.
The hope should be, with the new club and its stadium, to distance itself as far away from the Los Angeles Galaxy, the perennial MLS champs and local bread-winners, with whom Chivas USA was co-tenants at the StubHub Center (formerly known as the Home Depot Center). In both a physical and metaphysical sense, LAFC is seeking to differentiate itself from the notorious brand based in Carson, CA, already launching a red-and-black color scheme that stands as a staunch opponent to the Galaxy's bright blue-and-gold scheme.
Finding a stadium to launch this new brand will be difficult. Potential new sports teams, mostly in the NFL, have tried and failed for years to open up shop in the Los Angeles area, due to the notable lack of public funding and public space available to build new sport-specific stadiums.
However because this new ownership group, which runs almost two dozen deep, will be privately funding any new stadium construction, the process to build the 20,000-seat stadium in a proposed 15-100 acre lot may be easier than previous operations.
SEE ALSO: Landon's Last Stand: The Final Home Game
We're going to take a look at the best locations around the Los Angeles area for the new stadium, starting with some spots that LAFC hinted may be looked at on its new website:
Irvine: If we are to take this location map seriously on LAFC's site, then this location nearly an hour down the I-5 is actually being considered a possibile stadium location. In reality, this is just pandering to the widest target audience, stretching the limits of the county to include suburban fans that have no real relationship with Los Angeles.
What's worst about this location is that it is even farther away from Downtown LA and Hollywood than the StubHub Center, which would completely defeat the point of relaunching an LA soccer franchise and alienate a potential urban fanbase.
Whittier: *see above*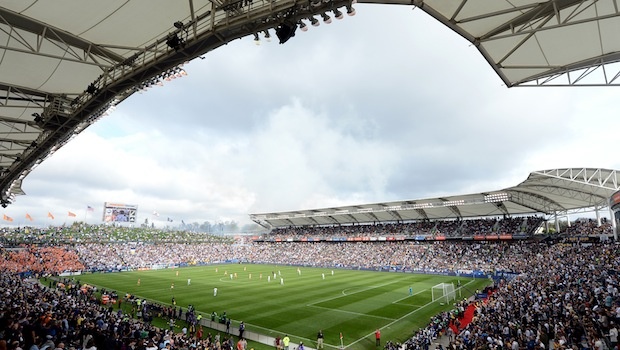 Anaheim: Are we talking LAFC or the Anaheim-Los Angeles Football Club of Anaheim Presented by Honda? To avoid another Major League naming disaster, I suggest the LAFC owners stray clear of Sleeping Beauty's Castle and Arte Moreno.
Downey/Gardena: Located to the right of the 710 and the left of 110, respectively, these regions straddle the StubHub Center, the gravesite of the recently deceased Chivas USA. Like an ancient Indian burial ground, this land would surely haunt any future soccer club owner who dares trespass. This is "Galaxy Country", for lack of a better nickname, and building a competing stadium within its confines would be akin to overcrowding the marketplace or competing with a monopoly. Turn back now, LAFC.
SEE ALSO: For Exposition Park, A Soccer Stadium Or An Amphitheatre?
OKAY, let's get a little more realistic:
Downtown LA: DTLA is booming, and has been for some time now. The millenial gentrification and revitalization of warn-down urban neighborhoods has hit Downtown Los Angeles and the area is turning heads in real estate. A hub for hipsters and progressive youths, Downtown should be the cultural launching point for LAFC. With local bars like Casey's, which is one of the "watch party" pubs for the American Outlaws, located in the heart of town, can you imagine the gameday atmosphere when thousands filter out of Downtown bars and march to the local stadium? It could be electric, almost Seattle-esque if you imagine hard enough.
The problem with this location is, well, the physical location. Most of the available real estate downtown is being bought up by developers looking to build apartment complexes and buildings that would provide housing for local or new residents. These projects, like this one being conducted west of the FiDi are costing up to $200 million, more than the allocated funding provided by the LAFC owners.
Downtown, as culturally progressive and soccer-hungry as it may be, could actually price out LAFC.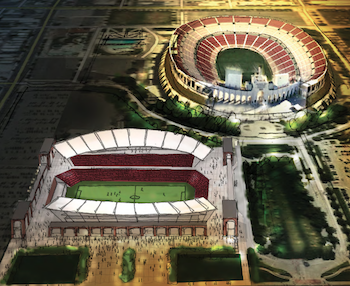 South Central Los Angeles (USC): Believe it or not, the Los Angeles Sports Arena is the most likely location for the new LAFC stadium come 2016. Near an efficient rail system and a fully-functioning sports complex next door, the Sports Arena has been more or less defunct as a consistent sporting venue since USC baseketball left for the fancy, shmancy Galen Center in 2006, making it prime property to be razed and developed into a modern sporting venue.
Of course, now that the USC athletic department owns the Coliseum, the Sports Arena and the rights to renovate and develop on those properties, the LAFC ownership group would have to negotiate a lease with USC and athletic director Pat Haden to develop the stadium, and according to this original ESPN report, USC is interested in doing so.
The Exposition Park location would link potential fans from all over Los Angeles via the three freeways and the Metro system and could even foster a youthful fan base with USC right next door; USC's men's soccer team is non-existent and a professional franchise nearby with international talent would certainly inspire a generation of FIFA bros to check out the local club. The area is also close enough to Downtown to tap into the liberal sporting culture and pull some support.
Most fans - yes, LAFC already has a supporter's group - are in favor of and anticipate the Sports Arena location to home their new club; but the owners won't make a definitive call until 2016 at the earliest, so there's no telling what may happen.
However, if LAFC is to avoid the Chivas catastrophe - invading an already-dominated market and targeting a nano-specific fanbase - it will need to set itself apart from the LA Galaxy and the MLS, and the first step towards the club's all-important branding will begin and end with three words.
Location. Location. Location.
Reach Sports Director Jeremy Bergman via e-mail here.
Follow him on Twitter @JABergman.