Music
Music Industry Hits All-Time Low In 2014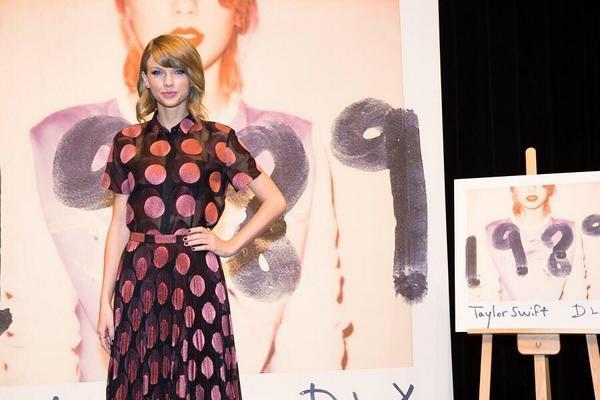 It's no secret that the music industry has been struggling for quite some time.
But 2014 might just take the cake as the industry's worst year yet thanks to all-time low album sales.
For the week of August 26, album sales only reached 3.97 million units, which, according to Billboard, was "the smallest weekly sum for album sales since Nielsen SoundScan began tracking data in 1991."
That week's biggest release was Wiz Khalifa's "Blacc Hollywood," which only moved 90,000 units.
However, there has been one bright spot in 2014's music landscape and it was Taylor Swift's "1989," which came out on October 27.
READ MORE: '1989' By Taylor Swift: Album Review
"1989" sold 1.287 million units in its first week and, according to the New York Times, accounted for 22 percent of that week's 5.98 million album sales.
Not a single album released in 2014 had reached sales of one million units and gone platinum up until that point.
To put things in perspective, the next best-selling release of the year is Coldplay's "Ghost Stories," which has - according to Yahoo! - sold 732,000 units since being released in May - a number well below the one million needed to go platinum.
And even though the public's fascination with all things "Frozen" has calmed, it's still a big talking point for the music industry.
According to Forbes, the hit Disney film's soundtrack, which dropped in November 2013, sold 3.2 million units this year alone (bringing its total sales up to 3.5 million).
In fact, of 2014's top ten best-selling albums so far, half are releases from last year, including Beyoncé's self-titled album and Lorde's "Pure Heroine," both of which sold almost 800,000 units this year.
And with less than two months left in 2014, it's hard to say whether Swift will be able to sell 2 million more units of "1989" to surpass the "Frozen" soundtrack as the year's best-selling album.
Of course, the fast-approaching holiday season might boost sales for "1989," but it'll probably also help sell even more units of the appropriately winter-themed "Frozen" soundtrack.
The lack of platinum releases this year is a terrible sign for the industry, especially when compared to previous years' top ten best-selling albums, all of which sold at least a million units.
Selling an additional 402,000 units in its second week, here's how Swift's "1989" stacks up (so far) against other number one albums (released that year) in the last ten years:
How has the music industry fallen so low?
Ultimately, it all comes down to convenience.
Thanks to the rise of digital music retailers like iTunes, the idea of purchasing whole albums has lost its merit, especially since you can now purchase individual songs instead. Plus, the idea of "Album Only" songs tends to make consumers resort to more... illegal means of obtaining said songs, with Beyoncé's surprise album being a rare example of the "Album Only" model actually succeeding.
And since the emergence of on-demand streaming services like Spotify, people have become less inclined to purchase music, hurting not only physical sales, but digital sales as well, which have dropped 12 percent this year, according to Digital Trends.
Why bother buying music when you can listen to whatever you want whenever you want for free?
And speaking of streaming... Let's talk about Swift's decision to pull her entire discography from Spotify's catalog.
READ MORE: Swift Leaves Spotify With Record Album Sales
On November 10, Spotify CEO Daniel Ek wrote a blog post, claiming, "At our current size, payouts for a top artist like Taylor Swift (before she pulled her catalog) are on track to exceed $6 million a year, and that's only growing - we expect that number to double again in a year."
But the reality, according to Big Machine Records head Scott Borchetta, is a completely different story.
In an interview with TIME, Borchetta said that domestic streams for Swift's music only earned $496,044 - a measly number in comparison to Ek's supposed $6 million - and even went so far as to claim that Big Machine made more money from Swift's music videos on Vevo than from her music on Spotify.
Borchetta and Swift's claims of low payouts from Spotify fall in line with the decision of many artists to now either delay availability of new releases or completely prevent their catalog from ever being on the service.
READ MORE: We Can't All Be Taylor Swift: Why The Industry Still Needs Music Streaming
In 2013, Radiohead's Thom Yorke pulled his solo work from Spotify - though Radiohead songs still remain - in protest of the low royalties received from streaming. And just this week, country singer Jason Aldean pulled his latest album "Old Boots, New Dirt" from Spotify so as to make sure "everyone who is involved in making [his] music [is] paid fairly."
Many people believe that streaming is the future of music consumption and maybe it is. Spotify has become a place where artists can get their music out to a huge number of people, who may actually purchase the record or - if not - still generate revenue for artists in other ways, like buying concert tickets or artist merchandise.
But the fact still remains that physical and digital album sales have been in a steady decline for the past few years while streaming has increased and until labels and artists can work out a good compromise with Spotify or otherwise figure out how to successfully generate revenue from streams, the music industry is in for a really rough ride from here on out.
All album sales numbers based on Nielsen SoundScan data.
Reach Entertainment Producer Michelle Tiu here and follow her on Twitter.