Music
Slipknot Reunites With Their Maggots At Knotfest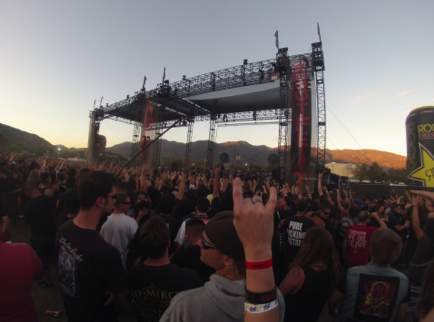 "The time is now, rise up from destitution! We won't lay down, resist the persecution!"
A man climbs up the black scaffolding as Testament thunders through their set, the crowd slowly breaking out of their adrenaline-fueled haze of moshing and headbanging to notice the spectacle. Their cheers slowly crescendo to a roar as the shirtless daredevil -- or dumbass, if you prefer -- reaches the top and takes a seat on the steel bars.
"I will fight relentlessly! I stand tall defiantly! I see what you cannot see! I invoke the beast in me!"
From the top, his view is incredible. A horde of metal fans clad in black spread out beneath him. Tents loaded with alcohol, band merch, delicious Mexican food, and shirts with stupid one-liner phrases line the grassy field beyond. Up on the hill to his left stands a Mega-Loop carny ride that belches out black smoke every time it starts up. And over his shoulder sits the San Manuel Amphitheater, sitting in silence for a final few moments before it becomes inhabited by the loudest music known to man.
"Hey, climb down from there, brutha."
The nutball's reverie is cut short by the command of Testament frontman Chuck Billy, whose growls are suddenly replaced by playful chiding. He resists for a few seconds as he receives mixed messages from the voices on stage telling him to descend safely and the drunken chants of "JUMP JUMP JUMP!" from the crowd. He decides to listen to the former but gets a loud ovation from both band and crowd alike.
"Sorry for drivin' ya up the fuckin' roof, man."
---------------------------------------------------------------------------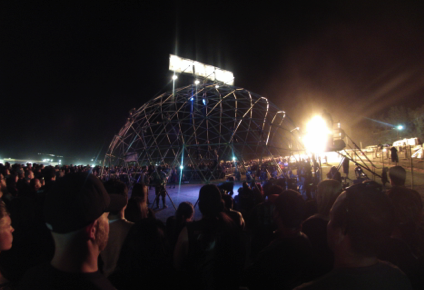 In Testament's defense, these fans came to San Bernardino with both feet firmly planted on the roof before a single guitar string vibrated. After all, they were attending the resurrection of one of metal's strangest oddities: Slipknot. Since exploding into prominence 15 years ago, this pack of nine mask-wearing headbangers has become arguably the most enduring remnant of the nu metal movement that dominated the late 90s.
Over four albums, they have built up a legacy that includes a Grammy, a Billboard chart-topping album, and a fan base -- known as the Maggots -- that holds such a crazed obsession with the band that it puts Directioners to shame.
SEE ALSO: Top Albums of October
This past weekend, with their new album just released and expected to top the Billboard 200, Slipknot reunited themselves with their Maggot faithful at Knotfest, a metal festival featuring over 50 bands. In keeping with everything the band has done since their inception, the festival was a mix of music showcase and circus of the bizarre. Comely women with pagan masks and creepy costumes dance around on stilts and take selfies with grinning bros. A set of wrecked cars was brought in for a drum crew to bang on with sticks and pipes. The Death Guild, a Bay Area goth club, brought in their replica of the Thunderdome from "Mad Max" and put on fights for the fans in between sets. There were zip lines, motocross stunt shows, fiery carnival games, and oh yeah, some metal bands performed too.
But as crazy as Knotfest was, it could have been even crazier. Slipknot planned to fill the amphitheater grounds with barrels filled with oil and camel feces that would be set ablaze. "The official scent of Knotfest," they called it. Unfortunately, local fire officials turned down the ideam saying that the stench would be a public nuisance and that burning oil is illegal in California.
Not to worry, though. The fans provided a back-up plan that provides a stench that may not be unique to Knotfest, but would certainly be familiar to anyone that's been to a San Bernardino metal festival:
The smell of burning plastic.
With the last bits of sky fading to black, the main stage performances began on Saturday night with hardcore band Hatebreed. Immediately, the fans sitting in the lawn area got to work, gathering pieces of plastic garbage and cardboard trash bins into piles and setting them on fire with lighters they smuggled into the venue. Hatebreed was a good choice to open the main event, as frontman Jamey Jasta quickly whipped up the crowd into a frenzy with easy chant-along lyrics like "BORN TO BLEED! FIGHTING TO SUCCEED! BUILT TO ENDURE WHAT THIS WORLD THROWS AT ME!"
Hatebreed's music can be summed up as the audial manifestation of white suburban teenage angst. Pissed off at the world and just wish you could unleash violent retribution at everyone that's wronged you? Hatebreed feels ya, man, and judging by the crowd's anthem-like chant of Jasta's lyrics, there was a lot of negative energy that needed to get out of the system that night.
But once the hardcore portion of the bill was done, it was time for some of metal's biggest icons to take the stage, starting with guitar god Zakk Wylde and his Black Label Society. If you need any proof that Gene Simmons' declaration of rock's death is a load of burning trash, look no further than Wylde. No one else in metal has a more commanding presence than this man. He prowls the stage with confidence, turning songs that are four minutes long on his albums into ten minute odysseys with improvised guitar solos. When he holds up his guitar before the masses at the end of his set, it feels like a priest raising up the Holy Gospel.
READ MORE: Black Sabbath At The Hollywood Bowl: Show Review
Following Black Label Society was legendary thrash metal band Anthrax, performing their last show before heading to the studio to record their next album. While other thrash acts like Metallica and Slayer get all the glory, Anthrax has aged far better than their more famous counterparts. They never sound winded or lose their tonality, providing the relentless aggression that is expected from a thrash band. By the end of the their set, the fire pits had become a roaring maelstrom. Dozens of burly, tattooed man slammed up against reckless, lightweight teens.
Men with shirts that read "Shut Up And Mosh, You Fucker" and "It Was A Pleasure Moshing With You, Kind Sir" sprinted through toxic fumes filled with dioxins. Toilet paper stolen from the bathrooms was dipped into the fire and then tossed into the air to create a rain of embers. Those who cared least about life and limb even jumped straight through the fire, and yes, some of them ended up losing several layers of skin in the process.
By this point, the fans were ready for Slipknot to come out, but sat patiently through Danzig's set. Inspired by Black Sabbath's early work, Danzig was much more slower-paced than the preceding acts, though tracks like "Am I Demon" and "Killer Wolf" provided a horror vibe fitting for a metal show around Halloween. Danzig also covered the stage with their goat skull logo, including on a belt buckle that could be seen from space.
Then, less than an hour before midnight, the hosts of this twisted party took the stage.
There's always been a bit of controversy among metal fans over Slipknot's accoutrements. To some, their constantly changing masks and numbered jumpsuits are just flash-and-bang covering up unexceptional metal. To others, it's a vital part of who they are, allowing them to bring the sort of weird theatricality that has become synonymous with metal over the decades. But beneath the shock value, there's always been a sincerity behind everything Slipknot does that has endeared them to their maggots.
Their creepy music videos actually have personal meaning behind them, such as their most recent one, which depicts them getting gruesomely killed off while wearing their old masks to symbolize the end of one part of their careers and the start of the next. Unlike other masked bands like GWAR, they don't create weird serial killer characters to perform as when they put on the masks. The guy on the microphone doesn't speak to the crowd as escaped Iowa mental patient "Skin n' Bones." He speaks to them as Corey Taylor.
That said, it would be wrong to deny that the insane lengths to which Slipknot builds up their spectacle isn't part of their appeal. As the curtain opened at Knotfest, the audience was presented with a stage transformed into the entrance of a demonic funhouse. Staircases lined with fire jets led up to a gateway into a chamber filled with mirrors and LED screens; and hanging over it all was a giant goat's head with glowing red eyes.
Boy, metalheads sure love goats.
READ MORE: Within Temptation At Club Nokia: Review
Down below, Slipknot came out swinging with new costumes, new masks, and even a new lineup. This was their first show with a new drummer and bassist following the death of original bassist Paul Gray and the unexplained firing of longtime drummer/songwriter Joey Jordison. Fortunately, the loss of these two didn't lessen the band's power in any way. Up front and center was Taylor, sporting a mask that looked like something out of "The Texas Chainsaw Massacre" and inviting the maggots to join him in a roaring declaration of "People = Shit." Flanking him were guitarists Jim Root and Mick Thompson, both standing well over six feet tall and coming off as guys who don't need masks to be intimidating as hell.
Saturday's setlist was a balanced mix of The 'Knot's latest music, greatest hits, and deep cuts that they haven't played in years. Perhaps the tracks that benefitted the most from a live performance were the ones from their new album, ".5: The Gray Chapter." On the album, songs like "The Negative One" don't sound like they are coming from a band with nine members. It sounds overproduced and tame, lacking the sense of barely-controlled chaos that one expects on a Slipknot album. But live, that chaos ramps up exponentially, thanks in large part to custom percussionists Chris Fehn and Shawn Crahan.
The two stand on scissor lifts that rise above the masses, smashing on custom-welded timpani sets and beer kegs. Crahan, known by the Maggots as "Clown," is the man who came up with the burning camel crap idea as well as much of Slipknot's image. With that in mind, it's no surprise that he gets into the act more than any of his mates, slamming on his drums with a baseball bat and thrashing his red-nosed mask up and down like a video loop of a crash dummy at the point of impact.
If any fans are worried that Slipknot's live show has lost a step following the long hiatus they have taken, they shouldn't be. Knotfest marked the beginning of a new tour that will showcase a Slipknot that has gone through a difficult transition but has come out with its fiery core still intact. They put body and soul into their craft, their performance, and most of all, their connection to their Maggots.
The fire pit has come to a sudden standstill. The Maggots kneel by the dying fires, waiting for the command to unleash hell. Taylor takes the mic one more time...
"Get your lips ready, gonna gag, gonna make you sick You got DICK when they passed out the good stuff. Bam - are you sick of me? JUMP THE FUCK UP!"
The Maggots leap to the sky as one frothing mass. The moshers break into a dead sprint. Heads flail to a frantic rhythm. It's good to be back.
Reach Staff Reporter Jeremy Fuster here or follow him on Twitter.