Music
Life Is Beautiful Festival: Review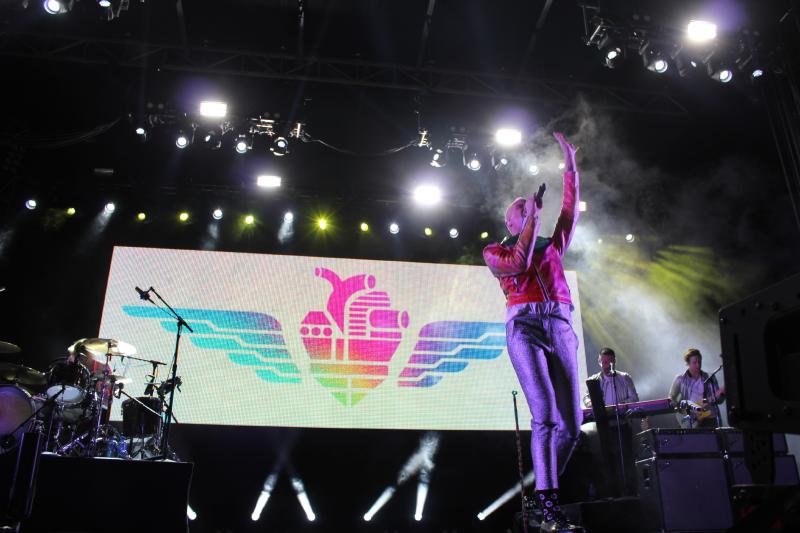 This past weekend the Life is Beautiful Festival took place in Las Vegas, Nevada and it did not disappoint.
Featuring not only music but also adding art, cooking celebrities and demonstrations, the best food Vegas can offer, and lecturers such as Pussy Riot, an anti-bullying activist, the founders of Banana Republic, illusionists Penn & Teller, an NPR reporter, and even the founder of Life is Beautiful, this festival had something for everyone.
The Music
The headliners of the festival included Kanye West, Foo Fighters, Skrillex, Panic! At The Disco, Neon Trees, Arctic Monkeys, Lionel Richie, Outkast, and The Flaming Lips, which not only attracted a diverse crowd during the weekend but also made this festival stand out as uniquely a "Vegas" festival.
READ MORE: Charli XCX At The Mayan Theatre: Review
Just like the city itself, the festival had a specific type of music for everyone, while simultaneously not stifling any attendees' wanting to experience new music. By allowing attendees to experience different genres of music throughout the day, on five different stages, it was evident that people took the opportunity to check out an act they had never heard before while they were waiting for their next expected performer.
A personal favorite was the Dancernaut stage that was positioned in between the two main areas of staging that had heavy hitting EDM playing at most times of the day. Originating as a stage at Burning Man this stage has been featured at other festivals as well. Just to illustrate the range of music that was featured, musical acts also included everything from Las Vegas Philharmonic playing The Beatles' music for Cirque Du Soleil performers on stage to Phantogram to Jimmy Fallon's house band The Roots to Lionel Richie that entertained everyone from young children to the older attendees.
The Foo Fighters closed the weekend out with their top hits across their career whilst battling with the younger generation's favorite, Skrillex, and his electrifying closer, which was accompanied with large light-up orbs that not only added to the aesthetic but knocked every person's phone out of their hands as they tried to capture the perfect Instagram photo.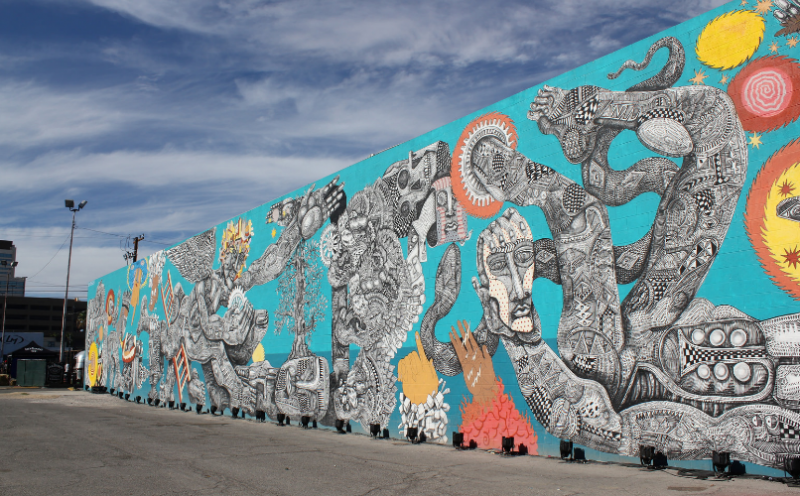 The Art
Throughout the festival, multiple art exhibits donned the grounds, along with graffiti that already existed on site, to help bring some visual stimulation to the weekend. There were pieces that included a large mesh sculpture of a man, reminiscent of something from Burning Man, to graffiti that took up an entire side of a building, to a large wall that was covered in pink fur that one could comb.
Among these exhibits there was an entire hall that allowed local artists to showcase artwork in which one could reflect and learn but also included interactive artwork where attendees could cut out pictures, write a memorable, inspirational, or funny quote and paste it to a wall. The only thing better than free access to art is being allowed to contribute to the art.
The Food
Aside from booths set up across the entire venue, at every stage, there were award winning food trucks that offered everything from Greek-American fusion to strictly Asian cuisine ensuring that there was some type of food for every patron.
READ MORE: Vegan Oktoberfest: Not The Best, But Not The 'Wurst,' Either
Besides a wide range of food at the festival, there were cooking demonstrations from top celebrity chefs Cat Cora and Scott Conant (among many others) that cooked with members of musical acts that were performing during the weekend. The best aspect of these demonstrations was that attendees were allowed to eat the food that was prepared.
The Speakers
The main focus of the festival is actually supposed to be centered around the guest speakers that appeared in the Western Hotel (which appeared within the festival grounds) that also housed artwork during the weekend. Rehan Choudhry, the founder of the Life is Beautiful Festival, wanted this festival to be about how one can learn and grow to realize how one's life is also truly beautiful.
"The world we live in is a beautiful place. But, more often than not, people don't see it that way," says Choudhry. Continuing, he says "[The festival] is meant to guide people to the place where they can embrace life and find happiness, whatever that looks like to the individual." With the festival boom in full swing, this extra addition to the festival will no doubt create a new experience that will set this festival apart for years to come.
Overall, this festival will definitely be one to keep on the look out in the next few years. The wide variety of activities that attendees could partake in, plus the additional luxury of exiting and re-entry that the festival maintained will quickly make this a contender of the already established giants of Coachella, EDC, Bonnaroo, and Lollapalooza. Life is certainly beautiful and so is this festival.
Contact Staff Reporter Marc Sessa here.