Food
Vegan Oktoberfest: Not The Best, But Not The 'Wurst,' Either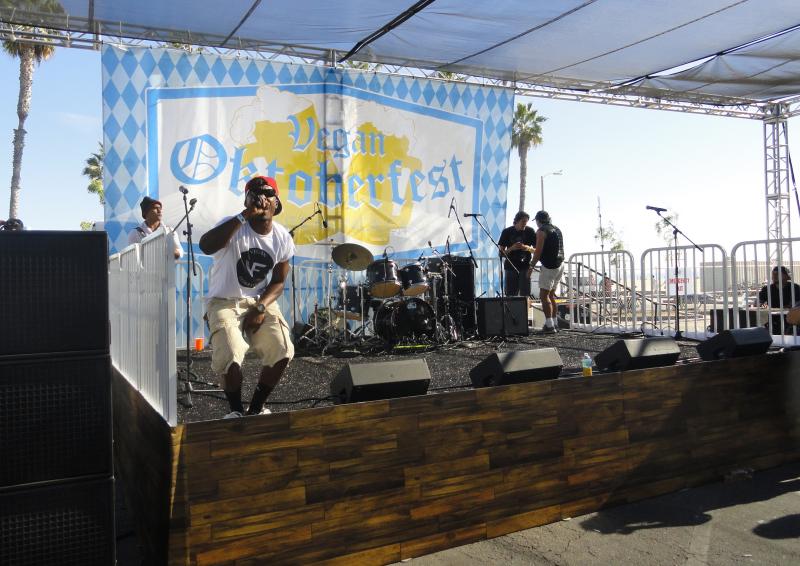 Only in Los Angeles can you enjoy a Vegan Oktoberfest beachside in 80-degree weather while being serenaded by a vegan rapper. And that is part of what makes this city so great.
More than 3,000 members of L.A.'s cruelty-free community came out to enjoy the world's first all-vegan Oktoberfest last Saturday in Santa Monica.
Since Oktoberfest is historically a beer festival, it's natural to question why it would need to be veganized. Turns out, not all beer is vegan or even vegetarian. Guinness, for example, uses a gelatin-like substance derived from fish to stabilize the foam, and some beers are filtered through bone or colored with carmine, which comes from crushed beetle shells.
Realistically, though, the vast majority of beers are vegan-friendly. The whole dining experience, with the sausages and schnitzels, is a little less so. Vegan Oktoberfest aimed to allow vegans and vegetarians to enjoy this celebration of German culture and cuisine for the first time.
READ MORE: Carnivore to Herbivore: The Vegan Starter Kit
For many attendees, the biggest obstacle of the festival was getting in. Lines wrapped around the venue during the early hours of the event. Around 2:30 p.m., which seemed to be peak arrival time, the event organizers briefly stopped admitting people at all.
Event producer Jill Ryther said a fire marshal overheard people in line suggesting the event was at capacity, and decided to investigate before letting more people in. According to Ryther, the line started moving again immediately after she disproved the rumor by providing a record of tickets scanned.
Santa Monica Police Officer Jacob Holloway said the delay was never about capacity, but about the flow of people inside the fenced-in event. He said the layout of the event led to a knot people right inside the entrance as they lined up for the food trucks.
"It was a safety issue," Holloway said of the clog. "The fire marshal had to spread them out before more people could come in."
The confusion was resolved within 20 minutes, but not before some angry ticketholders demanded refunds and left.
SEE ALSO: 7 Pumpkin Brews For Halloween
Most of the breweries featured were familiar, local names. Los Angeles breweries included Golden Road, Ace, Bravery, Four Sons, The Dudes', Angel City and Venice Duck. San Diego added to the line up with Karl Strauss, Coronado Brewing Company, St. Archer and Modern Times.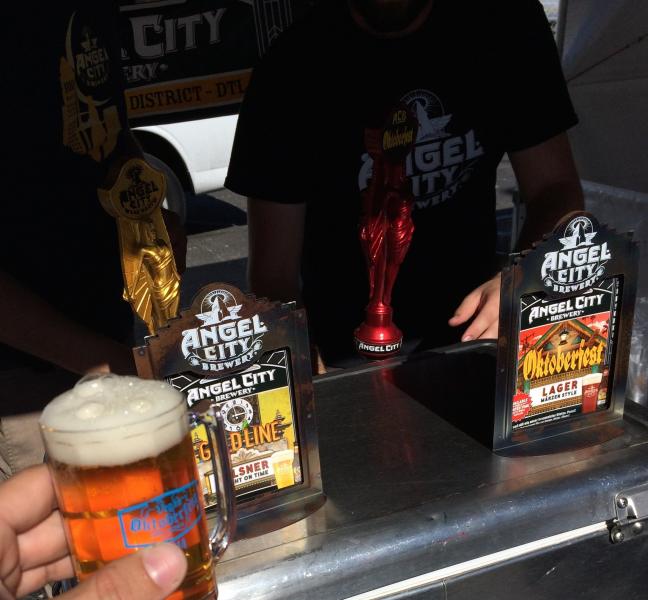 A $45 general admission tasting got you a 5-oz. souvenir stein to use for unlimited beer tasting. Some stands ran out of product hours before the festival was over, but luckily there were enough options to keep the beer flowing pretty freely. Angel City's refreshing pilsner and Modern Times' citrusy wheat beer were some of the favorites for people trying to combat the heat.
READ ALSO: What Fall Foods To Buy And Which To Skip
Since most beer is vegan-friendly by nature, the really vegan part of Vegan Oktoberfest was the food.
Notable vegan joints including Sage Organic Bistro, The Green Truck and San Diego's Southern Fried Vegan offered veganized Oktoberfest classics such as potato pancakes and Bavarian pretzels. Southern Fried Vegan, known for its soul food, was especially popular.
"I feel like it tastes like what it's supposed to be," vegan blogger Daniella Morinello said while enjoying a vegan cheesesteak on a stick.
Southern Fried Vegan also served the Oktoberfest staple: a beer bratwurst on a pretzel bun topped with saurkraut. The chewiness of the pretzel bun was excellent, and held up well to the kraut and mustard that could have made another bun soggy. The kraut was fresh and crunchy, and brightened up the heavy sandwich. Delicious, but there wasn't nearly enough of it. The sausage itself, though, tasted suspiciously like a Tofurkey link and left something to be desired.
While I applaud the effort of the event, none of the meat-substitutes were anything worth seeking out again.
Vegan bakery Babycakes NYC offered crisp chocolate cookies that weren't quite sweet enough, and sugar-coated blueberry doughnut holes that were moist and flavorful, but not quite as satisfying as the trays of German chocolate cake circling the VIP section.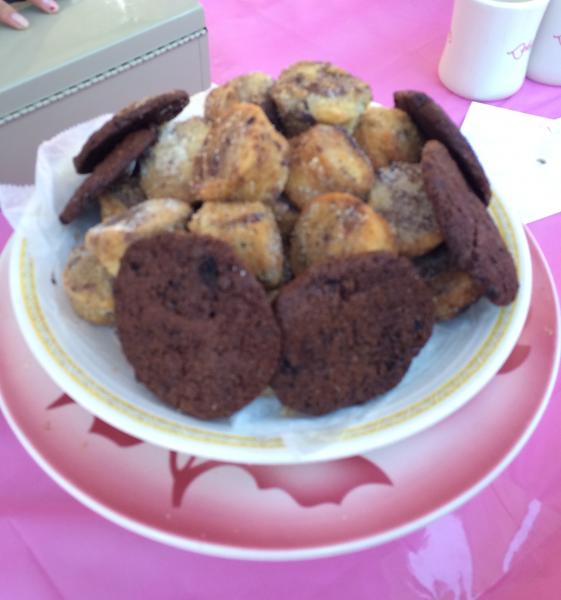 Some non-vegan restaurants joined the fun and developed plant-based recipes just for the event. The popular Grilled Cheese Truck sold out of heavenly-looking sandwiches stuffed with vegan mac-and-cheese. Urban Pies was churning out pizza from its portable wood-fired oven, which was novel but too time consuming for a festival environment. The barely charred crust was perfection, but the vegan cheese failed to melt and had a bizarrely unappealing texture.
Overall, the food was tasty but not quite the exceptional culinary experience I was hoping for and only a fraction of it was actually German-themed. In fact, the whole experience was only marginally German-themed.
READ MORE: Vegan Guide To A Turkey-less Thanksgiving
In all, the event almost came off as a trial run. Logistical issues such as delayed admission and ATMs running out of cash suggested poor planning and problem solving. During and after the event, people took to Internet with suggestions for improvement.
But again, it was the first Vegan Oktoberfest in the world, and presumably the second time will go more smoothly.
By the end of the day, Ryther was a little frantic from the chaos but confident in the future of the event nonetheless.
"We're gonna do it again next year, and this time with all the little kinks fixed."
Reach Editor-at-Large Sara Tiano here. Follow her on Twitter here.