Los Angeles
L.A. School District Superintendent Keeps Job... For Now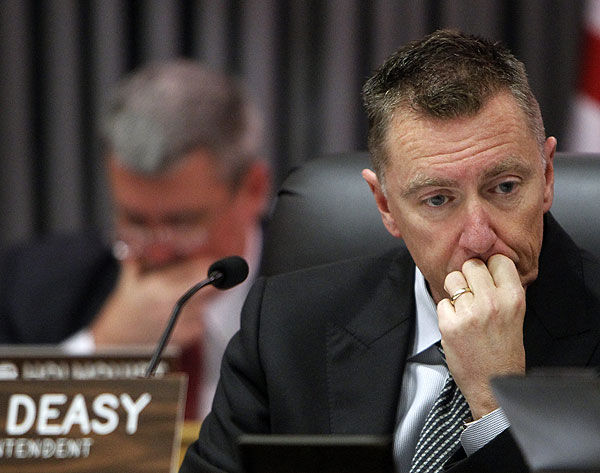 After four hours of discussing Superintendent John Deasy's upcoming performance review, the Los Angeles Unified School District (LAUSD) school board had "no reportable actions" when it came out of closed session Tuesday night.
"We haven't decided anything, and we agreed not to talk about it," said school board President Richard Vladovic.
Although it seemed unlikely, there was speculation that the board might fire Deasy, which it can do at any time with 30 days notice. That possibility is still present, especially with his annual evaluation scheduled for Oct. 21.
One of Deasy's vocal critics has been United Teachers Los Angeles (UTLA) President Alex Caputo-Pearl. When asked whether he believed Deasy should be fired, however, Caputo-Pearl only said that UTLA wants more accountability from their superintendent.
"John Deasy has made it his hallmark about how all school employees need to be held accountable, and he needs to be held to his own rules," said Caputo-Pearl.
Deasy has come under fire most notably for his now-cancelled $1 billion iPad program and the disaster with MiSiS, a glitchy school computer system which lost student records and mixed up student schedules.
SEE ALSO: L.A. Schools Superintendent Cancels IPad Program
During the open portion of the school board meeting, one parent, Roberto Fonseca, expressed frustration with the iPad program.
"What happened to all those laptops and iPads? They aren't there," said Fonseca. "People are paying taxes to a system that, if it doesn't change, is going to collapse."
Not everyone, however, is displeased with Deasy. Business and civic leaders comprising the Civic Alliance have expressed confidence in Deasy and wrote to the school board this week praising his progress.
But according to Caputo-Pearl, the thanks for that progress should not go to Deasy.
"Many of the things that John Deasy is getting credit for have been built by educators and community organizations and parents," said Caputo-Pearl. "The effort to build restorative justice programs that keep kids in school existed many years before Deasy took office."
SEE ALSO: Union Achieves Minimum Wage Raise For LAUSD Workers
Employees of the district had mixed feelings for Deasy.
For Linda Perez, a LAUSD employee for over 22 years, Deasy did not have the right priorities from the start.
"He doesn't care about us," said Perez, who serves as the president of the California School Employees Association (CSEA). "He's trying to change the whole culture of the district. It's not an educational institution anymore."
Perez was at the board meeting with two other CSEA leaders to open negotiations for a successor contract for school employees.
Fear among staff and faculty is a major issue for Franny Parish, a library aide.
"Too many people are afraid to speak out negatively about the superintendent," Parish said. "They're terrified that there will be repercussions and they will lose their jobs."
According to Letetsia Fox, a senior financial manager at a LAUSD high school for the past 13 years, things have not always been so dark with Deasy.
"When he first came in, there was a focus," said Fox, who also serves as the negotiations chair for CSEA. "He sent out a newsletter every week or month with the goals of the district. I used to read it every time it came out, and I was impressed. After a while he stopped sending them. The focus was good when he came in, but that focus changed."
SEE ALSO: LAUSD Superintendent Survives IPad Fiasco
This is not the first time there has been uncertainty in his job. During last year's review there were rumors that Deasy may resign, but the board ended up giving him a "satisfactory" evaluation.
It's seems unlikely that Deasy will be given a positive evaluation this year, but Vladovic only said that the board's discussion "is to be continued."
Reach Web Producer Sophia Li here. Follow her on Twitter here.