Los Angeles and Region
LAUSD Superintendent Survives iPad Fiasco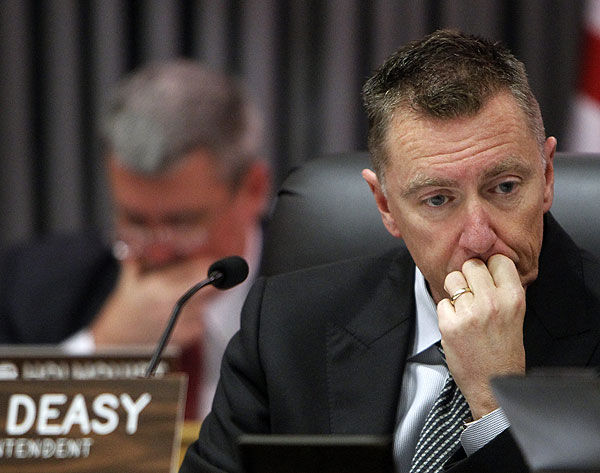 As a lengthy and private board of education session dragged on for hours, rumors that Los Angeles Unified School District (LAUSD) superintendent John Deasy would resign from his post in February seemingly gained momentum.
But in an unexpected move, the board announced that Deasy's "satisfactory" performance evaluation earned him a contract extension through 2016.
It wraps a wild week of intrigue surrounding the embattled superintendent.
The Los Angeles Times originally reported last week that Deasy was preparing to leave his position in February. Other media outlets echoed that report, which became amplified in the hours of silence preceding Deasy's contract extension.
Both supporters and critics of Deasy packed the session. When board members went into recess, there was little suspicion the superintendent would emerge with an extension.
Deasy has been under fire ever since LAUSD's $30 million program to deliver 50,000 Apple iPad tablets to 47 campuses deteriorated into "chaos." The Los Angeles Times also reported last week that program costs have ballooned from $678 per unit to $770 per unit, prompting a new wave of criticism.
SEE ALSO: LAUSD's iPad Problem Not Going Away
The iPad tablet initiative, built to satisfy Common Core technology requirements, will cost the district over $1 billion if it is fully implemented. LAUSD is planning to use "construction bonds" to pay for the program - another divisive measure amongst residents.
The tablet program has become so unpopular that Deasy was forced to take to the airwaves to defend the initiative in early October. Deasy was openly supportive of the program during the telecast, stating the iPads were "a fundamental right of students."
SEE ALSO: Common Core Is Now In Session
Deasy's political footing has eroded since the abrupt resignation of deputy superintendent Jaime Aquino back in September. The behind closed doors evaluation by a reshuffled school board less inclined to back the superintendent was seen from outside observers as a possible death knell for Deasy.
But while Deasy appeared victorious, the board agenda notes "Conference With Legal Counsel" in regards to anticipated litigation due to "Superintendent's Separation." Whether or not that was due to a potential buyout offered by Deasy or a resignation floated by the board remains unknown.
For now, both the superintendent and LAUSD's iPad initiative will march on.
Reach editor Will Federman here or tweet him at @wfederman.