Los Angeles
Challenging L.A.'s Destructive Hit-And-Run Crisis: How A City Copes
They were all experienced cyclists—some of L.A.'s best. The bright lights, helmets and reflective tape, though, weren't enough to prevent an intoxicated 21-year-old from plowing her car into the group of riders on a bridge.
It was September of 2013 when Wendy Villegas struck and killed 22-year-old Luis "Andy" Garcia, severely injured Ulises Melgar and Mario Lopez, and narrowly missed a fourth cyclist with her car. Instead of pulling over, Villegas continued down the Cesar Chavez Bridge into Boyle Heights, failing to acknowledge the sparks and screeching of Garcia's bike dragging along under her car.
"Out of nowhere I just remember seeing car lights," recalls Melgar. "I just flew up. I didn't know what was going on. I was looking at the sky, the heliport that's there, and the buildings just spinning. I didn't hear her coming, I didn't see her coming."
Melgar suffered severe burns from the road and narrowly missed being flung over the side of the bridge into the concrete river 100 feet below. Mario Lopez landed in the middle of the road, his helmet severely damaged and his back broken.
Garcia, a student and sculptor who had just completed a criterium race around Disney Hall with the cycling group Midnight Ridazz, was dead. His killer, meanwhile, was fleeing away from the scene at 45 miles per hour.
"I remember seeing Andy lying, crumpled in the middle of the road. I remember yelling hysterically, 'Why is he not moving?'" Lopez recalled. "And then I remember feeling a tremendous pain in my back and my ankles. That wasn't my concern though. Just seeing Andy on the ground, [I] was processing in my head what just happened."
READ MORE: Six Months After Fatal Hit-And-Run, Family Still Hopes For Arrest
Los Angeles has a hit-and-run problem. A 2012 LA Weekly article called the problem an epidemic. When viewing the statistics the Los Angeles Police Department tabulates and hearing stories like that of Garcia, Melgar and Lopez, it's hard to disagree.
According to the LAPD, 11,455 hit-and-run incidents occurred in the city between Jan. 1 and Jul. 26 of this year. Most of these involve only minor injuries or property damage.
But during the same time period, 86 people suffered "serious bodily injury" at the hands of hit-and-run drivers. Thirteen people were killed, each left for dead by the drivers who struck them.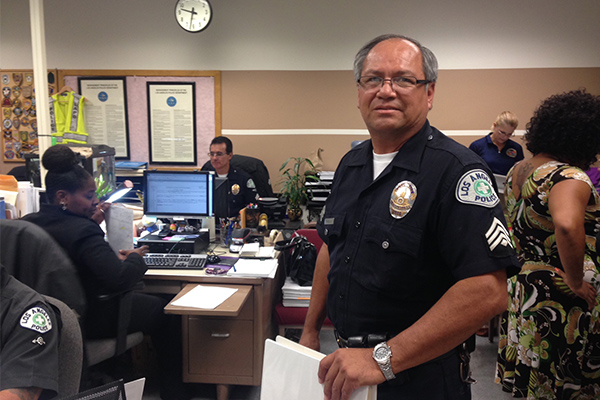 LAPD was unable to provide statistics on how many of the 99 cases involving death or serious bodily injury resulted in an arrest for felony hit-and-run. Detective Felix Padilla of LAPD's Central Traffic Division offered an unofficial ballpark estimate that anywhere from about 50 to 80 percent of felony hit-and-run offenders are able to escape scot-free.
Investigating hit-and-runs, though, is an extremely challenging task. The nature of the crime means that when investigators arrive at the scene there is often little or no evidence around for investigators to work with.
"There are so many times we go out and there's just a dead body in the roadway," Padilla said.
Padilla is a veteran investigator who's been working in traffic for LAPD for more than 20 years. In Central Traffic, he's one of the lead detectives—the one who gets called out for the most gruesome and challenging cases.
"It's almost impossible sometimes because we have so little to go on," Padilla said. "If we don't have a plate number or other identifiable feature, we have to turn to the public for help."
Turning to the public includes essentially asking for people to look out for suspiciously damaged cars, or a plea to family and friends of the offender to come forward with information.
This isn't to say that the police department is totally helpless. Even a few plate numbers and a vague description of the offending car can be tremendously helpful. The department's controversial license plate recognition program, which documents where and when practically every car in the city is at all times, is a godsend to investigators like Padilla who can use it to determine where cars fitting the search criteria are around the time of the crime.
According to Padilla, the system is frequently used successfully to find hit-and-run drivers. Ultimately, however, an investigation is only as good as the evidence that police can find, and sometimes they're just plain out of luck.
"When you go to these fatals, you wish you could tell the family, 'Yes, we know what happened, we know who did it,'" said Padilla. "They're looking for closure. When we're able to give it to them it's very rewarding. But when it goes the other direction, it's the worst feeling."
READ MORE: Couple Who Killed USC Student In Hit-And-Run Receive Maximum Sentence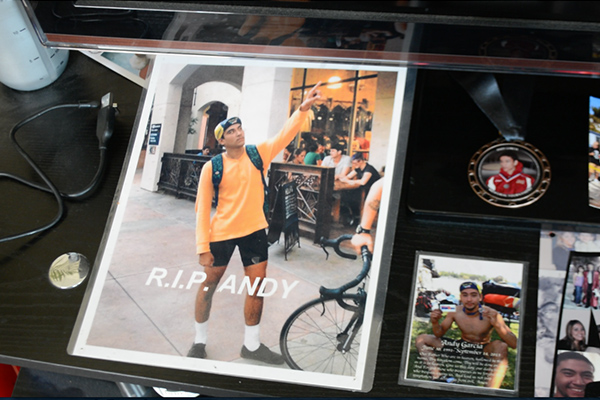 Closure was what friends and family of Andy Garcia were hoping for and thought they found when they learned that his killer was apprehended the next morning. They felt confident that justice would be served—that Villegas would be given an appropriate sentence for what they viewed as murder. Villegas
was arrested
for gross vehicular manslaughter, felony hit-and-run and driving under the influence.
Despite this, the case never made it to court. During pretrial hearings, the Los Angeles District Attorney representing the case against Villegas offered a plea-bargain, dropping the charge of gross vehicular manslaughter.
The change meant a reduction in Villegas' prison term from a maximum of 15 years to three years and eight months. Paired with her youth and clean record (and California's overcrowded prison system), it's likely she'll only serve one to two years.
"This isn't justice," Lopez said. "She killed my friend. And I was out of work for three months because of my back. The whole system is leaving us feel betrayed."
Melgar agreed, explaining how the general sense of betrayal he and other victims felt spurred them to activism, fighting for both stiffer penalties against hit-and-run drivers, as well as for legislation that would discourage people from fleeing the scene after a crash.
"After the incident while we were going back and forth through courts, we ran across other riders and other victims of hit-and-runs," Melgar said. "We saw what they were doing and knew that we could too."
During the months of court proceedings, Garcia's friends and family organized "Justice for Andy" rides, each aimed at raising awareness for hit-and-run victims and the lack of justice they felt the laws were affording them.
Their efforts sparked a movement, and the Justice for Andy advocates joined forces with Damian Kevitt of Finish the Ride. Kevitt was hit while riding his bicycle near a freeway onramp in Griffith Park and was pinned underneath a minivan as it merged onto the freeway. In addition to a number of broken bones and tissue damage, Kevitt's right leg was amputated.
The message from Finish the Ride, Justice for Andy and a slew of other pedestrian and cyclists' rights groups is the same: hit-and-runs are unacceptable and must be quelled.
"We need to change the laws. We need more resources," Lopez said. "We need more cops out there designated to search for hit-and-run drivers. We need more cameras. We need more great minds working to stop this."
READ MORE: Big Reward Offered In Hit-And-Run Of Cyclist In Griffith Park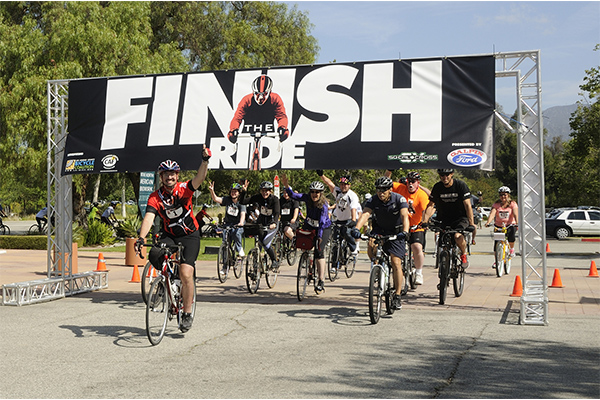 Policymakers are picking up, though, if not for the general clamor raised by a growing number of cyclist and pedestrian advocates. In the California State Assembly, no less than four separate bills specifically tailored to crack down on hit-and-runs are moving through the legislative process.
State Assemblymember Mike Gatto is sponsoring two of the bills, AB 47 and AB 1532. The bills respectively allow law enforcement officers to use an AMBER Alert-like system to find cars involved in hit-and-runs and to automatically revoke a person's driver's license for six months if they leave the scene of an accident, no matter how minor the damage.
"Stopping these crimes is going to take a bunch of different efforts from a bunch of different legislature," said Assemblymember Gatto. "Often it's the family members who find a plate, flyer the neighborhood. The police are busy and can't always get everything done."
Collectively advocates, victims and policymakers are building momentum to stop the epidemic across the city.
Despite the best of efforts, hit-and-runs occur with alarming frequency throughout Los Angeles. Former Napster executive Milt Olin was hit and killed by an on-duty L.A. County Sheriff deputy in Calabasas while cycling.
The deputy was using his in-car computer when he veered into the bike lane and struck Olin. Due to a loophole in the law that allows emergency responders to use in-car technology while driving, the deputy will face no charges.
The story repeats itself again and again, each time altering lives in seconds. Garcia's friends hope only that the crimes can be stopped to prevent further tragedy.
"It's not just cyclists or pedestrians. It could be anyone," Melgar said. "It could be your brother, your sister, your cousin, your aunt, your mom. So many different walks of life [are] out on the street."
Garcia was a 22-year-old from Boyle Heights. Olin was an entertainment attorney and former Napster COO from Calabasas. These crimes affect us all, and consequently are all of our responsibility.
"These are people with lives and families. You don't just hit them and take off. It's decency and respect, to yield and make sure the person you've hurt is okay."
Is that too much to ask?
Contact Senior Reporter Matthew Tinoco here. And follow him on Twitter.