Los Angeles
Six Months After Fatal Hit-And-Run, Family Still Hopes For Arrest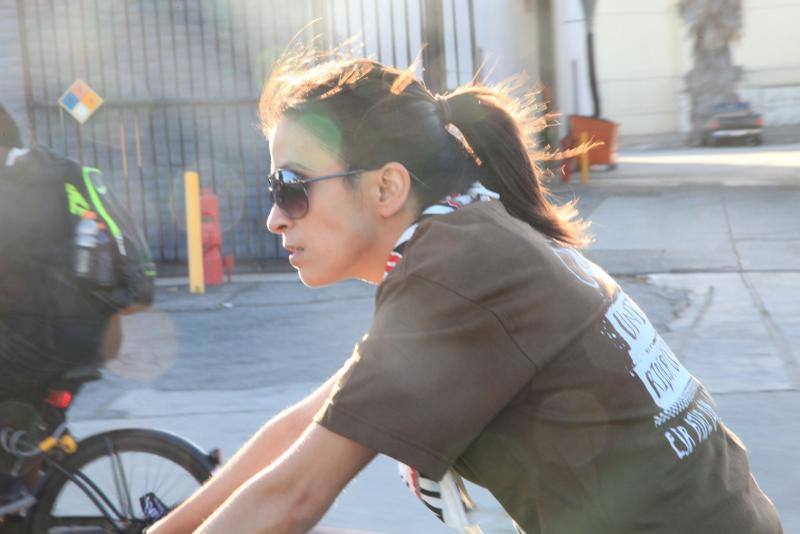 Teresa Chaidez thought her nephew was in some sort of trouble with the law when the police detective rang the doorbell. But the news was worse. Gardena Police Detective Matthew Hassoldt told her a car had hit her stepfather Benjamin Torres three blocks away.
"He did not make it." Hassoldt said.
Last Oct. 22, 49-year-old Benjamin Torres was riding his bicycle to work when a car swerved in the right lane and struck him on 135th Street, a few blocks from his job at Brek Manufacturing Co. The driver fled, leaving Torres with severe head injuries. The force of the collision smashed his face so badly that the L.A. County Coroner's Office took weeks to reconstruct it.
"For me, it was not real. Like he is still there and he will come back home at 5:30," Teresa Chaidez recalled.
Chaidez's nephew Fernando Aragon said he felt sick when he heard about the death of his grandfather, who would make special glazed donuts on weekends and play soccer with him in the back yard.Aragon and his mother Veronica Chaidez lived with Torres for eight years..
For Veronica Chaidez, what adds to the pain is worrying that the police convey little hope in finding the suspect.
"There is limited information on the suspect vehicle-- nothing promising," said Hassoldt, six months after the Oct. 22 accident.
Veronica Chaidez has been pressuring the police department every week.
"I called Hassoldt almost every day in the first month. He assured me this was the only hit-and-run case he was working on," Veronica said.
Torres' case is one of the 20,000 hit-and-run accidents in Los Angeles every year, with 4,000 cases including injury and fatality. Hassoldt said the traffic division of the Gardena Police Department handles over 30 cases every year and most of them are still open.
"It is very difficult to crack cases where the suspect fled, leaving no evidence of license plate," Hassoldt said.
Chaldez's sister fears that Benjamin Torres' name will be forgotten and the police will drop the case. Teresa Chaidez chooses another way to remember Torres. Since October, the Chaidez sisters and five of Torres' grandchildren go on a three-hour bike ride on the second Saturday of every month.
On a recent Saturday, Teresa Chaidez pedaled toward Gardena City Hall at 4 p.m. on cloudy and chilly day.
John Jones Jr., leader of East Side Riders, a group that holds monthly riding events, said they will continue riding whether police finds the suspect in Benjamin Torres case or not. He first met the Chaidez family through a friend who was riding on 135th Street where the friend saw Torres' ghost bike.
"This past five years we have done countless amount of bike rides. The Benjamin Torres ride is the most meaning one." Jones Jr. said.
In 2008, he started the club at Watts, South Los Angeles, where cycling is not considered leisure. The bike group meets once a month, riding through the neighborhood. Jones Jr's initial idea is to feed homeless, help seniors and children through regularly bike riding event. As the organization grows bigger, he takes on more ambitious goals---advocating cyclist right and social justices.
"John and I are totally strangers. I have never heard about the club before," Teresa Chaidez said.
As the 30-cyclist team moves along on the four-lane road, car drivers trying to pass honk constantly.
"I saw how cyclists and pedestrians got killed, drivers are so impatient," said Martha Harris, a volunteer who follows the group in a car, making sure no one is left behind.
The team stopped by the accident scene where posters demanding justice have faded away.
"Nearly every time I called Detective Hassoldt, I got the same answer--he is investigating the case. Until one day, he said there is nothing exciting or promising in the case. And I got the feeling that the detective cannot do anything more for us," Veronica Chaidez said.
In his report, Hassoldt concluded that the suspect vehicle was a 1995-2001 Ford Explorer or a 1997-2001 Mercury Mountaineer, based on the broken headlamp and red paint from the car.
But Veronica Chaidez feels despair, with so many details left unexplained. She had never dealt with police before her stepfather's death.
"I choose not to ask him [Hassoldt] even if I had a million questions," Veronica Chaidez said.
body of her father was found by Jacques Thomas, 10 feet beyond a fire station. The fire department said they didn't hear anything nor did they have a surveillance camera that can help. Yet right before the accident happened, the police department installed 200 HD cameras at major intersections, but not on 135th Street, according to the police report.
Detective Hassoldt said the police department has looked at all camera footage available on the road. The images are either too blurry or did not record between 4 to 5 p.m.
Perhaps the biggest unresolved questions is how Torres, a cautious cyclist who wore a helmet, a headlight and rode on the sidewalk, collided with a car.
"Even if my family never finds the person, I want to see more bike lanes in the city," Veronica Chaldez said.
Reach reporter Meng Meng here.