Arts+Culture
Inspiration Runs Both Ways At UCLA's Ghanaian Fabric Exhibit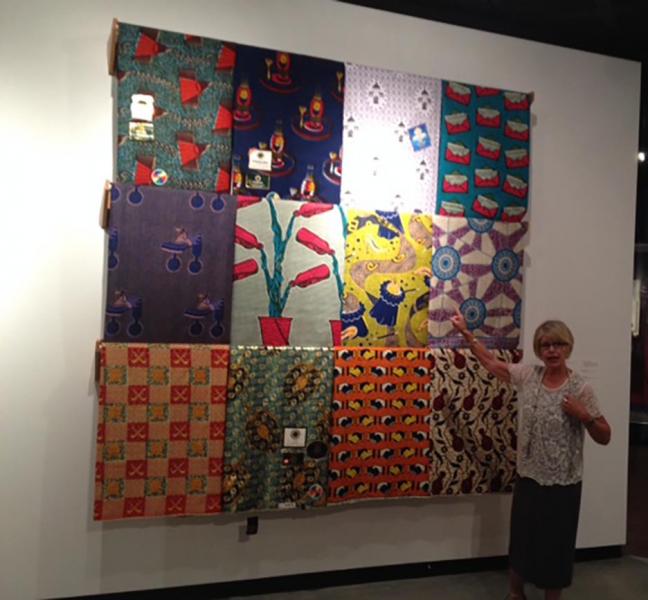 Traditionally clothing, along with food, water and shelter, is considered to be one of our basic needs. While some view getting dressed as a minor feature of their daily routine, others take great pride in cultivating their personal style.
When discussing fashion, it's often cities like New York, Paris, London and Milan that fly the flag for the industry. Fashion Week events in these cities are so important on the social calendar that they receive dedicated coverage from such big guns as The New York Times and The Guardian.
The way we dress can reveal a lot about who we are. In many cultures, clothes are not merely there to defend against the elements. This is true in a lot of African countries, where traditional garments can be seen as representative of values and age-old customs. For example women of the Ndebele ethnic group, whose homelands are established in parts of South Africa and Zimbabwe, use different colors and patterns in their clothing to denote age and marital status amongst other things.
In recent years, what the media often refers to as "African prints" have been making appearances on Western runways. Labels such as Burberry Prorsum and Gwen Stefani's L.A.M.B. have used these ornate fabrics in their collections. They work well for design purposes - with bold colors and intricate, geometric designs, they are guaranteed to catch the eye.
READ MORE: New York Fashion Week: Michael Costello Review
The first instinct for some in these cases would be to denounce the Western appropriation of the prints. That tends to happen whenever something from another culture goes mainstream in the West. On some level, appropriation has occurred with regards to these prints, but the issue is far more complex than one might think.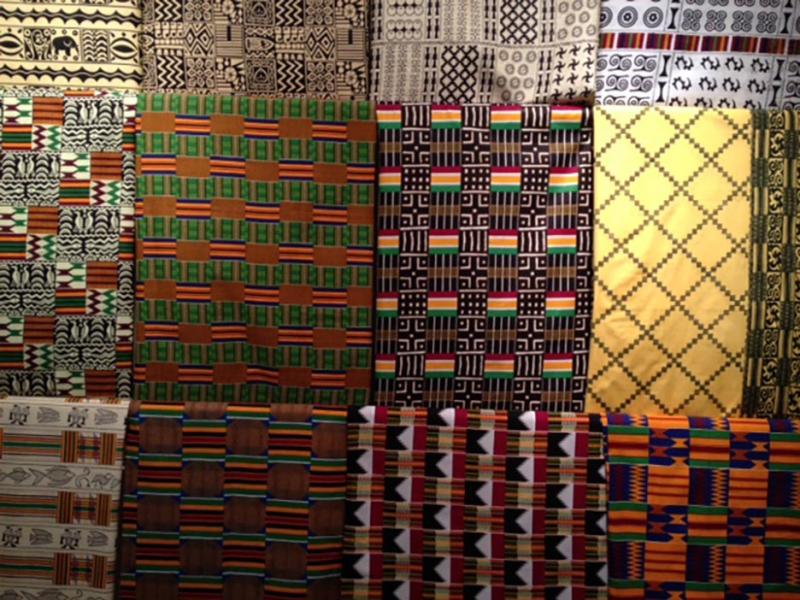 The Fowler Museum on the UCLA campus is hosting "
Yards of Style, African-Print Cloths of Ghana
," an exhibition devoted to prints that hail specifically from this West African nation. Its curator, Betsy Quick, was on hand to discuss the background of these beautiful prints and their fascinating history.
Quick, Director of Education and Curatorial Affairs at the Fowler Museum, explained that the foundation for the prints that are found everywhere in Ghana and across large parts of the continent actually has its roots in Indonesia. Dutch settlers in Timor were fascinated by the Batik prints being made there. They sought ways to mechanize the production process so as to produce more batiks and sell them back to the Indonesian people.
This worked for a time but the Indonesians quickly grew weary of the designs which, from their point of view, contained flaws that their handmade versions did not.
The Dutch then decided to start peddling the surplus material in West Africa and specifically in Ghana, a land they had occupied as early as the 16th century. The printed textiles were extremely well received and sold so well that Ghanaian women began to influence their design by expressing their color and taste preferences. Production of the fabric continues in The Netherlands to this day.
READ MORE: Watch L.A. Street Artist PUSH Create A Graffiti Masterpiece In 8 Seconds
Quick finds that the reception to the exhibition has so far been positive. "People are absolutely fascinated by this. People who have not traveled to Africa or are just vaguely familiar with this type of cloth walk in and are intrigued by this material," she explained, speaking after her presentation.
The pieces on display were from the Netherlands, Ghana and China. In the same way that fashion schedules in the U.S. and Europe adapt to the seasons, so too do Ghanaian prints. The colors and patterns that are "in" during the first half of the year can certainly be out by the end of it.
The designs often incorporate items from pop culture such as laptops and cell phones, as well as honoring major events: one piece on display commemorates Barack and Michelle Obama's visit to Ghana, while another was designed around a handbag that the FLOTUS carried during the trip.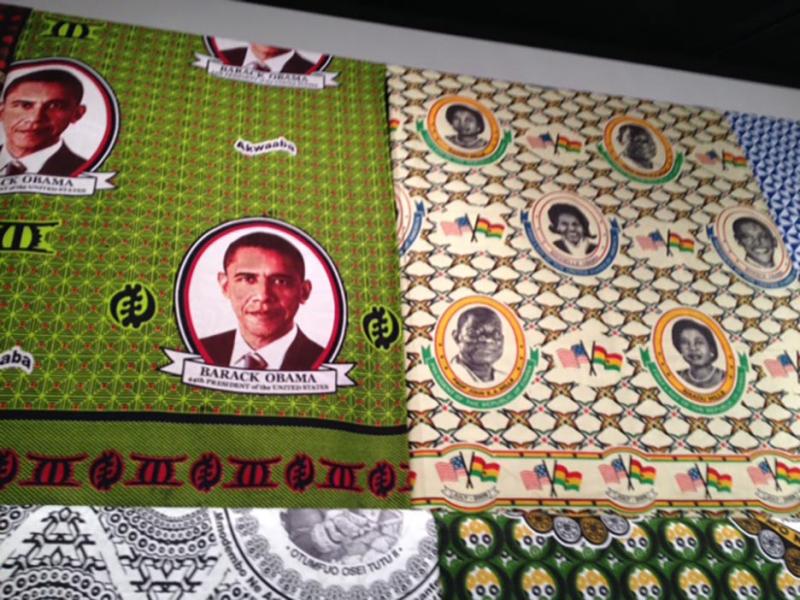 Given that personalities and symbols from the West work their way into these designs, it seems almost inevitable that the influence would happen in both directions. This was certainly apparent to viewers. "The narrative aspect of the designs is interesting," said Lisa Yassinger, who came to see the exhibition. "The blend of specific local cultural norms with Western technology references is playful and beautiful."
READ MORE: Stagecoach 2014 Festival Style Roundup
The question, then, is not so much about appropriation but rather cultural collision - although the outcome can seem imbalanced at times.
One concern is that when these beautiful Ghanaian prints inspire designs by luxury brands in Europe and beyond, they become largely inaccessible to the vast majority of the people who identify with them as part of their heritage. "$125 for 6 yards doesn't seem like that much for us, but for some, that might represent a large part of their monthly salary," said Valerie Cohen, another visitor to the exhibition.
What is also alarming is the level of production that takes place outside of Africa for a product that is used almost exclusively on the continent. According to Quick, around 85% of the cloth sold in Ghana is made in China. "[Chinese cloth production] has almost destroyed local production. There were four Ghanaian companies that were producing cloth - two have closed," she explained. Of the two that remain, one is Dutch-owned.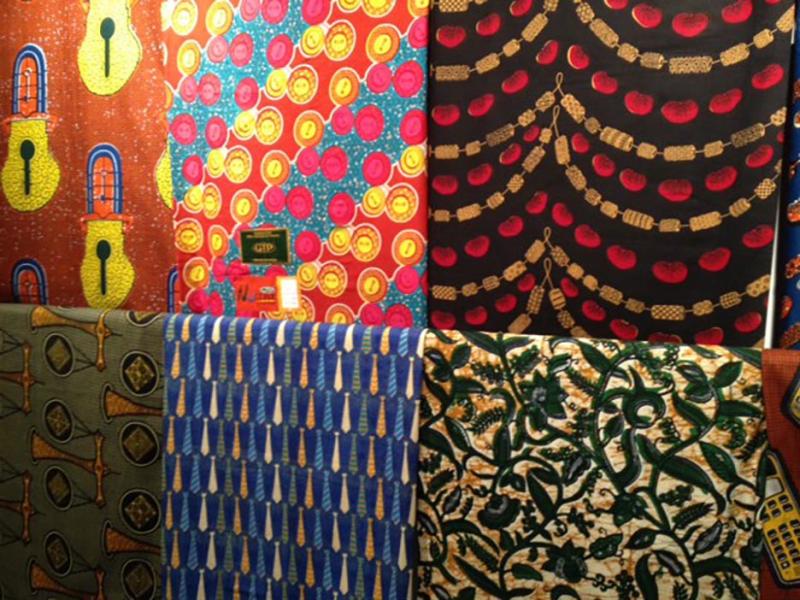 Luckily, it's not all doom and gloom. Market traders in Ghana make good money by selling the Chinese-made cloth because consumers who might not be able to pay large amounts for the original cloths are willing to buy the copies, which are more affordable. Such are the ups and downs of global commerce.
Fashion is a business, but more importantly it is an art. Most artists seek to gain visibility for their creations, so perhaps it doesn't matter so much how that happens as long as it does. If being featured in Western designs is a way for African art to reach a wider audience, that should be seen as a good thing.
Sean Addo, a graduate student at USC's School of Cinematic Arts, seems to agree. "I'm always interested in seeing which aspects of African culture are interesting to Western audiences," he explained. Addo, who is of Ghanaian origin, is a big advocate for West African culture and does whatever he can to increase awareness of it - including incorporating it into his films.
He believes it can be inspiring to borrow from other cultures for creative work - but it must be done correctly, because there is a thin line between praise and mockery. "As long as you pay respect and try to remain true to the original art, then it's a good thing. It can be a form of flattery," he explained.
No matter where they are produced or how they are used, these prints remain intrinsically African. Hopefully cultural exchange will help their beauty reach a wider audience.
All photos appear courtesy of Betsy Quick and The Fowler Museum.
Contact Staff Reporter Vanessa Okoth-Obbo here and follow her on Twitter here.