Film and TV
Film Review: 'This Is Where I Leave You'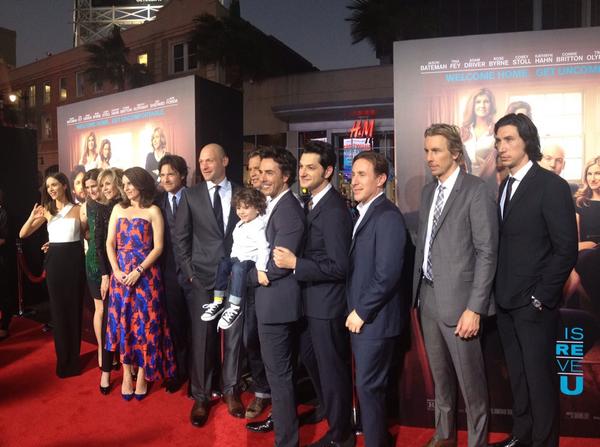 "This Is Where I Leave You" is one of many novels made into film. The movie, which follows Judd (
Jason Bateman
) is a comedy worth seeing in theaters for its family drama and, in a way, the feeling of liveliness it brings.
When it's time for a family reunion, a lot can happen, especially when the reunion revolves around a father's funeral. Hillary Altman (Jane Fonda) wants her children under the same roof for a week so the family can reconnect, and for the family to grieve the loss of father and husband, Mort.
READ MORE: Jane Fonda's Top 5 Movies
The script is written by the novel's writer, Jonathan Tropper, and directed by Shawn Levy ("Date Night," "Cheaper by the Dozen"). With Levy's comedy works, viewers can grasp an idea of what the movie entails.
The cinematography follows Bateman's character, as the middle brother of four children. The camera shots and the sound effects put you in the mind of Judd, who likes to shut himself out through music or silence after catching his wife cheating on him with his boss (Dax Shepard).
Sound effects include hearing Judd blow out a candle while background noise is mute, listening to music on headphones and a clicking turn signal in the Porsche we see in the commercial.
The film brings tears of laughter and cries, mostly because of mother Hillary's words of wisdom to her grown children (children are never old enough for mother's advice). Tina Fey (who has been in "Baby Mama" with Shepard) plays the only daughter out of the children. She strays away from her usual characters, who are logical and practical, to a sarcastic, feisty sister. For Bateman, the film is perhaps his best performance since "The Switch."
This is not one of those films that makes viewers think the movie will be awful because a lot of famous people from Hollywood are in it.
Yes, we see a lot of familiar faces, like Dax Shepard (who plays his usual crazy, annoying yet funny character type) and "House of Lies" actor, Ben Schwartz (Bateman, Schwartz and Shepard have all been in films or TV shows with Shepard's wife, Kristen Bell).
READ MORE: Stars From Broadway To Film
"Girls" star, Adam Driver plays his same type of character as Adam on the show—obnoxious, loud and immature as the youngest son.
The film brings the normal sibling rivalry with a last-minute twist to Fonda's character. With sibling rivalry comes a lot of fights and drama with husbands, wives and girlfriends. We see a lot of fighting, hugging, drinking and smoking.
Sure, this all seems like the typical family drama/comedy, but "This Is Where I Leave You" indeed leaves you in a feel-good mood, and not because it makes us feel like the family is dysfunctional compared to others—but because it reminds us that life gets bad, even if we have a plan. The most joy we get is when we find our way out of complications that life may throw at us.
Reach Staff Member Tanya Mardirossian here. Follow her on Twitter.