Sports
Double Standards In Domestic Violence Cases Must Be Addressed
On Sunday, we watched a memorable regular-season Super Bowl rematch, the first of its kind in 17 years. We saw Peyton Manning take his Broncos 80 yards in the last minute of regulation to send the game into overtime against the defending champion Seattle Seahawks. And then we watched the one-and-only Mr. Skittles himself, Marshawn Lynch, save the day for the Seahawks with a game-winning dive into the end zone.
Still, despite all the hype and hoopla and a classic finish, the NFL and the integrity of the league continues to be clouded by all of its off-the-field troubles.
Perhaps the biggest takeaway from Week 3 in the NFL remains that that Commissioner Roger Goodell "got it wrong", as he stated in his press conference on Friday addressing the league's spiraling domestic violence issues involving Ray Rice, Adrian Peterson and Greg Hardy.
Yes, Mr. Goodell was wrong, but that was probably the only meaningful statement he made during a press conference, during which many thought he would offer his resignation after nine days of hiding in the shadows.
Instead his words on Friday merely put a lukewarm bag of ice over the league's swelling 'black eye'.
However, the actions Goodell took were far more than those taken by U.S. Soccer or the National Women's Soccer League in the domestic violence case involving women's national team goalie Hope Solo.
Solo, once known as America's sweetheart for her stellar performance during the 2011 FIFA Women's World Cup, pleaded not guilty to two counts of gross misdemeanor domestic violence after she allegedly assaulted her half-sister and 17-year-old nephew in June. Solo will be going on trial starting in November.
She publicly apologized for the incident via Facebook, but the difference with her case and the NFL players is that she continues to play for her respective club, the Seattle Reign, as well as the U.S. women's national team, which is right in the middle of its qualifying run for the 2015 World Cup.
Last Thursday, she secured a record 73rd shutout for the U.S women's national team and was praised, while Peterson and Rice continued to take all of the hits from the media for their acts of wrongdoing.
Yes, U.S. Soccer has finally taken a great deal of slack after the New York Times came out with a column the day after calling the organization out for neglecting to punish or suspend Solo.
However, it's not fair that NFL players are stripped of their games, careers, pay and livelihood, while an athlete of the opposite sex continues to receive praise for her excellence on-the-field while the public ignores everything she's been involved with off the field.
SEE MORE: NBA Must Step Up In Domestic Violence Cases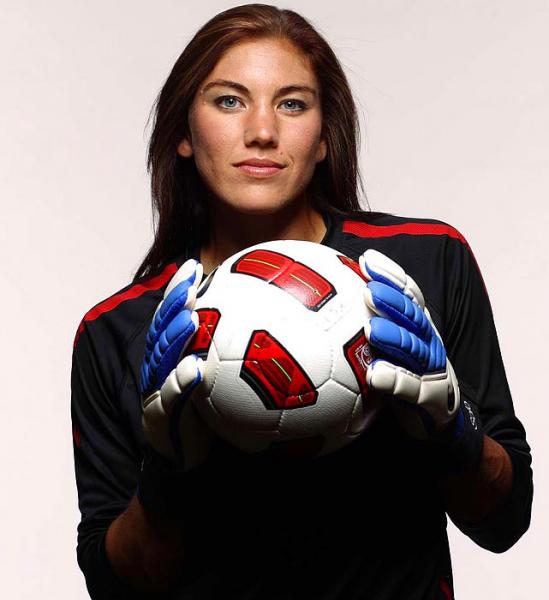 It's a double standard that should not be condoned whatsoever. And moreover, it's a demonstration of inequality.
It should also be noted that there is a history of domestic violence within Solo's family. Her husband, former NFL player Jeramy Stevens, possesses a long and infamous rap sheet including a DUI, hit-and-run, reckless driving, assault and a 2000 rape accusation, which resulted in Stevens paying $300,000 to his accuser following a civil lawsuit.
Also in 2012, the tight end was arrested on a case of suspicion of domestic violence, involving Solo, just days before the two were to tie the knot.
So why didn't U.S. Soccer or the NWSL do anything about Solo's case?
Plain and simple, U.S. women's soccer cannot afford to lose its face and most polarizing figure, while the NFL can afford to drop a couple of its superstars for the time being.
U.S. women's soccer fans flock across the nation just to see Solo play. Without her, ticket sales would undoubtedly decline. The team could still probably qualify without Solo's services, but the monetary aspect is definitely more enticing for the organization.
Not to forget, Nike dropped Adrian Peterson for his instances of domestic violence, while the company did nothing to address Solo's actions.
In this country, you are innocent until proven guilty and Solo does deserve her rights to due process, but she should not be allowed to represent her country while awaiting trial if Rice and Peterson aren't getting the same treatment.
If we are going to move forward with putting down domestic violence and sexual assaults in this country, we absolutely cannot have this growing double standard, especially when our country is being represented at an international level of play.
SEE MORE: NFL Turned A Blind Eye On The Rice Scandal
Domestic violence and sexual assault are growing issues in our country that should be taken very seriously and everyone needs to be on the same page here if we want to make a difference.
Unfortunately, I feel like the leagues and organizations have already made one too many mistakes and the government may very well have to get involved.
Just last week, President Obama unveiled his "It's On Us" Campaign to spread awareness and prevention of sexual assault on college campuses throughout the country.
Obama also noted that domestic violence "is in the news every day," acknowledging the recent happenings in the NFL.
It's good to see Obama take such a strong stance on the issue, but it raises this vital question: Could the government get involved in domestic violence cases in sports?
There has been talk for years of government intervention in baseball to appropriately address the steroid and PED saga and it may very well be the only way to get universal fair play and justice when it comes to punishing athletes for acts of domestic violence and sexual assault.
It's on us to continue to express our animosity towards these appalling acts of violence, committed by both men and women, and we can only hope that the sports world, Goodell and U.S. Soccer in particular, gets it right next time.
Reach Sports Columnist Darian Nourian via e-mail here and on Twitter here.