Opinion
The Wild Wild West (Kanye West, That Is)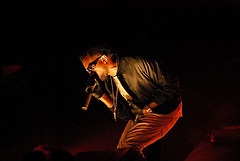 Kanye West has made a bit of a reputation for himself as an outspoken and opinionated member of the entertainment industry.
His most recent tirade came during his show on Saturday, when he dissed Jay-Z and Justin Timberlake's new song, "Suit and Tie." With an instrumental version of his song "Clique" playing in the background, Kanye told his fans, "Man, I got love for Hov but I ain't f---ing with that Suit and Tie." Stunned by his remark, the England crowed booed and reacted negatively to his address, which was followed up with a ten-minute rant about everything ranging from corporate sponsorships, to the Grammys, to the sanctity of art over money.
Despite his incapability to bite his tongue, Kanye's ability to speak his mind has left us with a number of truly entertaining, jaw-dropping and one-of-a-kind tirades. So, in honor of Yeezey's most recent addition to his collection of rants, here is a list of the Top Five Most Outrageous Kanye West Outbursts.
Kanye West vs. Taylor Swift
Who can forget the infamous moment when Kanye West stormed the MTV Video Music Awards stage in 2009 after Taylor Swift won the award for Best Female Video? During her acceptance speech, West grabbed a microphone and voiced his belief that Beyonce should have won the award for her "Single Ladies" video. He said, "Yo Taylor, I'm really happy for you and I'ma let you finish, but Beyonce had one of the best videos of all time." His actions were so deplorable that he became the center of a media frenzy, even catching the eye of President Obama, who called him called a "jackass."
Kanye Takes To Twitter
While Kanye's sharp and lyrical tongue may be the reason for his musical success, it has also been the cause of his scandalous tweets. In his late-night tweet on February 23, 2011, Kanye wrote: "an abortion can cost a ballin' n----a up to 50gs maybe 100. Gold diggin' b----es be getting pregnant on purpose. #STRAPUP my n___s!" He quickly followed his tweet up with an addendum saying, "It ain't happen to me but I know people." This tirade infuriated many of his followers, including singer Lily Allen, who took to her own Twitter account to voice her opinions on Kanye, saying: "[N]ever has a tweet put me in such a bad mood, this is wrong on so many levels."
Kanye Takes To Twitter...Again
After going on an 18-day Twitter silence, Kanye returned to the Twitterverse this past Friday. Yeezey tweeted a succession of vague, one-worded tweets at his 9,150,000 followers, leaving virtually every one of them confused. These posts included words such as "Functionality" and "Emotion," and were posted without any context or explanation, leaving some to wonder if the rapper is in the midst of an existential realization – possibly due to his impending fatherhood.
Kanye as Hitler?
Yeezey is known for his incendiary outbursts, but on August 7, 2011 at the England's Big Chill Festival, the rapper took it a little too far by likening himself to Adolf Hitler. During his performance, Kanye went on a self-pitying rant, telling his audience that he often feels as hated as the notorious leader. "I walk through the hotel and I walk down the street, and people look at me like I'm…insane, like I'm Hitler...One day the light will shine through and one day people will understand everything I ever did." West's controversial statement left the crowd confused and angry, and they booed him off the stage.
Kanye Wears A Skirt
Although Kanye West is primarily known as a rapper, (ok, maybe also as simply outrageous) he is a well-received menswear designer. However, during his "Watch the Throne" tour, Kanye made a questionable fashion decision and opted to wear a leather skirt on stage. While this drew a lot of initial criticism from his fans and musical peers, including Chris Brown and Common, the fashion choice really blew up after West performed at the Hurricane Sandy Relief Concert. The skirt was so controversial that a parody twitter account @KanyesSkirt was made and tweeted humorous and critical statements about the rapper's outfit with the hash tag #121212concert. But, true to his personality, Kanye asked Getty Images to ban and delete any photograph of him wearing the leather skirt in an attempt to make the entire event disappear.
Reach Contributor Lugene El-Harazi here.