Style
Trend Of The Week: T-Shirt Dresses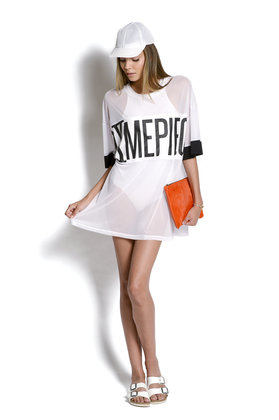 We all need a go-to dress that can be styled for any occasion, and the t-shirt dress is just that.
The t-shirt dress has been a go-to summer essential. It's been seen as a street look on fashionista Rihanna and as a sleek look on Kim Kardashian, proving that the versatile dress can make waves in all forms.
Its casual wear-ability allows it to go from daytime to nighttime with a simple accessory swap. But unlike other summer trends, the t-shirt dress has surpassed the summer heat and is also a must-have for your fall wardrobe.
T-shirt dresses are an effortless addition to any closet. It has gained popularity as street-style staple through brands like Dimepiece L.A. and River Island. The oversized tees and jerseys transform from sporty to chic when paired with strappy sandals and bold accessories.
But, if you want to keep it sporty, button-up baseball jerseys are also all the rage. The 10 Deep Black Sands Jersey, featured on Karmaloop, can be worn on its own or with black leather shorts for a sporty-meets-sexy look. This jersey can be paired with black boots, a bright sandal or a bold sneaker to keep with the sporty theme.
READ MORE: L.A. Fashion Blogs' Trend Of The Week: Sporty Chic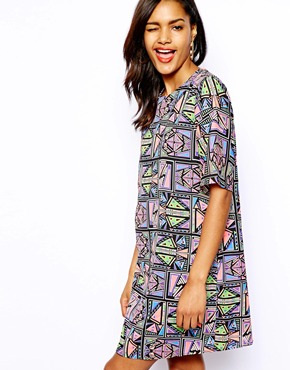 The t-shirt dress can be styled to fit any look. From bold, geometric prints to simple solids, the t-shirt dress is the perfect canvas to create a unique look.
If you're looking to make a fun statement, the River Island Geo-Tribal Print T-shirt Dress is the perfect mash-up of bright colors and prints. You can pair this dress with anything from gladiator sandals to Timberland boots. The affordable $30 frock, available at ASOS, is an accessory in itself and best paired with a solid crossbody bag, minimal jewelry and black sunglasses.
If you're looking for something more versatile, American Apparel's Fine Jersey T Dress comes in a variety of solid colors from a muted grey to a bright red. Spice up this figure-flattering dress with a statement necklace or printed shoes or keep it simple and let the dress do all the talking. American Apparel also features a sleek tank dress that can be altered to fit your style.
READ MORE: L.A. Fashion Blogs' Trend Of The Week: Simple Staples
Work the t-shirt dress into your fall wardrobe and have fun accessorizing it to create your own street-chic look.
Reach Staff Reporter Mona Khalifeh here.