Los Angeles and Region
Hundreds Bare All For World Naked Bike Ride, Los Angeles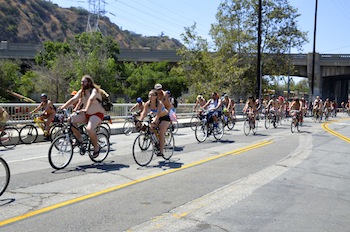 Be aware, this story displays images that are NSFW.
On Saturday morning a few hundred bikers from around Southern California gathered at a hidden location in the San Fernando Valley. Clothed in little but their political convictions, the bikers geared up for the World Naked Bike Ride.
This annual event brings together bike activists, nudists and environmentalists for some civic engagement that's a bit more fun than writing letters to a local congressman.
"You've got white people, you've got black people, you've got Mexican people, young people, old people, fat people" said organizer Michael Beals. "Here in LA we have all kinds of diversity, and with the bike ride, we are all here for the same thing."
But what exactly that "thing" is differs from person to person. Some people biked to try to increase awareness of biker vulnerability, while others donned their body suits to promote the environmental benefits of biking in a creative way; for other bikers, however, nudity was the main point in their call for greater body acceptance.
READ MORE: #FreeTheNipple Protests Erupt Onto The Streets Of New York
After an article leaked the original location for Saturday's ride, e-mails and Facebook posts were used to tell riders that this year's event would be held near the intersection of North San Fernando Road and Humboldt St. "There will be somebody to direct you at the road closure," the statement mysteriously announced.
But far from being a covert meeting of expert cyclists, the riders were so enthusiastic and inclusive that even reporters were encouraged to join in the ride (and the nudity).
"There's no other reason for secrecy except the complete safety of the riders," said Beals. "After Dodger Stadium was leaked as our original location, I drove past here and saw an open gate," he continued, explaining why he chose a riverbed just under the 110 freeway as this year's location.
"A lot of the people come out because this is the one time a year they can come out and do something that they think is illegal, but it isn't," said Beals.
In reality, the only time nudity is technically illegal in Los Angeles is around public parks, playgrounds, or beaches. Lewd behavior is always illegal, but the bicyclists emphasized over the course of the day, nudity and lewdness are not synonymous.
"In Germany they promote this idea of body freedom that we just don't have here," said Eric McDaniels. "The first night I was there I went skinny dipping, and then every other weekend we played strip poker. But you'll get arrested for being naked here except for at special events and protests."
"There men, women and children, sisters and brothers all go to a sauna together," said McDaniels. "They all know what parts other people have, and as a result they see less rape and fewer cases of teenage pregnancy. But in our culture we insist on hiding nudity from children."
READ MORE: Venezuelan Protestors Bare All
"Most of these people wouldn't be nude any time, even when they can be," said Beals. "But they come—often driven by curiosity—and have a lots of fun. Afterwards they talk about how liberating it is."
While the people assembled clearly formed quite a motley and spirited crew, there were far more men than women at Saturday's event.
"Men appear to be a little more accepting of the situation," said Beals. "Women are afraid of all the perverts out there and whether or not their bodies are attractive. They also tend to be a bit more fearful of the fact that because it's a public even, anyone can take photographs."
In everything from full pumpkin costumes to nothing but ties, normal clothes to politicized body paint, most of the bikers were wanting to attract attention, not to stay away from it.
"The public loves it," said Larry Ullrich. "When we bike by, they're hooting and hollering for us. They even take pictures like we're celebrities…People are so used to nudity in movies and in art, but when they see naked people in real life, they're shocked."
As bicyclists began getting their helmets on and slathering on sunscreen before hitting the streets and facing the public, a few more people waited to have their bodies painted.
"I want to be painted with a simple sentence," said Jeff Bowman, who began embracing nudity 12 years ago after his wife was diagnosed with breast cancer. "'Naked is Normal.'"
Contact Deputy Editor Sara Newman here. Follow her on Twitter here.