Los Angeles
Taking Cycling And Public Transit Mainstream With Maria Sipin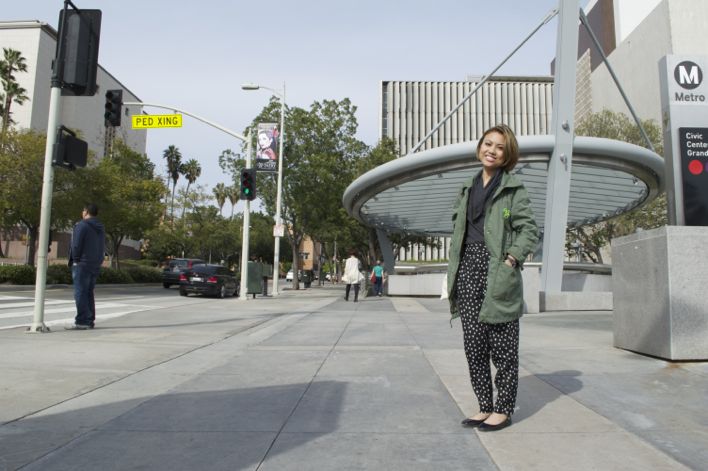 She pulls out a cosmetics bag to freshen up. It's filled with powders and lipsticks, many of the products by MAC, where she worked behind the counter in college. In a couple of hours, she's going to City Hall to advocate for
MyFigueroa
, a project aimed at redesigning Figueroa Street in downtown Los Angeles, where she now lives.
"This is my bike makeup bag," she says. "I'm constantly biking everywhere, so I keep this with me just in case."
She is Maria Sipin, and lest you think she's just a girly girl who rides bikes, the 28-year-old is also a health communications specialist at Children's Hospital Los Angeles, an advisory board member for the Multicultural Communities for Mobility, a League Cycling Instructor for the League of American Bicyclists, a blogger for Pedal Love, and an advocate for public transportation accessibility. In February, she began co-hosting a radio segment on KPFK called Women Talk Bikes.
You could say she's busy. But she doesn't appear phased by her workload. In fact, being so active seems to suit Sipin.
"My job combines things I'm passionate about in my professional and personal life," Sipin says. "The lines blur between what I do for work and for fun."
For example, in addition to her work with children and young adults in HIV prevention at Children's Hospital, Sipin organizes bike and transit safety workshops for patients, and she and her supervisor helped get a bike rack and lock system installed at their building.
"People used to bring their bikes into the clinics," Sipin says, which was a hassle for everybody. Her patients inspired her to advocate for more accessible and reliable public transportation, as well as bike safety and awareness in Los Angeles.
"I see people coming in and out of the hospital every day, some of whom are trying to stay off drugs, but have a hard time even getting to their doctor appointments on time because L.A. has such a complicated public transit system," Sipin says.
It may not seem obvious, she says, "but public health and public transportation are very much intertwined."
Born in the Philippines and raised in the San Gabriel Valley in northeastern L.A. County, Sipin comes from a long line of strong, independent women. Her grandmother was the entrepreneurial breadwinner in the household—she ran a bus company that took people to and from their jobs and, subsequently, that business created even more jobs. Even today, Sipin says, she meets relatives and family friends who tell her what an influence her grandmother had on their lives.
"The women in my family have always been responsible for making important decisions," Sipin says. "And when they say, 'It takes a village to raise a child,' that applied very much to my family."
After moving to L.A., Sipin's family shared an address with her uncles, aunts and grandparents. She spent a lot of time at the library, which Sipin says doubled as her daycare. English wasn't her first language, which posed a challenge early on but is undetectable now. She learned the importance of sharing stories and histories.
Sipin tells one story of her first car at 16. It was an old Jeep that she would drive around in with friends to the beach. "I was a typical suburban teen in that way," though gas prices were cheaper then. A few years later, a 40-mile, four-hour commute to an internship at UCLA would dampen her enthusiasm for relying solely on a car in L.A.
She began testing the public transit waters to get to her internship. A 35-minute train ride, then a 15-minute subway ride, followed by a 45-minute bus ride—with 10 minutes, give or take, of wait time in between each stop—became her new normal. It took just as long as driving, but at least Sipin was more active that way.
Eventually, Sipin gave a $200-a-month vanpool a try ("I got carsick—I had to take Dramamine"). By then, she sympathized with what so many Angelenos deal with just to get around. Now, Sipin doesn't even own a car, though she occasionally uses rideshares and Zipcar.
How Sipin ended up where she is now might seem random. She was a journalism major at California State Polytechnic University, Pomona and wanted to go into entertainment reporting or fashion. Now, as she browses the Grand Park Downtown Book Fest—which she walked to from her apartment a few blocks away—she wears black-and-white-patterned harem pants and a green military-style jacket with a bicycle pin.
"I never would've imagined years ago that I'd end up being a board member of anything," Sipin says, laughing. "And I certainly wouldn't have guessed it'd be for something like transportation. But I care a lot about public health."
And she uses those communications skills from her journalism degree daily, whether by writing blog posts, coding websites, organizing presentations and workshops and now, co-hosting a radio show.
Women Talk Bikes founder and co-host Daniella Alcedo met Sipin last year through the L.A. County Bike Coalition. Alcedo knew she wanted to get Sipin on board with the radio show and took advantage of her social media and graphics skills. The two have become friends outside of work, though Alcedo says, laughing, "Every time we get together we always end up just talking about biking."
Alcedo, like Sipin, is a bit of a girly girl.
"I like cycling," she says, "but I also like mascara, and Maria's the same way. That hasn't always been very common, but it is starting to be as more women get comfortable with cycling. Some people are intimidated by it, but you don't have to be hardcore to be a cyclist."
This is just one topic Sipin, Alcedo and their guests might discuss on-air. The show, which airs the first Saturday of every month on KPFK, is lighthearted but is also about bringing together women from different backgrounds to talk about the issues they face in the cycling world. To encourage participation in the discussion online, they use the hashtag #womentalkbikes.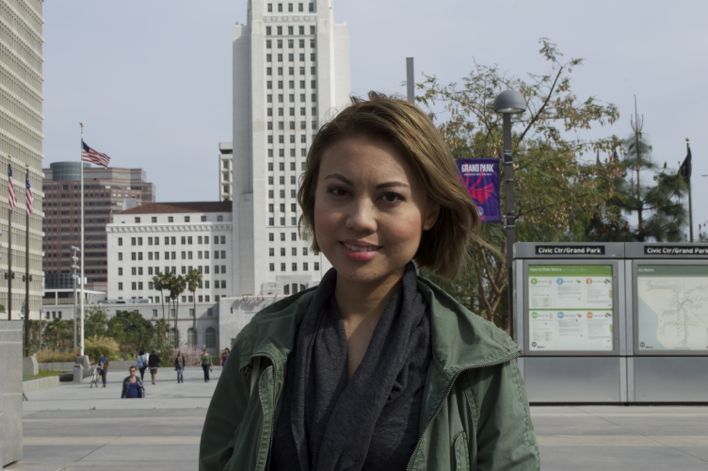 "If you get a lot of women together, we can do amazing things with policy," Sipin says. "Women bring people together."
And Sipin believes encouragement and support among women are some of the most important tools needed to change policies and attitudes toward cycling and public transit.
Sipin's younger sister Andrea, 25, says Sipin is a source of inspiration and influence and often encourages her to cycle more often.
"I don't ride bikes as often as she does because I don't feel entirely confident," the younger Sipin says. "But that's why she fights for safer streets and bike lanes, because she sees that people like me want to bike but have concerns."
Andrea says she often nudges Sipin to go back to school for a higher degree.
"I joke with her that she should run for city council or mayor one day because she really loves working with the community," Andrea says. She believes school is important for that kind of career path because there are "people in higher positions who have bigger influences on the community" and that Sipin has the drive, knowledge and—most importantly—genuine concern for making meaningful changes.
"My sister would predictably mention public office," Sipin says. Sipin considers returning to school, but whether it's with the intention of going into such an official leadership position, it's not yet certain. She's more interested in harnessing the business-savvy mindset her grandmother possessed.
"She never ran for any political office in the Philippines," Sipin says of her grandmother. "But she's always been a public leader in my eyes. If I never take any official appointments or run for political seats, I hope to have a legacy that involves contributing to the community in a significant way."
For now, it's the small but important steps to a more transit-friendly city that make up Sipin's everyday mission.
Reach Executive Producer Cassie Paton here. Follow her on Twitter here.