Los Angeles
"Extended Period Of Time" Expected To Fix UCLA Water Main Break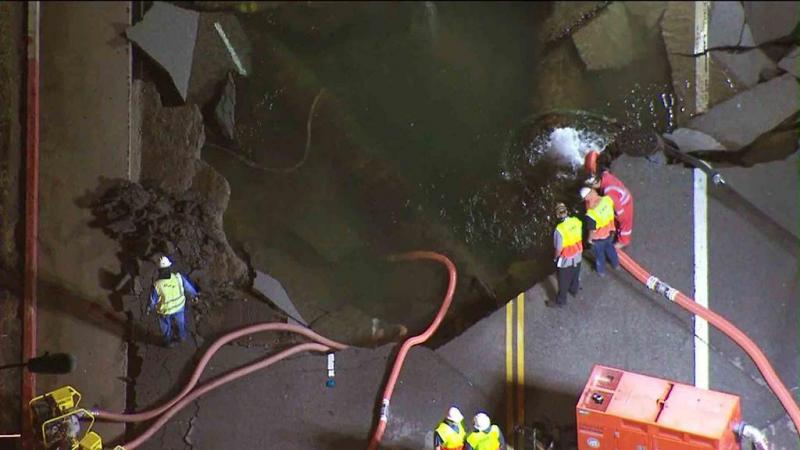 Repairs on a water-main that burst in Westwood yesterday, causing approximately 20 million gallons of water to spill out onto UCLA and the surrounding neighborhood, will take an "extended period of time" according to an official from the Los Angeles Department of Water and Power.
Yesterday's pipe-break deluged UCLA's campus under several inches of water and shut down Sunset Boulevard north of the school. The street currently has a sinkhole about fifteen feet deep (and at least four lanes wide) in it.
DWP says they've run into difficulties with the repair though, saying that unlike a normal pipe break where they essentially cut out the broken section and replace it with a new pipe, the location where this pipe broke is particularly challenging since it occurred close to a junction between two high-pressure mains.
This means that instead of simply replacing one section, they have to repair an entire junction. Even shutting it off was a challenge since the utility agency had to shut off two big high pressure pipes.
READ MORE: Drought Floods Twitter With UCLA Backlash
"This leak repair will not be completed today. We're looking at an extended period of time," said Jeff Bray, a DWP Superintendent as reported by the Los Angeles Times
We wouldn't necessarily call it just a leak. The burst sprayed water 40 feet in the air and submerged much of UCLA's campus. University officials reported that at least several hundred cars and six buildings were damaged, including the recently renovated Pauley Pavillion Basketball Court (which likely has to be replaced).
UCLA Spokesperson Carol Stogsdill told the Los Angeles Times that the university thinks that the LADWP should pay for all costs associated with repairing campus damage from the flood.
Don't forget that the broken pipe was 93 years old too. Five years ago L.A. was hit with 101 pipe breaks throughout the summer and fall months, causing lots to question if our infrastructure was too old for its own good. Yesterday's failure certainily renews those concerns.
As if our rates weren't already high enough.
WATCH: L.A. Television Anchors Get Pranked By Fake DWP Spokesperson
Contact Staff Reporter Matthew Tinoco here. And follow him on Twitter.