Los Angeles
Asian Night Market Hits Downtown Los Angeles This Weekend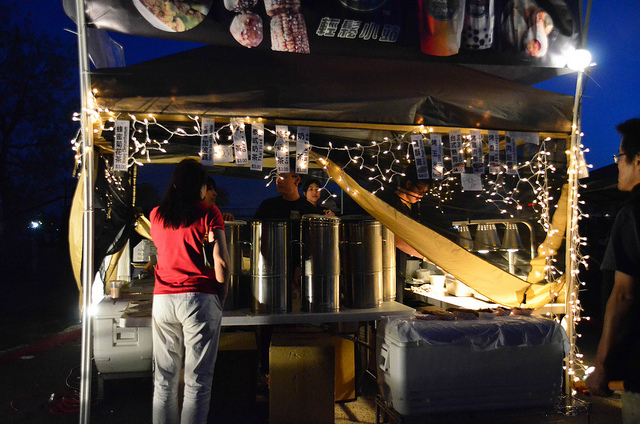 When the 626 Night Market began in summer 2012, Johnny Hwang envisioned a recreation of Asian nightmarkets, especially the Shinlin night market in Taipei.
Today, that dream is a reality—the biggest night market of its kind in the country—with an estimated 50,000 attendees for each two-day event. Its popularity has inspired the rise of the Koreatown Night Market and the Little Saigon Night Market.
The 626 Night Market has expanded this summer. In addition to holding its usual three events in Arcadia, the Night Market held an event in Orange County last month, and will host another event in Downtown L.A. this Friday and Saturday—also known as the DTLA Night Market.
The inaugural DTLA Night Market will be located in Lot 7 near the Staples Center, just a quick walk away from Metro's Pico Station. Doors open at 4 p.m. on both days. Admission is $10 and children 6-and-under get in free. If you're a Metro user, you can save two dollars by presenting your Metro TAP card at the door. Directions to the venue can be found here.
SEE MORE: KTOWN Night Market Presents The Last Truck Contest
People who visit the Night Market can enjoy musical performances when festivities begin at 9:30 p.m. The lineup, which can be found here, includes rising R&B artists, electronic/alternative groups, and DJs from the Los Angeles area, such as Hayley Kioko and Magic Bronsom.
Visual art-lovers will appreciate the Night Market's art walk, which will showcase the work of various Los Angeles artists. Some of the work will be available for purchase, and people can talk to the artists themselves—a complete list can be found here. And lovers of the Minions from "Despicable Me" will be sure to appreciate this featured Etsy artist.
The DTLA Night Market will also hold a live art battle on Saturday from 7 p.m. to 9 p.m. The dynamic battle features such art heavyweights as Chris Ouk, Darren Inouye, Eddy Lee, Geoff Pascual, Gmonik and Keenan Chapman. The winners will be determined by Night Market visitors rather than a panel of judges.
Of course, the DTLA Night Market wouldn't be a proper night market without merchandise and food. Like any summer carnival, the Night Market will have henna tattoo artists, face painting, and apparel vendors. But aspiring ninjas—both young and old—will enjoy the Ninja Levels booth, which provides challenges to ensure that only the worthy will advance to the next "ninja level."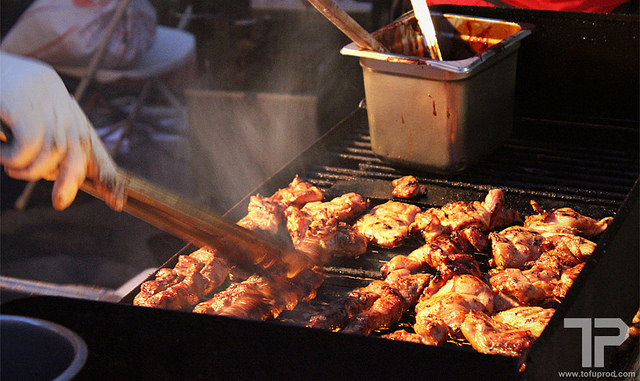 But of course, the area the Night Market shines the most is in its food. With 16 food trucks and almost 100 food vendor booths, the amount of food available can be overwhelming. While not all the food is Asian—there are a few Mexican food booths and people can help themselves to liquid nitrogen ice cream—it wouldn't be an Asian night market without some regional cuisine.
SEE MORE: Chinatown Summer Nights Celebrates Fifth Year Of Festival
For all boba addicts, the night market will feature at least eight vendors who will sell the popular drink, including Boba Bear, Boba 7, and Ozero. Need a refreshing drink, but not into boba? There are plenty of vendors who will be serving various teas and juices—including sugar cane juice. The night market will also have a "beer garden," where visitors 21-and-over can enjoy a drink with their food.
Beyond drinks and deserts, food vendors are the selling the original ramen burger created by Keizo Shimamoto, Indonesian noodles, Chinese and Korean barbecue, filet mignon skewers and much, much more.
A full map and descriptions of the Night Market vendors can be found here.
Whether it's listening to music, admiring art, or enjoying Asian food, people of all ages will enjoy a perfect summer night at the DTLA Night Market. So hit the Metro and don't miss one of the biggest summer festivals to hit Los Angeles.
Contact Writer Heidi Carreon here and follow her on Twitter here.