Books
Terry McMillan Discusses Parenting And Love Over 'Who Asked You?'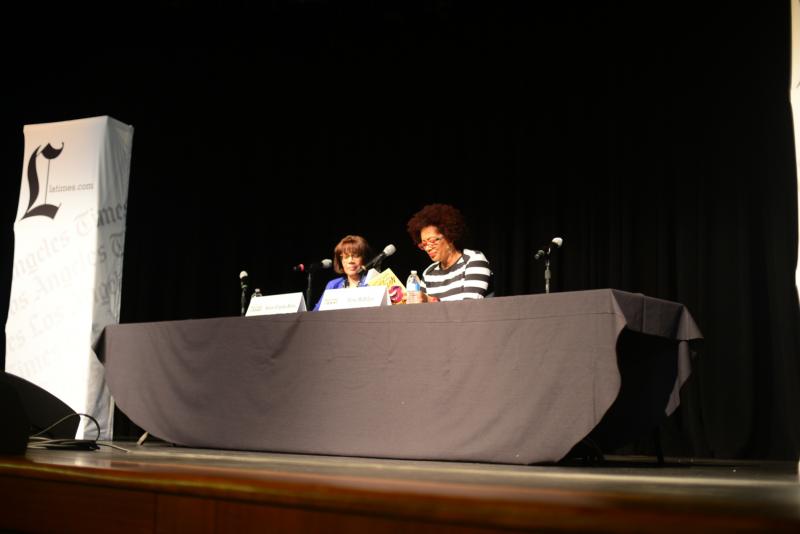 Prominent female novelist Terry McMillan charmed the audience at the 2014 Los Angeles Times Festival of Books with an outspoken and cheerful presence, taking a seat next to Karen Grigsby Bates to discuss her most recent novel, "Who Asked You?"
The 62-year-old best-selling author of "Waiting to Exhale" and "How Stella Got Her Groove Back" was a figurative open book at the literary festival – expounding on everything from her thoughts on parenting to her personal creative process.
SEE ALSO: L.A. Times Festival Of Books: Must See, Do and Taste
"Who Asked You?" centers on Betty Jean, a character left with her two grandsons after her daughter Trinetta leaves them to disappear. When asked about where the inspiration for the storyline came from, McMillan talked about how she has always been interested in the idea. McMillan also read moments in her new novel to point out where her ideas really stood out.
"I've been interested in it for years," McMillan opens, "One of the things I was always curious about is, what is it like to be a grandparent? What is it like to feel the burden?"
"I also wanted to be democratic and see what does it feel like to be the child who loses the parents? There's usually drugs involved, a lot of the times. To be able to tell everybody's story front heir point of view, that's why I chose to write this story that way."
McMillan added that parents don't always realize they're bad parents, but the kids almost always do.
The discussion became unexpectedly poignant when Bates asked McMillan how much responsibility do parents bear when children head in the wrong direction due to drugs and alcohol. Taking a moment to compose her answer, McMillan let out a sigh. She explained that exposing children to culture and knowledge is the best way to encourage them to strive for more knowledge.
"Being exposed to things makes you curious and when you're curious, you're nosy. If you respect your children and know they have a brain, show them how to be curious and try to set them an example. And know who their enemy is. Sometimes it's the streets."
McMillan also discussed the role of class in her novel. One of her characters, Quentin, grows up to be the family success, yet isn't necessarily happy and wants to disengage himself from his family. She mentions how he embodies a large amount of people in the modern world who act the same way.
"There are a lot of folks who like to forget where they came from. They want to forget to remember. Quentin finds out the hard way that you can't be something you're not. I show that in this book, money can't buy a lot of things like happiness and love."
Toward the end of the discussion, Bates asked McMillan about her writing process. McMillan told the audience that she wakes up early in the morning to write, shutting off any communication.
"I take breaks, but when I come up with an idea of a story that I want to tell, it's like cruise control."
McMillan mentioned the basic storyline of her next project about a middle-aged women who goes to hunt down all her old lovers.
"I heard a song on the radio at the Metro one day, Van Morrison's 'Moondance.'" McMillan said the song conjured up memories of somebody she was in love with, but could not remember who it was.
McMillan said the project is a new fantasy of her's to explore, saying characters can clear things up with closure. "What I realized is there are a lot of people you can forget about and that we are not only the products of our parents, but also who we loved."
With that, McMillan told the audience that she does her research on all her characters. She knows her characters to the core, writing down every little detail.
Throughout the interview, McMillan's side comments entertained the crowd, with a blunt sense of humor that came through during the conversation, but she remained compelling with honest answers.
"People think that everything I write is autobiographical. But it's not, it's a continuous lie."
Reach Staff Reporter Dale Chong here. Follow her on Twitter here.