California
California Oil Tax Could Become A Reality, Despite Opposition From Brown And Big Oil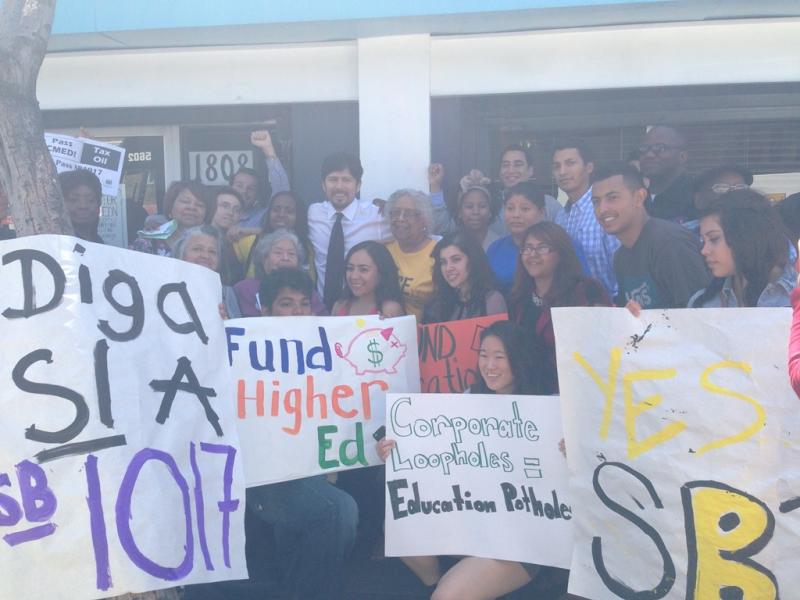 The California Senate Education Committee pushed a bill that taxes state oil companies and could potentially provide millions to public education.
Senate bill SB 1017, which was proposed by Senator Noreen Evans (D-Santa Rosa), would raise 9.5 percent tax to raise $2 billion annually to be divided among state universities and colleges, state parks and human service programs. But the state's "Big Oil" industry has been able to kill similar bills in the past. Sacramento-based Californians Against Higher Oil Taxes has also been lobbying against the bill, accusing it of "raising $2 billion a year in higher taxes to create a new, unaccountable, government bureaucracy with 18 political appointees and a full-time director who can be paid as much as the commission wants." The L.A. Times reports that the California Chamber of Commerce called the bill a "job killer." Eloy Garcia, a lobbyist for the Western States Petroleum Assn., said the measure would discourage oil production in California.
However, bill supporters promise that half of the revenue billion would be dedicated to bettering the learning experience for University of California, California State University and California Community College students, more specifically, the following, in order of priority:
1. Reducing mandatory system-wide tuition and fees
2. Hiring faculty and reduce class sizes
3. Obtaining instructional materials
4. Creating English as a Second Language (ESL) programs
5. Attending to deferred maintenance
Currently, the state is one of the very few oil producers in the world that does not tax oil production. States like Texas and Alaska already have tax legislation in place. This is the first time that the bill has been passed by any sort of committee, giving hope to supporters.
"The revenue generated from this bill will absolutely help higher education in California. I think it would definitely give several more solutions to the problem we are having. As of right now there are students that aren't able to get classes from five years ago. Money from Proposition 30 still doesn't cover it," said California State University, Los Angeles student Herlim Li.
Californians Against Higher Oil Taxes, a non-partisan coalition of taxpayers, businesses and consumers, are also concerned on how the tax will impact oil. The coalition is the biggest of its kind and is the first time that all opposing groups have joined together to fight this tax.
"Gas prices are going to increase and consumers are going to bear the biggest brunt of this. It's just not fair to them when we're seeing a slight economic rebound, "said the Coalition's Communications Director Sabrina Lockhart. "Millennials are having trouble in the job market with lots of students in debt. We want to make sure that they have good quality jobs and we are making sure that our economy doesn't suffer."
READ MORE: California College Students Push For Oil Tax Bill To Fund Public Education
The Los Angeles Economic Development Corporation wrote a report about the oil and gas industry's contributions to California's economy. In 2012, the petroleum industry generated almost $17 billion in labor income in Southern California, and the oil industry's total economic value is $113 billion, 5.4 percent of California's total gross domestic product (GDP), and is larger than the combined economies of 17 U.S. states.
"According to the report, more than 103,000 jobs in Los Angeles County come from the petroleum industry, which is more jobs than anywhere else in the state. This statistic demonstrates how critical the industry is in creating quality local jobs and how those wages support our local economy," said Tracy Rafter, founding CEO of the Los Angeles County Business Federation.
California governor Jerry Brown has also voiced his displeasure at the bill's passing, according to the Sacramento Bee.
"I don't think this is the year for new taxes," said Brown.
Despite this hurdle, supporters are still adamant that SB 1017 will pass the California senate, with help from the public.
"We're still fighting the battles one at a time. Hopefully we will gain ground with the Senate and media attention. We need to inform people what's going on and let them know that it won't raise gas prices but it will help students get their classes. Hopefully, the governor would be persuaded to sign it then," said Li.
SB 1017 could be a potential game-changer in the California public higher education system, allowing major programs to return to way they were almost ten years ago, before draconian cuts slashed through California's public school system.
"We're fighting to get back to the status quo. A lot of our vital services, especially Early Outreach Programs and Services that are offered to students, especially incoming freshman. They get individual counseling. The student to counselor ratio is horrible right now and this program helps to make that ratio better. At the basic level, colleges are understaffed," said East Los Angeles College (ELAC) student Sonny Martinez.
The bill's opponents do not trust the state government, as they believe that the tax could lead to "a slush fund for local politicians with no protection for local government," according to the Californians Against Higher Oil Taxes.
"There would be no oversight on what they're doing. Sacramento has a long history of making promises to local government and not delivering," said Lockhart.
SB 1017's supporters understand that this is a complex issue that has large amounts of capital and job opportunities at stake; and welcome any sort of opposition.
The bill's next stop is May 9, where it will be presented to the Los Angeles Budget and Finance Committee. If it gets through, then it will make it to the ballot in the nationwide elections on November 4.
"We understand that there are people against us. They have their ideological point of view and they are fighting for it, like we are, so that's beautiful. We don't want students working in warehouses or Burger King or a non-professional job. We want to help California," said Li.
Reach Staff Reporter Arash Zandi here. Follow him on Twitter here.