California
California College Students Push For Oil Tax Bill To Fund Public Education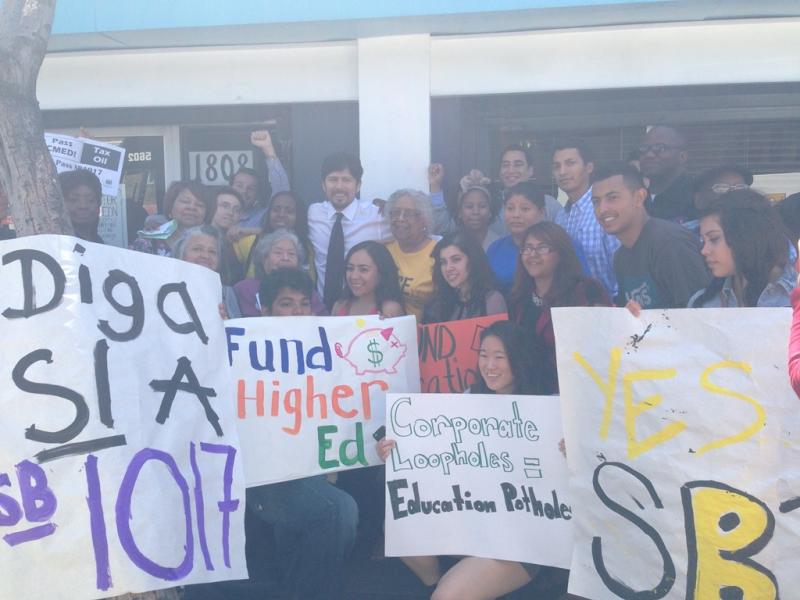 A coalition of students from UC, CSU and community colleges visited offices of California senators Friday, asking legislators to sign a senate bill that would tax oil companies in California. Chanting, "They say cut back, we say oil tax!" The group of students blamed corporate loopholes for thier schools' dwindling budgets.
Students from ReFund California and supporters from the Alliance of Californians for Community Empowerment (ACCE) visited the offices of Senator Kevin De León (D-Los Angeles) and California State Assembly Speaker John A. Pérez (D-Los Angeles), to ask for their support of SB 1017.
If passed, senate bill SB 1017, proposed by Senator Noreen Evans (D-Santa Rosa), would be expected to provide $2 billion a year in revenue. California is the only major oil producer in the world that does not have this type of legislation enacted. SB 1017 is proposing a 9.5 percent severance tax for the industry that generated close to $20 billion in 2013. Some conservative states already have legislation in place to tax oil companies, ranging from 25 percent in Alaska, to 12.5 percent in Montana and Louisiana, and 4.6 percent in Texas.
"The counseling and library hours are short and that impacts us in our daily lives. Money really is a big factor because funding can do a lot. I think it's time for the state to refocus on public education because I feel like that it has been pushed back in a lot of our politics," said Ji In Lee, a student at East Los Angeles College (ELAC).
The $2 billion dollars that would be generated annually by the bill would be distributed into the self-sustaining California Higher Education Endowment Corporation (CHEEC). Fifty percent of that revenue would be equally split between UC, CSU and community colleges, 25 percent would go to the Department of Parks and Recreation, and the remaining 25 percent would go to Health and Human Services programs.
"We are definitely experiencing a lack of access and affordability. The price of education has gone up to a point where you have to be either upper middle or upper class to get a good education that you want without going into debt. Regarding infrastructure, a lot of buildings are quite old. Two quarters ago, the ceiling actually fell on my professor," said California State University, Los Angeles student Herlim Li.
However, many California cities oppose the bill. Kern County's local government argues that the taxes would decrease property tax and other revenues from oil fields. Kern County is responsible for 71 percent of the oil produced in California. The oil industry has also said that SB 1017 would result in suppressed oil production and increased gas prices for the public. However, an independent study conducted by RAND, concluded that a 6 percent severance tax on oil would have next to no impact on both areas.
READ MORE: UC, CSU Tuition Increases: The Causes And Consequences
"The biggest problem with public higher education in California is that we get a lot of our funding through taxes and if the right people aren't getting taxes then they aren't going to get sufficient funds to efficiently transition to a four year university," said ELAC student Sonny Martinez. who is also a single parent. " We want Big Oil to pay their fair share."
California was once the gold standard for education in the country, but now, according to the bill, California is currently ranked 47th out of the 50 states on quality of education. The state is also currently tied with Mississippi for the highest unemployment rate in the nation.
"Our current ratio is 1000 students per counselor," explained Michelle Segura, a student at Los Angeles Trade Technical College. "As a result, sometimes, we're not able to see our counselors during the semester and you need a counselor to graduate fast. The regular student usually transfers in two years but some of us leave in three to four years. By our fourth year, we're supposed to get a bachelor's degree but instead we're barely getting ready to transfer out and become a junior in a four year university."
California ballot measure Proposition 30, otherwise titled Temporary Taxes to Fund Education, passed on Nov. 6, 2012, increased taxes to prevent budget cuts of $6 billion to the California public college system. However, this only served to prolong the problem.
"Prop 30 was a good step but it was just a Band-Aid on a gunshot wound," said Li.
On April 24, SB 1017 will be in presented to the California Senate Education Committee. If it gets through, then on May 9 it will be in front of the Los Angeles Budget and Finance Committee. Should that succeed, then SB 1017 will finally be on the ballot in the nationwide general elections on November 4.
"SB 1017 is going to get us where we need to be for California to have the human capital that it needs to fill jobs, especially in the high-tech industry. I think that college students need affordable and accessible education not only to help California, but our communities. All we are asking for is a little help," Li added.
Reach Staff Reporter Arash Zandi here. Follow him on Twitter here.