Music
Brokechella 2014: DTLA's Festival Alternative
It's impossible to escape the knowledge that yes, the second weekend of a certain festival is coming up, for those of you who aren't about to head south, either for the music or for the parties, DTLA has its own music celebration for considerably less $$$.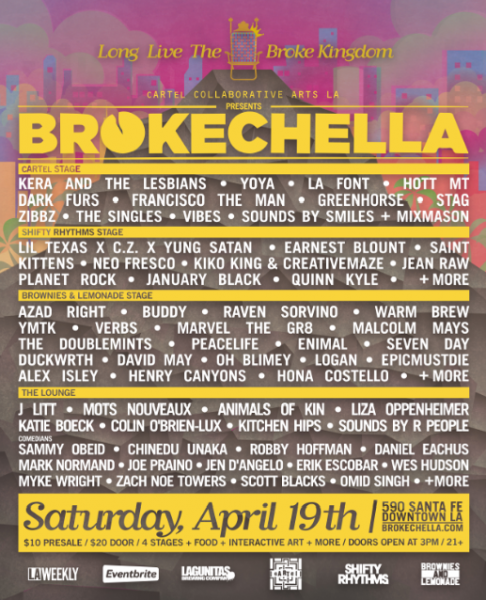 Enter the amazingly-named
Brokechella
, which is hosting
dozens of acts
all Saturday for the low price of
$10 per ticket
(or $25, if you're feeling VIP).
Created by the arts collective cARTel as a community festival that just happened to fall on Coachella weekends, Brokechella has become a save-the-date event in its own right, and one of the only festivals held in DTLA, though that's soon to change.
ALSO READ: Jay-Z And Mayor Garcetti Announce Made In America Festival
With plenty of art installations, food and drink and service and shopping vendors, Saturday's festival should be easy on the wallet but have you going as hard as any Indio-goer.
Reach Music Editor Lilian Min here; follow her on Twitter and Google+.