Music
Jay-Z And Mayor Garcetti Announce Made In America Festival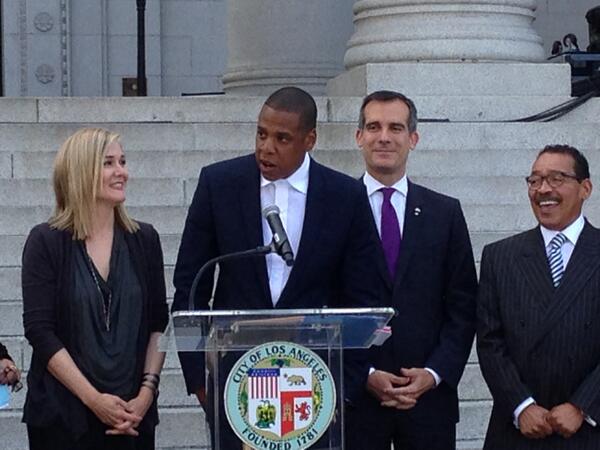 This morning, Los Angeles Mayor Eric Garcetti and Jay-Z announced plans for a two-day music festival in Grand Park over Labor Day Weekend (August 30 and 31).
Calling it "the first American festival to run simultaneously on both coasts," the Budweiser Made In America Festival, which has been held in Philadelphia since 2012, is also making its move to the West Coast as one of several concentrated efforts to revive Downtown L.A. as a cultural destination.
However, not everyone is happy with this announcement.
Councilman Jose Huizar has asked the city to wait on granting any permits for the event until more is known on how the festival might affect Downtown L.A.
In particular, Huizar is concerned with the possibility of street closures lasting up to ten days in his district.
The artist lineup for Made In America has yet to be announced, but pre-sale tickets are now available for $125. Proceeds from the festival, which is expeced to draw around 50,000 attendees, will go to United Way.
Reach Executive Producer Michelle Tiu here and follow her on Twitter.