Arts+Culture
Bovard Rings With Laughter At Festival After Dark Debut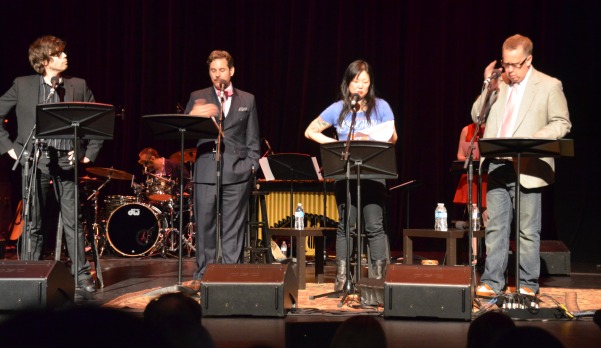 There was a technical issue in Bovard Auditorium on Saturday night. After a long day of books, speakers, and performances, people gathered to see a live recording of the radio show Wits. The live recording was part the debut of Festival After Dark, an event that aimed to extend the fun, intellectual ambiance of the Los Angeles Times Festival of Books into the night. But as soon as host John Moe greeted the audience, they quickly let him know something was wrong.
"What? You can't hear me?" Moe casted a sheepish glance at the Wits' house band, The Witnesses, "Well…this is off to a great start."
The front rows laughed, and the audience cheered when Moe's microphone was fixed. With that, the tone was set for a night of slight whackiness and humor at Bovard.
Wits is a weekly public radio show hosted by Moe and produced under American Public Media. According to an L.A. Times press release, the hour-long show is broadcasted over 100 radio stations across the country. In a Facebook Q&A with the L.A. Times Festival of Books page on April 7th, Moe stated that the show started as a "little on-stage interview series" with humor writers in St. Paul, MN. Yet in the time since its first podcast in October 2012, the program has expanded to include guest comedians, actors and musicians.
One of the guests was Margaret Cho, a comedian deemed "Queen of all Media" for her success in various areas of entertainment. Moe interviewed her on her role in the 1994 TV show All-American Girl, a show centered on a Korean-American girl and her family, and Cho talked about how being on the show led to her having anorexia. Cho made it clear that despite this, she was glad that the show, which was the second show centering around an Asian-American family, was able to uplift Asian-Americans. She even threw in her trademark humor, "You know, there were always comments like it was 'too Asian,' or 'not Asian enough,' and of course the Korean-American community was up in arms...I mean, on the show I wore shoes in the house!"
READ MORE: Margaret Cho To Visit USC For Los Angeles Festival Of Books
Another guest was comedian actor Paul F. Tompkins, host of the "Speakeasy" web series who has previously recorded four stand-up specials for "Comedy Central." Moe interviewed him on his role as a TV father of six kids.
"What was it like to take on this role since you don't have kids of your own?"
"Really reaffirmed some life choices I made," Tompkins joked, and went on to talk about how playing the role of a TV father made him better appreciate the things his parents have done for him and his siblings (Tompkins is the fifth out of six children).
One of the featured musicians was punk rock band
Superchunk
, whose latest album,
I Hate Music
received positive reviews from music publications
Rolling Stone
and
Spin
. When asked about the title of the album, lead singer Mac McCaughan explained, "It's a sentiment I don't feel all the time…but anyone who works with music knows that there are times when it feels like too much. I think anyone can relate to that."
Another was Will Sheff, band leader of indie rock band Okkervil River. Sheff is known for his songwriting and is also a published fiction writer and notable arts and film critic. Moe discussed Sheff's latest album, which Sheff explained was a way of him looking back on his childhood in New Hampshire.
"I grew up thinking memory works like a chest of drawers, where everything is filed away," but he found that memories can be painted in an idealistic light, "I realized that I was degrading my memories in this way."
READ MORE: John Scalzi: Adapting 'Redshirts' For Television
But Wits is a show not only for discussion of its guests' careers and work; it also showcases their guests talents. Superchunk and Will Sheff performed songs from their respective albums at various points of the night that had the audience tapping their feet and smiling. Comedy was also high throughout the show, with guests taking part in improv games and sketches.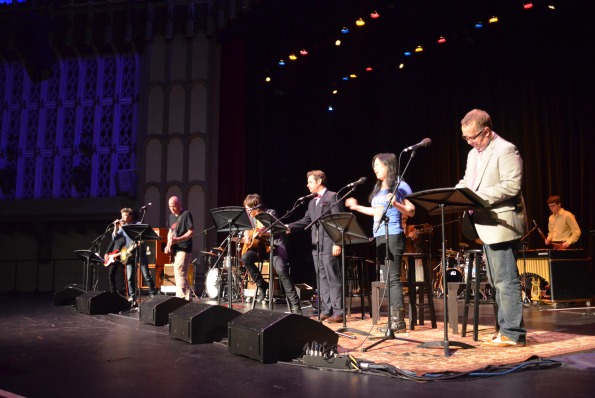 The show drew to a close with Superchunk covering the Go-Go's "Can't Stop the World," in which Moe encouraged the audience to stand up and sing along while he and the guests also sang and grooved onstage. Many people came to Festival After Dark without knowing what Wits was about, but the show's mix of comedy, discussion and music kept them laughing and interested. And so, which much applause and smiles, the first day of the Festival of Books ended with a final "good night" and a suggestion from Moe, "Come out and catch us in St. Paul sometime.
Contact Staff Reporter Heidi Carreon here.