Los Angeles and Region
A Warehouse School: Sci-Arc And The Arts District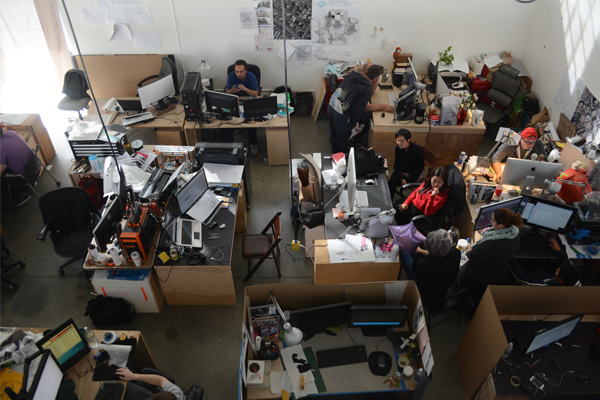 You're walking south along Santa Fe Avenue in the warehouse-strewn area that's come to be known as L.A.'s Arts District. A few semi-trucks are paused at the stop sign on Third Street. You cross in front of them, noting the monstrous One Santa Fe Development across the street. You notice a second very long building stretching south along Santa Fe's industrial and artisan mix across from the large development.
As it turns out this building — the old, quarter-mile concrete edifice with plenty of post-modern glass — are neither lofts nor a café, but rather one of the most respected schools of architecture in the country.
Southern California Institute of Architecture, Sci-Arc for short, and its 500 students find home in a radically re-appropriated freight depot east of downtown LA. Sci-Arc, with 250 undergraduate students and 250 graduate students, prides itself on being one of the most progressive and unique contemporary architecture schools.
"It's all architecture," said Javier Cambron, the school's director of recruitment and outreach. "Sci-Arc works less like a traditional college and instead becomes a think-tank of experimental thought."
This idea is clearly visible of the architecture of the school itself. Although the school has 500 students and about 90 faculty members, Sci-Arc has only has three traditional classrooms. These rooms are used primarily for general education equivalent courses, meaning that the vast majority of the school's classes take place in a rather untraditional setting.
Unlike most schools, which designate classrooms, studios, labs and libraries into separate buildings, Sci-Arc radically opposes traditional notions of what constitutes a 'campus.'
"We take all the pieces — design, engineering, robotics, research — and put it under one roof where students can see everything happening at once," explained Eric Moss, a practicing architect and Sci-Arc's director since 2002.
Each student also has his or her own individual workspace. Although Sci-Arc provides each student with a desk, the student is responsible for furnishing everything that goes onto and inside the desk.
This leads to an environment of incredible diversity, not only in students, but also in the way different students treat their spaces. It looks more like a true architecture firm than a school, especially considering that everyone is working at all times. I saw not one computer screen on Facebook during the few hours I spent there.
READ MORE: Three Years After The Bust, Architecture Industry Continues To Drag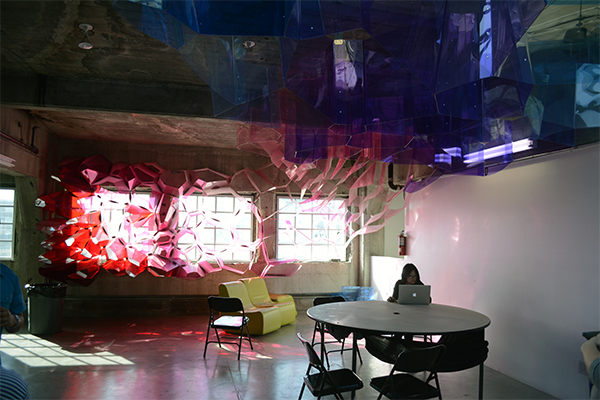 Yet Sci-Arc's individualistic aesthetic goes beyond individual desks. Notwithstanding the building's stunning interior design, Sci-Arc's philosophy dictates that the building itself is a canvas, and consequentially not a campus.
Moss adds, "I don't think anyone refers to Sci-Arc as a campus. The students are putting work up on the walls, talking about it and then people are walking by and listening to it while they're on their way to get a sandwich."
Sci-Arc subjects its first semester freshmen to a unique bonding process, during which all class members participate in a single, large-scale design project. The completed versions of past class efforts also find home in the building. For example, last year's class worked extensively on a large, colorful installation of molded acrylic.
While much of the building's east wall is dedicated to displaying student projects, the school also dedicates a public gallery to showcasing the rotating works of one highly respected architect, offering a free a space for the architects to experiment, free from client demands.
READ MORE: What Los Angeles Could Have Been
Sci-Arc opened its doors on the Westside in 1972, led by a group of faculty and students from Cal Poly Pomona who wanted a more nuanced approach to architecture. By 2000, however, the school was growing restless, as faculty realized that there were better places to mix ideas than Los Angeles' rather stagnant Westside.
In 2001, the school left its location in Santa Monica, and established itself in what is now known as Los Angeles' burgeoning Arts District. Simply said, the school viewed Santa Monica as too far removed from the rest of the L.A. and wanted to move east toward the diversity of the rest of the city.
"We're in the center of the city here," Moss said. "Santa Monica tends to be rather homogeneous and isolated from difference. This is an area that not only has a future in front of it, but that sociologically includes a little bit of everything. We looked at that and understood how 'that's the place for Sci-Arc to go.'"
READ MORE: Venice Beach Architecture: Lessons In History, A Revolution In Art
When they arrived, the building was dilapidated, covered with graffiti and located in the middle an industrial "valley-of-ashes."
"But then Sci-Arc comes here with 600 people — some need housing, some need cheeseburgers, some need entertainment of various kinds — and the presence of Sci-Arc in this area galvanized the area and encouraged development," said Moss. "That building across the street wouldn't exist without us."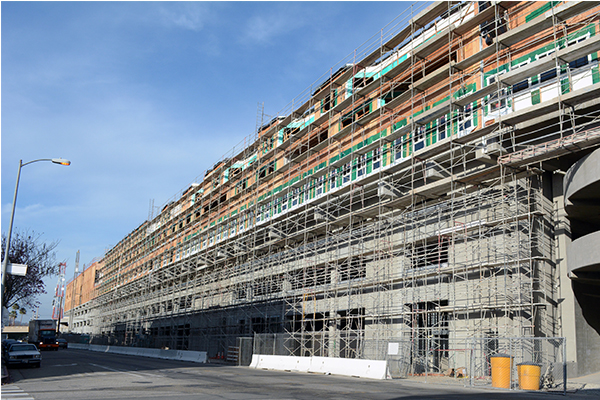 His reference to "that building across the street" is to the One Santa Fe project, one of Los Angeles' largest development projects underway right now, aimed at providing housing for several hundred people in the district. Several other developments are occurring around the district too.
Most of the development is beneficial in Moss's opinion. He believes that ultimately greater density in the context of a dominant artistic atmosphere within a greater mixed neighborhood will foster a cultural hub for the city of Los Angeles. But he maintains some reservations.
"You look at the some of developments happening here, and they're the same things that are going up in Santa Monica, or North Hollywood, or Westwood or Culver City," said Moss. "Five- or six-story apartment buildings with parking on the bottom. They're cheap and easy but just not that innovative."
For example as One Santa Fe is being built just east of the school, construction crews are beginning work on a new six-story development on the plot of land immediately west of the school too which, according to the school's PR director Georgiana Masgras, will block Sci-Arc's present view of downtown.
Nevertheless, there are many reasons to be optimistic for the future of the Arts District, despite fears that it may turn into another Westwood. Sci-Arc's presence as the only large-scale institution in the neighborhood encourages a considerable amount of artistic experimentation, far more than a neighborhood like Venice or Westwood, helping to ensure that the Art's District retains its indie vibe.
Check out more Arts District stories here.
This story is part of a Neon Tommy special on the revitalization of downtown Los Angeles. Click #reviveDTLA for more.
Contact Contributor Matthew Tinoco here.