Music
Review: Demi Lovato At The Honda Center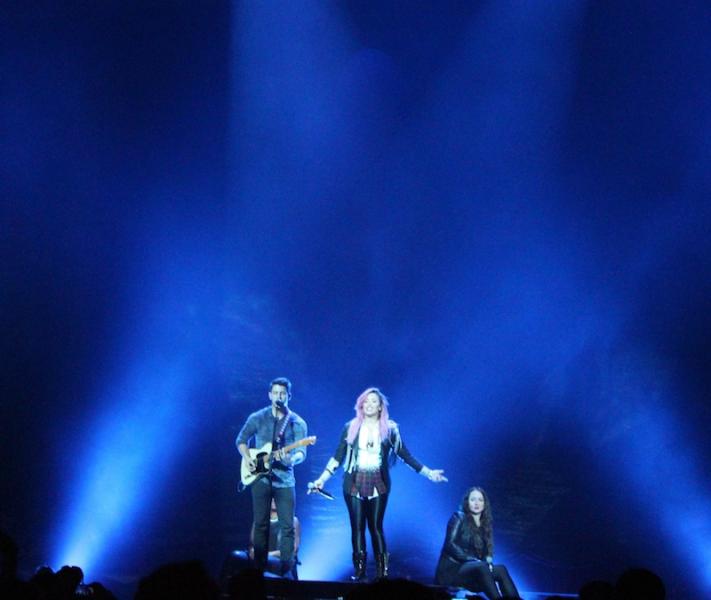 Demi Lovato
brought the Neon Lights tour to Anaheim's Honda Center. Thankfully for her fans, Demi brought along some familiar faces to ensure the night would be one to remember.
The general theme of the night was girl power. All the acts were female, minus one special male musician. Many of the songs performed were geared toward empowering women and establishing self-confidence. Demi was clearly aware of her potential as a role model to her adoring fans and used it to her advantage to spread a positive message.
The first opening act was Fifth Harmony, a group comprised of five girls from the second season of "The X Factor": Normani Hamilton, Camila Cabello, Dinah Jane Hansen, Lauren Jauregui and Ally Brooke. Fifth Harmony performed songs off their debut EP, Better Together. A couple of their songs were "Miss Movin' On" and "Me & My Girls." They also did covers of other artists' songs, like "Independent Women" by Destiny's Child. The group can best be described as the Cheetah Girls, minus the animal print and with a hint more of sassy- sexiness. For their performance, Fifth Harmony had five little cutout homes that they popped out of at the start of their set.
Next up was Collins Key, AKA the teen magician on "America's Got Talent." Remember this semi-dorky, but also quite attractive, guy and his Twitter hashtag tricks? Well, he pulled another Twitter trick during the transition periods between Fifth Harmony, Little Mix and Lovato. He used the same thoughts-in-a-locked-box trick, as well as a magic card and a pick-a-box-NOT-to-smash trick. Hey, no use fixing something that isn't broken. We've missed you, Collins.
Right after the kid magician exited the stage, the audience went into a frenzy. Was that Zayn Malik of One Direction walking through the crowd?! It would make sense, seeing as how his fiancee Perrie Edwards was in the next act, Little Mix.
Little Mix is a British group with four girls: Perrie, Leigh-Anne Pinnock, Jesy Nelson and Jade Thirwall. If Fifth Harmony channeled the Cheetah Girls, Little Mix channeled the Pussycat Dolls. The Brits went onstage with a smoldering hot male dancer for each. After every song, you could visibly see the girls and their male counterparts needing to catch their breath. They put every ounce of themselves into every dance, and they were not blessed with easy choreography. They performed songs off their new album Salute, such as "Salute" and "Move." They also did covers, like "No Scrubs" by TLC and "Bootylicious" by Destiny's Child. They finished with their original song, "Wings."
Acuvue was promoted often throughout the show. Collins was enlisted to speak on the One-Day challenged presented by the company, and videos showed of Demi promoting Acuvue brand contacts.
Finally, it was time for Demi herself to take the stage. With two backup singers waiting on stage, she rose from a platform and the crowd instantly went wild. Behind her was a screen playing various clips, including some from her music videos. She started the night with "Heart Attack," a familiar favorite of her fans'. She then performed "Remember December" and "Fire Starter."
The energy she had electrified the crowd, as if they needed a reason to scream during her performance. She kept her routines simple, opting to jump around and headbang often, as opposed to clogging her songs with intricate dance choreography. As some points, she played the drums or rocked out on the electric guitar. Demi kept her set right on going with "The Middle" and "Really Don't Care."
In a surprising move, she brought Nick Jonas and his guitar onstage. She grabbed a guitar of her own and the two strummed a duet together to "Stop the World." Sadly, trying to hear Nick sing was borderline impossible, considering his voice was drowned out on almost every occasion by the screams of thousands of enthusiastic fans. As Little Mix said earlier in the night, "You guys are bloody loud!" Still, from what could be heard of Nick's singing, it is clear the guy's vocals have not suffered over the years. The two then did "Catch Me" together.
READ MORE: The Jonas Brothers' Greatest Moments
Once Nick left the stage, Demi dedicated "Made in the USA" to American troops for their hard work. Next up was "Nightingale," a soulful and slow piece that brought the crowd back to a calm demeanor. Hyped over the excitement, Demi took to the audience (With a worried bodyguard following her, of course) and ran around grabbing hands and singing in her eager fans' faces.
Then, almost immediately after, Demi became serious again. She sat at a piano, now in the center of the stage, and addressed her fans.
"I have chills," she admitted with a smile. "I see a lot of really excited people right now."
Those "excited people" naturally became even more excited.
Demi told the crowd she loves using her voice for singing and for good. She took the opportunity to motivate her fans - a good move considering how many girls in attendance idolize her (At least, that's the idea you'd get from sitting by hoards of them).
"Tonight is about escaping," Demi told them. "It's your choice to change your life."
After performing "Warrior," Demi decided she was not yet finished showing appreciation toward her fans. She acknowledged her fans' posters and signs directed to her. Sidenote: The girl who wrote "Demi, will you be my Valentine?" on her poster deserves an honorable mention.
Her next performances were "Let It Go" from "Frozen" and "Don't Forget." While the songs were playing, clips of her old music videos played in the back. What a perfect throwback Thursday moment! After, Demi headbanged to "Got Dynamite" and swooned in "Unbroken."
READ MORE: Soundtrack Review: 'Frozen'
For a tour named "Neon Lights," there weren't many neon lights incorporated in the show. However, when it came time for Demi to perform her song "Neon Lights," the audience was told to download her own app and utilize it during the performance. To the 100 or so people who actually listened, their phone screen lit up with neon colors during this performance. Had more people done it, it would've turned out pretty impressive. Confetti exploded in the Honda Center. Time to go home.
Or was it? By the way no one in the audience moved when Demi went offstage, it was clear she had an encore of some sort planned. Her fans already knew the plan. Sure enough, less than five minutes later, the show went on.
Demi's prior issues with cutting and entering rehab were publicized in news broadcasts. Before Demi came back out, clips of those news broadcasts were playing on the various screens. She then steps out in a new outfit and sings "Skyscraper." It is truly an emotional performance.
She ends with "Give Your Heart A Break" before leaving the stage for the last time.
Judging by the appreciation she shows her fans, it is no wonder Demi Lovato's show in Anaheim was packed with loyal supporters. She rocked her show and certainly made the drive from Los Angeles to Anaheim worth it.
Reach Film Editor Kathy Zerbib here. Follow her on Twitter here.