Entertainment News
The Jonas Brothers' Greatest Moments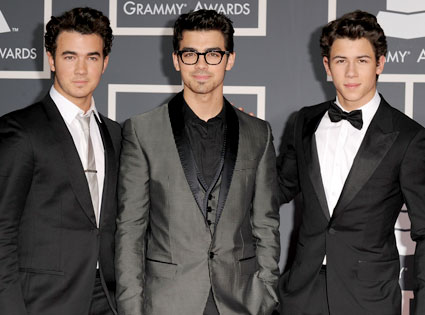 This is an "
S.O.S.
" The Jonas Brothers are no longer "Inseparable." They cannot "
Hold On
" anymore. They will not be hanging around "A Little Bit Longer." The Jonas Brothers have
officially announced
their breakup.
SEE ALSO: Jonas Brothers Officially Break Up
Yes, the world may be a slightly darker place without Nick, Joe and Kevin joining forces onstage anymore, but they definitely had a good run and they left their mark on the pop music world, as well as in the hearts of teen and preteen girls. So instead of mourning the loss of this adorable and talented band of brothers, let's take a walk down memory lane to look at the Jo Bro's greatest hits, on and off stage.
Beginnings
Nick, the youngest of the band, actually began the music trend for the family. He worked on Broadway and then recorded a solo album in 2004. The following year though, Nick requested rehearsal help from his brothers, and their chemistry and sound was so good that the boys decided that three was better than one. Thus, the Jonas Brothers was created. In 2005 the boys were signed to Columbia Records and were booked as opening acts for Kelly Clarkson and the Cheetah Girls. Their debut album, "It's About Time," was released in 2006. This is where the legacy began.
Nick's Diagnosis
In the same year as the band's formation, Nick was diagnosed with Type 1 Diabetes. Though it was a shock to him and his family, Nick would find the silver linings in his disease and become an advocate for the disease. He has partnered with the Juvenile Diabetes Research Foundation, as well as Change for the Children Foundation, in order to raise awareness about the disease, in addition to promoting fundraising for a cure. Nick also wrote a personal song called "A Little Bit Longer" about his struggle and subsequent acceptance of his illness. His openness and advocacy have made him a role model to those with Type 1 Diabetes.
Jonas Meets Disney
The Jonas Brothers and Columbia Records parted ways after a fairly unsuccessful first album, but the brothers were quickly picked up by Hollywood Records. Their self-titled second album featured Jo Bro classics such as "Hold On" and "S.O.S" that really launched the boys into the public sphere. This also led to their cameo on "Hannah Montana."
"Niley"
Nick would have more than just a cameo in Miley Cyrus' life. The two dated for roughly two years before breaking up in late 2007. Before "Wrecking Ball" and Miley's plethora of scandals, she was the teen queen sensation, so she and Nick were the Disney power couple.
"Camp Rock"
Continuing their partnerships with Disney and the hottest teen stars of the late 2000s, the Jonas Brothers teamed up with Demi Lovato to star in the Disney Channel Original Movie "Camp Rock" in 2008. The movie, which was about a summer camp for young, aspiring musicians, gave the brothers a chance to record new songs, as well as show off their acting chops. The movie subsequently became the third highest viewed Disney Channel Original Movie of all time.
Rolling Stone
The brothers were on a steady upward trajectory with "Camp Rock," as well as their immense success with their third album, "A Little Bit Longer." The Jo Bros were everywhere, and Rolling Stone magazine became aware of this and featured the trio on their August 2008 cover; the boys were the youngest band to receive that honor.
"Forever and Always"
Nick wasn't the only one to make headlines with his love life. Joe dated country/pop sensation Taylor Swift. Unfortunately for Joe though, their breakup was memorialized in one of her hit songs entitled "Forever and Always," in which Swift claims that Joe broke up with her over a 27-second phone call.
"J.O.N.A.S."
Right on the heels of performing with Stevie Wonder at the 2009 Grammys, as well as releasing a successful fourth album, "Lines, Vines and Trying Times," the boys returned to television with their own Disney Channel show. Unfortunately, the boys proved to be better musicians than actors and the show only lasted until 2010.
Nick's Solo Ventures
Around the time of "J.O.N.A.S." ending, Nick surprised audiences by announcing that he had started a band called Nick Jonas & the Administration, but that it was a side project and he would remain in the Jonas Brothers simultaneously. The band would later take a hiatus though, when Nick landed the lead in "How to Succeed in Business Without Really Trying" on Broadway, and then later played the role of Marius in "Les Misérables" in London's West End, and then at the 25th Anniversary Concert. During this time, Joe also released a solo album.
"Married to Jonas"
In 2009, Kevin married Danielle Deleasa, and in 2012 the couple got their own reality documentary series on E!, titled "Married to Jonas." The show documented the relationship of the two, but also had the rest of the Jonas family, including Nick, Joe and their youngest brother, Frankie, prominently featured. In 2012 a Jonas Brothers reunion was also announced, and the show followed and promoted this as well. In 2013, it was also announced that Kevin and Danielle were expecting a baby girl.
The Breakup
Despite the band's reunion concert and new album (though it was not produced through Hollywood Records), on Oct. 29 the Jonas Brothers announced that they were officially broken up. This announcement came right after the boys cancelled their highly anticipated comeback tour only a mere two days before its kickoff.
For the past eight years, the Jonas Brothers have dominated pop music charts and won over the hearts of countless young, adoring fans. And though their split may be depressing, all good things must come to an end, and it's likely that the boys will stay relevant with solo endeavors. For now, the boys will just remain brothers off of the stage and outside of the studio.
Reach Staff Reporter Samantha Jacobs here. Follow her on Twitter here.