Los Angeles
Oregon Senator Ron Wyden Delivers Keynote Speech At USC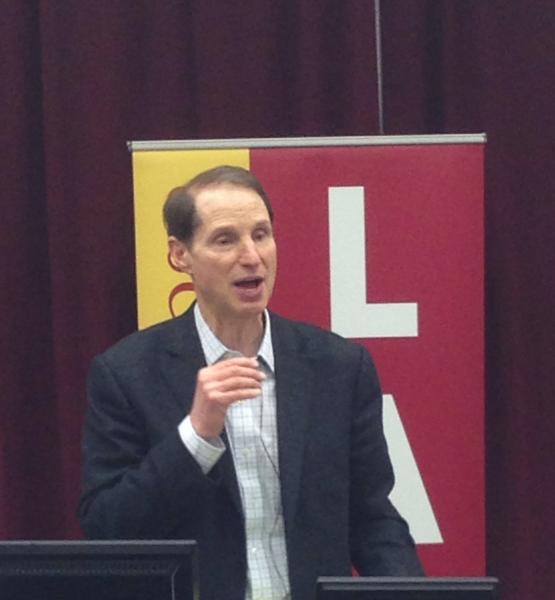 Ron Wyden
(D-Ore.), delivered the keynote speech at the
Conference on Growing Income Equality
held by USC today, saying that raising the minimum wage is essential for the country to improve.
The USC Gould School of Law and The Urban-Brookings Tax Policy Center held the conference to assess issues in determining income inequality and mobility, as well as to examine the differing role that tax policy plays in both creating and alleviating inequality.
Experts from a range of disciplines, faculty members and students convened on the conference to hear about topics such as measuring inequality, how the tax system fosters inequality and how income tax can be used to combat poverty.
Senator Wyden, who was recently appointed to chairman of the Finance Committee, focused on the growing inequality that Americans face. He mentioned the "The Neiman Marcus and the dollar tree economy," which refers to high-end establishments such as the aforementioned department store thriving, while middle class equivalents such as Macy's and Sears are suffering.
"Consumer spending is driving 70 percent of the economy today," added Senator Wyden.
READ MORE: Economic Inequality In America, Explained In Graphs
Wyden went on to address the question of minimum wage. He mentioned various times during the speech that he is a strong supporter of raising the minimum wage.
"It is unacceptable in a country that is rich and decent as ours for people to be living in poverty," he said. "Increasing the minimum wage would be good for the economy as it would help local businesses a lot."
Wyden took the opportunity to express his support for creating savings accounts for every child when they are born.
"This could put a dent in the poverty rate and the money saved could be used to fund secondary education or to buy a home," he said. "Children with savings accounts will be up to seven times more likely to attend college than those without an account."
Wyden stressed that it is important to simplify the array of retirement savings by consolidating all the plans.
Wyden also talked about implementing skill-training opportunities, and cited the New Skills for New Jobs Act, introduced by Senator Debbie Stabenow (D-Mich.) that builds on successful endeavors in Michigan as well as other states that involve helping community colleges to partner with local businesses in order to provide training to workers for new high-skilled jobs. He also mentioned the Better Education and Skills Training for America's Workforce Act, introduced by Senator Robert Menendez (D-N.J.), which would amend the Internal Revenue Code of 1986 to give tax credits for employer-provided job training. The act would also foster partnerships between private businesses and institutions of higher education.
Wyden revealed that he is an ardent supporter of apprenticeships, a system in which a worker gets paid to learn a set of skills through on the job training.
"The United States is lagging behind most of the industrialized world. We believe our economy could really catch up and excel," Wyden said.
Senator Wyden closed the speech by stating his philosophy on tax reform.
"I want a tax code in America where everybody has a chance to get ahead, especially those don't have much of a chance," he said. "Successful people will pay their fair share but no one will keep them from being successful. Under the banner of tax reform that gives everybody in America that gives everybody a chance and to get us out of this rotting mess that is our tax code. It will be good for our country as it will bring us together."
Reach Staff Reporter Arash Zandi here. Follow him on Twitter here.