California
California Drought Draws Obama's Climate Task Force To L.A.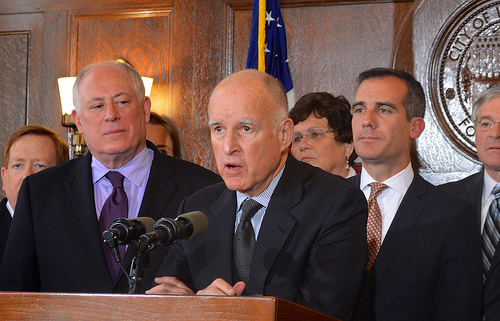 California Gov. Jerry Brown and Los Angeles Mayor Eric Garcetti met with members of of a high-level federal
Climate Task Force
Thursday morning to discuss the state's severe drought, climate change and recent extreme weather patterns that have wreaked havoc across the nation
Crowded around a wooden lectern in the Mayor's conference room in City Hall, Task Force members relayed to reporters the bullet points of their closed-door meeting on how to effectively integrate federal aid into local governments to help them to deal better with fires, storms, floods and droughts.
"Climate change is the greatest public health crisis of our time," said Environmental Protection Agency Administrator Gina McCarthy.
Formed last November, President Obama's Climate Change Task Force is comprised of 24 state, local and tribal officials and leaders, including eight governors. This is the panel's second meeting, and members say the ultimate goal is to cut through federal red tape to enable local governments to tackle environmental disasters.
SEE ALSO: East Coast Winter Continues To Devastate
The meeting comes a month after Brown declared a statewide drought emergency and ordered significant water reductions, as 17 communities are poised to completely run out of water within 60-120 days. Though better prepared than other cities, Los Angeles has entered phase 2 of its water conservation plan, banning landscape watering between 9 a.m. and 4 p.m., among other measures.
Although the state's drought crisis was a top priority for those who met at City Hall, the group also expressed concern about rising sea levels, extreme weather patterns, air quality and clean energy.
"In 2012, the cost of weather disasters exceeded $110 billion," said Nancy Sutley, chair of the White House's Council on Environmental Quality. "We need to prepare communities for the effects of climate change we cannot avoid, and the kind of events that are happening more frequently."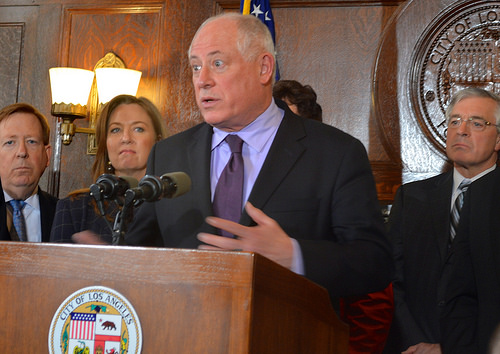 Stepping to the lectern, Illinois Gov. Pat Quinn joked about leaving behind frigid temperatures and ice for an 80-degree afternoon in Los Angeles, a telling example of the random weather patterns pelting the U.S. But then Quinn sobered, telling the crowd about the state's unprecedented weather events
"We've had devastating floods, deadly tornadoes in November—which is unheard of—and thousands of people lost their homes," said Quinn. "Now we've had tremendous cold and had to deploy the National Guard to help us with these weather emergencies."
Brown has made several stops to Central California, one of the areas hardest hit by the drought, over the past few weeks and reiterated the need to invest in water projects and protect water quality.
"It is my responsibility to raise to emphasize the dangers of climate change and in so many ways we are making hard choices," said Brown. "This is the job of local governments but we are jut beginning, these are baby steps."
Garcetti spoke several times, assuring those in the small room that the conversation behind closed doors had been "very specific." He said the group addressed critical topics like transportation, infrastructure and disaster response.
SEE ALSO: 3 Reasons Drought Is California's Biggest Problem
Water, however, remained the greatest concern.
"We are on pins and needles trying to understand what this means for our agricultural sector," Santa Barbara County Supervisor Salud Carbajal said after the press conference. "It would have devastating effects to our county's GDP if we continue to have the type of drought we are having."
Agribusiness is Santa Barbara County's top business sector, added Carbajal, and the state of the county's water supply is bordering on dire.
South Santa Barbara County relies heavily on water supply from Lake Cachuma, and Carbajal estimates the county has "less that two years left of water supply in that reservoir."
California is the driest it's been since 1850, and Sutley said the federal government is deeply concerned about California's shrinking reservoirs. Obama met with Brown in Fresno last Friday to see the impacts first hand.
"We are developing funding coordinations and taking immediate action to try and lessen the impact on California communities," said Sutley, mentioning Obama's new Drought Resilience Partnership, which was formed to help communities better prepare for future droughts and reduce the impact of drought of local and state economies.
Los Angeles has been conscientious of dwindling water resources for years, keeping its conservation measures in effect since 2009.
The Water Replenishment District, which serves a majority of L.A. County, has been preparing for severe droughts for over 50 years. "Our job is to secure aquifer and make sure we have plentiful water," said Elsa Lopez, manager of public affairs. "We prepare for the worst at all times."
Lopez said Los Angeles had made tremendous gains in recycling and storing ground water that used to pour into the ocean.
"Ground water is now put at the forefront of all this because it's our main source," she explained.
Southern California and Los Angeles are recognized as pioneers of water conservation, but Lopez noted Los Angeles should look to limit its supply of imported water in exchange for local avenues since water shortages in northern and central California are much more extreme.
SEE ALSO: California Drought Puts Pressure On L.A.'s Organic, Locally Sourced Restaurants
Other communities across the state are trying to heed the same advice, but in a parched state, options are scarce.
"We have a lot on our plate with this drought," Brown said before leaving the press conference and heading back to continue the closed-door Task Force meeting. "We need to wake people up. Climate change requires a complete transformation of our current industrial system."
Brown reminded the crowd that he is willing to do everything in his power to help California bounce back after environmental disasters, and fight for greener solutions.
"We are doing everything possible. But is it enough? No. It's a teeny response in the face of what is a tsunami of atmospheric change," he said.
Reach Editor-in-Chief Brianna Sacks here