Los Angeles
12 Buildings That Tell The Story Of Downtown L.A.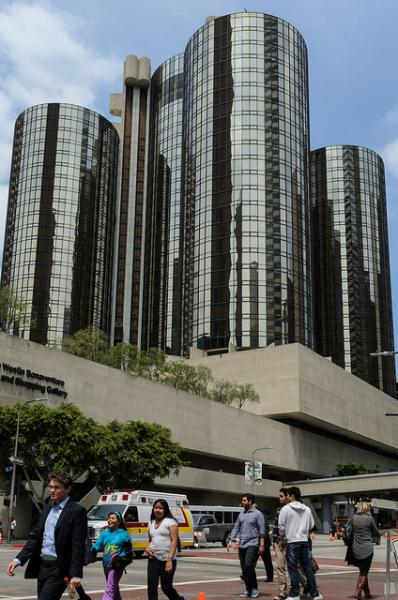 In the last 10 years, downtown Los Angeles has been in the midst of a construction boom. New towers have been redefining the skyline, while mid-rise condo and apartment buildings continue to fill up many of the city's bare patches. Thousands of people and hundreds of businesses are moving in. The last time downtown was this prosperous was in its golden age from the 1920s-50s, when it was the center of shopping, business and entertainment in Los Angeles.
Many of the faded landmarks of downtown were considered obsolete when people moved to the suburbs, customers flocked to new shopping malls and places like Century City became new hub of business. Now, as the city's landscape is changing at a record pace, historic architectural gems are being restored to their original grandeur. While a new Los Angeles is being formed, the old one is coming back into the spotlight.
These are some of the buildings, historic and modern, that tell part of the story of how L.A. grew, changed and became what it is today.
Westin Bonaventure
When well-heeled business travelers come to Los Angeles for a meeting or a conference, many of them stay at the Westin Bonaventure Hotel, a 35-story building comprised of five vertical cylinders arranged in an X, covered in dark glass. Its then-futuristic design has been described as "straight out of a science fiction movie" and "like a rocket ship on a launch pad." It was the first hotel-cum-convention-center built around a central atrium, a style that is now common.
The hotel opening in 1976, when downtown was rapidly approaching its nadir. "Downtown was in such a different time," said downtown L.A. guru Brigham Yen. "It was considered really sketchy, and the design mentality of the time was 'lets put everything inside so no one has to interact with anyone outside.' There's absolutely nothing on the street level. [The hotel's] bridges were meant to allow people into the hotel without ever touching the sidewalk."
In the 60s and 70s, officials hoped buildings like the Westin Bonaventure would reinvigorate downtown, but their car-oriented, pedestrian-unfriendly design leaves the area feeling somewhat empty and boring. Because of this, the city has proposed yet another plan to redevelop Bunker Hill and hopefully bring in the energy and vitality that it is missing.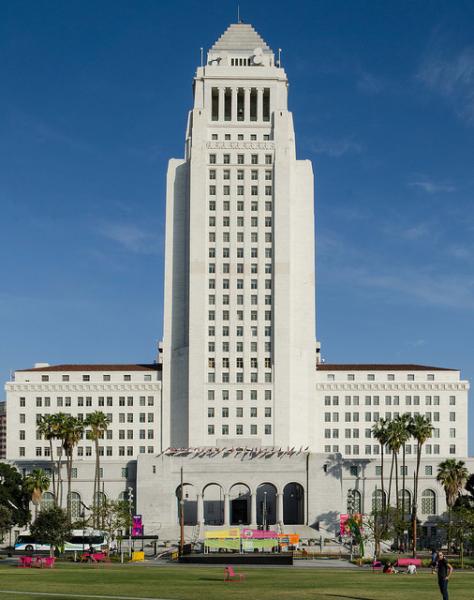 City Hall
A hundred years ago, if you asked somewhere where the center of downtown Los Angeles was, they would probably say Temple Square, a triangular plaza at the intersection of Temple and Main that used to serve as the European-style central square of the city.
In the 1920s, the current cluster of government buildings on the north end of downtown replaced the narrow and crooked streets around Temple Square. City officials envisioned a civic center that, as the L.A. Times reported, they hoped would become "what the Acropolis was to Ancient Greece during her Golden Age."
City Hall was originally one of many monumental administrative buildings. Although many buildings from the original Civic Center were long ago demolished, like the old Hall of Records and the main Post Office, over the years more and more courthouses, offices and headquarters have been added. L.A.'s Civic Center now has the second highest concentration of government employees outside of Washington, DC.
Los Angeles Theater
Broadway, now a district for bargain shopping was once the hub of the city's film culture — lined with opulently decorated "movie palaces" home to thousands of seats each. They hosted high-society movie premiers, but were also frequented by normal people who wanted to catch a show. The Los Angeles Theatre was one of the grandest, with a Baroque lobby, chandeliers and vaulted ceilings, hidden by a narrow entrance facing the street.
As the movie business moved west and downtown deteriorated, some of the enormous movie palacse were divided up, into smaller screening rooms, converted into stores and offices, or sat empty. The Los Angeles Theatre is currently closed to the public — except for special events — but the owners have hinted about a possible reopening in the future.
Finding a new use for the movie palaces is one of the goals of councilman Jose Huizar's Bringing Back Broadway initiative. Similar venues are being repurposed into stores, like the Rialto Theatre, which recently reopened as an Urban Outfitters. Others, like the United Artists Theatre, are now hosting events and concerts, just as they were intended to do.
READ MORE: "Downtown L.A. Ushers In New Life For Its Theaters"
Bullock's Department Store
Before automobiles came to dominate L.A., streetcar lines from surrounding neighborhoods all converged downtown, and Broadway was the city's most important shopping district. Bullock's Department Store opened in 1907 as a seven-story building at 7th and Broadway, gradually expanding into a gigantic store that took up the entire block between Broadway and Hill. Ten floors of retail sold everything from clothing to barbecue supplies.
"It was kind of like our version of Macy's or Marshall Fields in Chicago," said Brigham Yen, a real estate agent and authority on downtown. "L.A. used to have a great department store, but unfortunately it was purchased by Macy's and killed."
L.A.'s car culture diverted shoppers away from downtown to suburban malls, and stores like Bullock's closed their downtown locations. While upscale retailers have started to trickle back to Broadway, the Bullock's building is being used in a way that befits the history of the store — like so much of the rest of L.A., its space is now used to park cars.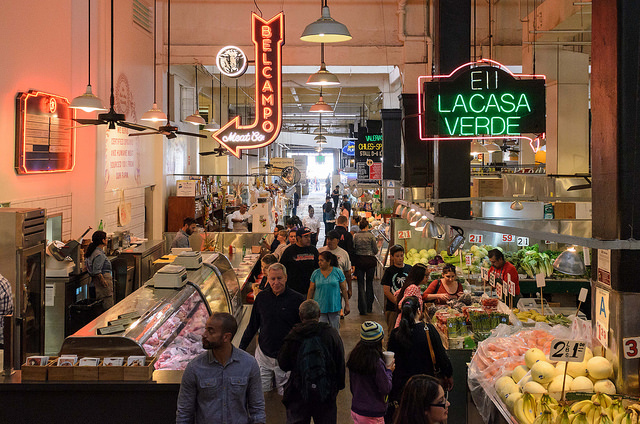 Grand Central Market
Packed with stalls selling produce, poultry, and spices along with a variety of eateries, Grand Central Market has been a Los Angeles institution since before the invention of the grocery store. The six-floor building the market is housed in is smaller than many around it, but when it was built, the blocky, brown building was relatively large, and made history as the first steel-framed building in the city when it was built in 1896.
The market was originally founded to serve the people of Bunker Hill, a dense residential neighborhood that was demolished in its entirety in the 1950s. The market managed to survive without its original customer base by catering to office workers, tourists and residents of other areas.
As the surrounding neighborhood faces ongoing threats of gentrification, the LA Times' Steve Lopez worries, "the iconic Grand Central Market ... is undergoing a transformation that could either destroy it or revive it, depending on whom you talk to."
Changes have already begun, with the opening of an espresso bar, thai food stand and gourmet cheese shop in 2013.
READ MORE: "Downtown L.A.'s Economic Development Is A Mixed Bag"
Wilshire Grand Tower
When construction wraps up around 2017, the Wilshire Grand Tower will be one of the biggest changes L.A. has seen. And at 1,100 feet, it will also be the tallest building in the West, bringing 73 stories of stores, hotel rooms, and offices into downtown.
Korean Air is making a $1 billion investment in the project, sensing the momentum of L.A.'s flourishing downtown. "The new Wilshire Grand is an investment that makes sense and we are excited to continue our relationship with this great city," Yang-ho Cho, the airline's chairman told the L.A. Times.
While Korean Air's billion-dollar investment in downtown L.A. is unprecedented, the changes over the past few years suggest that the influx of foreign capital to Los Angeles may not be a one-time-event.
Yen predicts that Los Angeles will see "a lot of institutional buyers snapping up properties, with increasing rents and property values. More and more expensive units will be built, and the economic caliber [of downtown] is going to continue to increase over time."
In as little as five years, downtown will look very different than it does today. It will have a second subway route, a streetcar line, a new museum, the tallest building in the West, thousands of new residents in dozens of new apartments and condos, and thousands of new workers in new office towers.
Not too recently, it might have been said that downtown Los Angeles' best days were in the past. But given the resurgence of so many of its old landmarks, and the creation of so many new ones, there is good reason to think that its best days are still ahead.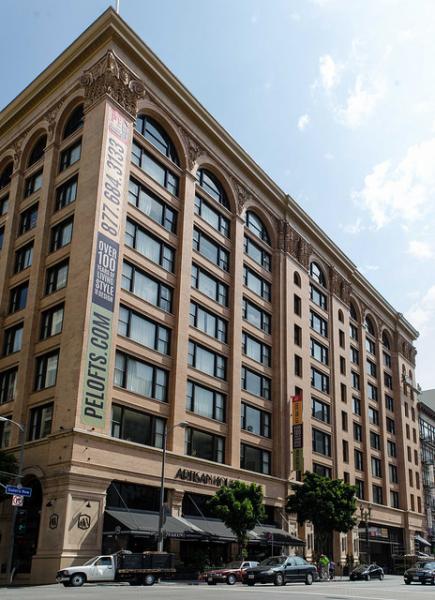 Pacific Electric Building
Opened in 1905, this was the busiest station of the Pacific Electric Railway. Its trains brought in passengers who wanted to reach the region's center of business, shopping and culture from distant cities like Santa Ana, Long Beach, and Pasadena. Businesses and offices relocated closer to the station at 6th and Main in order to be more accessible to the thousands of shoppers and workers pouring into the city. The upper levels of the station housed the railway's headquarters.
After the rail lines were abandoned in the 1950s and 60s, the rest of the building continued to serve as an office building, slowly deteriorating over the years. In 2005, it was repurposed into a series of hip loft condominiums, joining the ranks of the many new residential buildings downtown.
All sorts of people live in the building now — hipsters, middle-aged professionals, and the occasional family. "It's pretty varied," said one resident, Damon Cohen, a real estate broker, "although [the] trend is more young than old."
Staples Center
In the 1980s and early 90s, there wasn't much to do in downtown Los Angeles after business hours. When the Staples Center opened in 1999, it brought people downtown who would have otherwise avoided the area, luring them in with concerts and basketball games.
"With the revitalization of downtown L.A., you can actually spend time around Staples Center before and after the game," writes real estate blogger Alex Quaid. "I remember coming to Staples when it first opened and just trying to find a safe spot to park – no matter the cost – and quickly trying to get in the arena. Those days are gone."
Restaurants, bars and hotels began to pop up in what was once a blighted area of the city, in order to serve basketball fans and concertgoers. This started a chain of events that led to that part of downtown becoming a center of nightlife and entertainment, with landmarks like L.A. Live, the flagship Regal Cinemas, and the Nokia Theater.
READ MORE: "The Future Of AEG's Farmers Field In Downtown Los Angeles"
Disney Concert Hall
One of the most architecturally groundbreaking buildings in the world is located on Grand Avenue in Bunker Hill. The theater, with its distinctive steel peaks and curves, was designed by famed architect and Judge Widney Professor of Architecture at USC, Frank Gehry. Disney Concert Hall also changed the prospects of the neighborhood, which sat empty for decades after 1960s redevelopment plans stalled. A $50 million donation from Heiress Lillian Disney provided the resources to build the concert hall, which opened in 1999.
It renewed interest in Bunker Hill, which is still in desperate need of more development," Yen commented, "This amazing cultural mecca is forming with the Dorothy Chander Pavilion, the Broad Museum, MOCA, and Rafael Moneo's cathedral."
More changes are yet to come on Bunker Hill. In 2007, the city announced the Grand Avenue Project, an initiative to develop the last remaining empty lots in the neighborhood, that will likely also be designed by Gehry. This initiative also led to the 2012 opening of the popular Grand Park.
Clifton's Cafeteria
Back in downtown's bustling heyday, shoppers, office workers and visitors to the many movie palaces could dine at any of the several branches of Clifton's Cafeteria. The Broadway location, which charmed Angelenos for decades, with its over-the-top forest-themed décor, was the last outpost of the former chain, which shut down all of its branch locations as cafeteria-style dining fell out of favor.
A loyal following helped the cafeteria survive through downtown's dark age in the 1970s and 1980s, until it closed in 2011 for renovations. Developer and film producer Andrew Meieran intends to restore the eatery to its past glory- with multiple bars and restaurants on multiple floors. Yet, the project has dragged on for years, with no reopening date in sight.
Avila Adobe
This unassuming one-story house on Olvera Street is actually the oldest house in Los Angeles. Built in 1818 out of compacted dirt when Los Angeles was just a small Mexican settlement centered around the Plaza, it gradually began falling into ruin.
When Olvera Street was converted into an old Mexico-themed outdoor market in 1930, the Avila Adobe was bought up by a historic preservation activist named Christine Sterling and eventually became a museum. In a city that is known for forgetting its own past, this house has fortunately been preserved for future generations. It is now one of the few traces left of the small town that grew into the city we know today.
Union Bank Plaza
In 1955, the city began tearing down everything on Bunker Hill, the rise of land just west of Hill Street in downtown L.A. Houses, stores and apartments were all demolished (except for a small number of historic Victorian-style houses that were moved to a museum). Angel's Flight was dismantled and placed in a storage facility. Even dirt was removed to make the hill flatter and less steep.
This was all part of a redevelopment project to replace what was then a run-down neighborhood with gleaming office towers. The first new office tower to open was Union Bank Plaza, which opened in 1968. While the building itself is undistinguished and blocky, it was the first piece of the bunker hill financial district which, although many criticize the destruction of the historic neighborhood it was built over, is one of the many little neighborhoods that make up downtown.
This story is part of a Neon Tommy special on the revitalization of downtown Los Angeles. Click #reviveDTLA for more.
All photos by Benjamin Dunn. Contact Staff Reporter Axel Hellman here.