Los Angeles and Region
Downtown L.A. Ushers In New Life For Its Theaters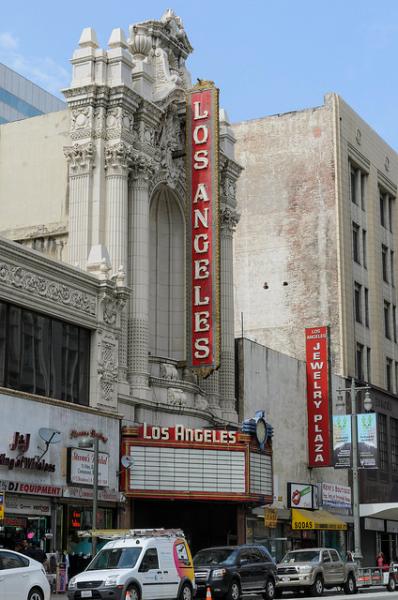 It's a different kind of "Broadway" in downtown Los Angeles.
The marquees on Broadway Street are often empty, with no promises of to-be shows or entertainers.
But city initiatives are looking to bring life back to the iconic street and its theaters, returning the area to its roots as a retail and entertainment capital.
"This place used to be the Times Square of Los Angeles," says Eric Lynxwiler, a tour guide for L.A. Conservancy's Broadway Historic Theater. "Before Beverly Hills this was the Beverly Hills."
A hundred years ago, Broadway Street was the destination for theater and retail on the West Coast. In 1910, famous architects like Charles Lee designed striking theaters of Art Deco and Beaux-Arts styles with smooth marble sculptures and staircases, French imported chandeliers and brass doors. Broadway attracted the 1920s and 1930s most elite crowd — Judy Garland, Charlie Chaplin, Jack Benny — all came to shop, eat, perform and, of course, be seen. By 1931, Broadway had the highest concentration of cinemas in the world, and the district was thriving in sophistication and opulence.
This gradually shifted, though. After World War II, downtown Los Angeles' white population moved to suburbs where the convenience of malls and multiplexes made it unnecessary to travel to Broadway for shopping and entertainment. The neighborhood quickly declined.
READ MORE: "The Ace Hotel Raises The Curtain For A New United Artists Theatre"
Now, most of the Broadway theaters have been converted to lofts, warehouses or retail spaces. Theaters belong to private owners, who are free to use the space as they please as long as they abide by the Historic Commercial Reuse Guidelines. The guidelines generally require that the actual facade of the theater must be preserved.
Some theaters have their interiors completely intact with original seats, balconies and stages. But others have seen more dramatic changes. The Million Dollar Theater retained much of its ornate wall decorations and chandeliers, but now its balcony overlooks customers browsing rows of diamonds in glass displays. The State Theater is now a church whereas the Globe Theater removed its seats to create a nightclub.
In December, Urban Outfitters opened inside the Rialto Theater under the watchful eye of L.A. Conservancy and other historic preservation agencies to restore the theater's marquee with its original framing.
Out of the 12 remaining theaters on Broadway Street, seven are available to rent for events. The Los Angeles Theater, where Albert Einstein once spoke at opening night, continues to host movie premieres. The Palace Theater, used in Michael Jackson's music video for "Thriller," can be rented out for shows.
"If there is a way to make money, owners will do it," Lynxwiler says.
But Broadway is coming back. Spearheading this transition is the "Bringing Back Broadway" campaign, which works to revitalize the historic theater district. The campaign's goals include providing assistance to local businesses, reactivate Broadway's vacant theaters, develop more than one million square feet of commercial space and increase parking and transit options, which include once again rolling out downtown's beloved streetcar.
READ MORE: "Why The Downtown L.A. Streetcar Will Be A Loop"
"What people have to acknowledge is that it's an urban environment with many things coming together," says Lynxwiler.
Bringing Back Broadway is merely adding new culture to the already preexisting culture of Broadway Street. Even better is Bringing Back Broadway's plan to install a streetcar. This will unite downtown LA by improving connections between Broadway, the Convention Center & L.A. Live, the Fashion District, Pershing Square, and South Park.
This story is part of a Neon Tommy special on the revitalization of downtown Los Angeles. Click #reviveDTLA for more.
Contact Staff Reporter Christina Pecoulas here.