California
Colby Fire Suspects Face Federal Charges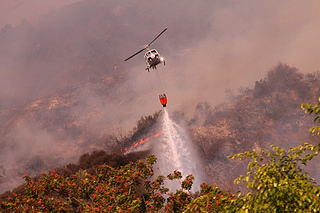 Just in case you were entertaining fantasies of going out into the woods and setting things on fire for kicks, you should be advised that burning down over a thousand acres of forest—plus a handful of homes—is no laughing matter.
The three young men identified as starting the Colby Fire, which has raged since Thursday morning in the Glendora foothills, could be charged as early as Tuesday with a federal crime: unlawfully causing timber to burn.
SEE ALSO: LA Wildfire Destroys 2 Homes, Burns 1,700 Acres
Clifford Eugene Henry Jr., 22; Jonathan Carl Jarrell, 23; and Steven Robert Aguirre, 21, claim to have been sitting around a fire when a breeze kicked up, sparking the blaze.
In the dry, windy conditions that have caused Governor Jerry Brown to declare a drought emergency in California, the fire quickly spread to an area of 1,863 acres, forcing thousands of residents to evacuate and leading to the closure of several schools. The blaze has since been contained, but continues to burn.
SEE ALSO: California Declares Drought Emergency After Wildfire
Because the fire began on federal land, the suspects are expected to be charged with a federal crime. The men were described by Glendora Police Chief Tim Staab as "apologetic."
Read the full story at ABC News.
Reach Executive Producer Francesca Bessey here; follow her here.