California
California Declares Drought Emergency After Wildfire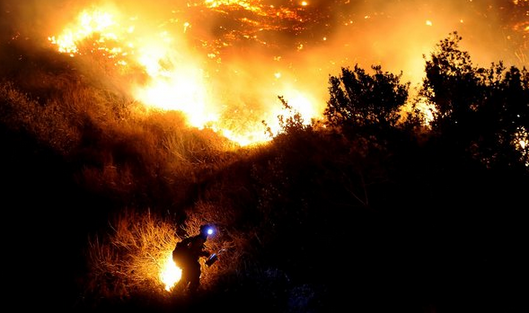 At a press conference in San Francisco, California Governor Jerry Brown declared a drought emergency for the state, which is experiencing the least amount of rainfall in 153 years. According to
USA Today
, 99 percent of California is dry and two-thirds are in an extreme state of drought.
Brown advised people to "cut back on at least 20 percent of their water use," according to the Los Angeles Times. This news comes after three men were arrested on suspicion of starting a wildfire while they were camping: Steven Robert Aguirre, 21; Jonathan Carl Jerrell, 23; and Clifford Henry Eugene Jr., 22. The blaze, nicknamed the "Colby Fire," has now burnt over 1,700 acres in the foothills near the Angeles National Forest. The wildfire was intensified and spread by high winds.
Reuters has reported that California's mountain ranges where the melting snow provides water for many cities, have only 20 percent of the snow that they would normally have at this time of the year.
SEE ALSO: LA Wildfire Destroys 2 Homes, Burns 1,700 Acres
Tom Birmingham, general manager of Westlands Water District, told ABC News that, "After several consecutive dry years, compounded by regulations that have restricted water deliveries through the federal Central Valley Project and the California State Water Project, the people who live and work in agricultural areas of the valley are facing a disaster."
The water shortage's effect on the agriculture industry could be disastrous for the state of California, as the nearly $45 billion industry that provides the state with revenue. What makes the situation even worse is the recent switch to crops like olives and almonds, which require more water.
"It's important to wake all Californians to the serious matter of the drought and lack of rain," said Governor Brown.
"We are in an unprecedented, very serious situation that people should pause and reflect on how dependent we are on the rain, nature and one other. This is an effort to call for arms. That's the point of the declaration."
Reach Executive Producer Arash Zandi here. Follow him on Twitter here.