International
Typhoon Haiyan: Countries Providing Aid For The Philippines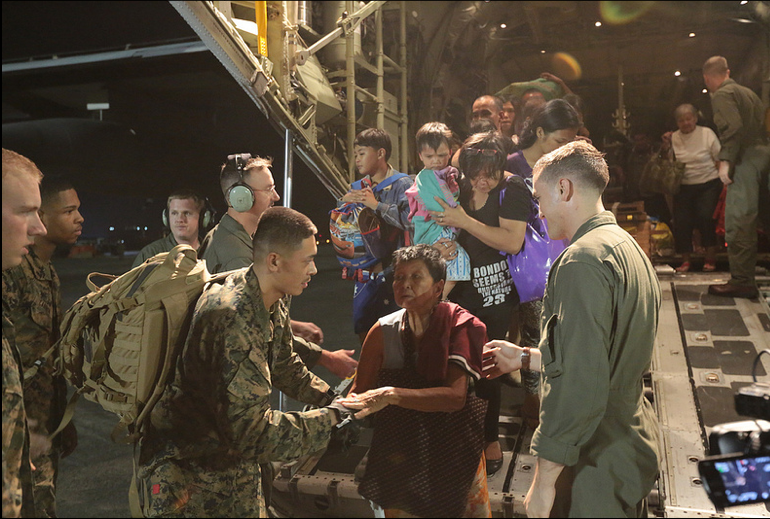 In the wake of Typhoon Haiyan, which devastated the Philippines last week, the countries of the world are coming together to provide aid.

The death toll is estimated at more than 2,000 people, and at least 660,000 people have lost their homes. Early damage estimates are ranging anywhere from 8 billion to 19 billion U.S. dollars.

The U.S. has sent monetary aid and military aid to the area, including a nuclear-powered aircraft carrier with 5,000 sailors and at least 80 aircrafts. Four more U.S. navy ships are also en route to the Philippines. There are about 180 U.S. Marines already on the ground in the Philippines.

READ MORE: U.S. aid efforts in the Philippines

To quell some of the need for fresh water, Britain has sent a navy ship equipped with machinery to convert seawater into drinking water and military aircraft for transport. Britain has also pledged 10 million British pounds of monetary aid, and another warship is on its way from Singapore.

Philippine Special Forces were sent to Tacloban, the coastal city that was hit hardest by the typhoon, along with relief supplies and soldiers to carry the sick, the elderly and infants back to Manila.

Australia has pledged 10 million Australian dollars, sending medics to assist disaster relief workers. New Zealand has pledged about 1 million U.S dollars.

Tokyo has already dispatched medics to the area and may be preparing self-defense forces to aid in the relief effort. It has also agreed to 10 million U.S. dollars for emergency shelters and relief.

Many of the surrounding countries have also pledged money and manpower to the relief effort. Taiwan has pledged 200,000 U.S. dollars. China has agreed to 100,000 U.S. dollars. Indonesia will provide 2 million U.S. dollars and emergency supplies. The Vietnamese government, which was also forced to carry out evacuations in the wake of Haiyan, has pledged 100,000 U.S. dollars.

Read more of Neon Tommy's coverage of Typhoon Haiyan here.

Reach Staff Reporter Kaitlyn Mullin here and follow her on Twitter here.