Nation and World
Philippines Super Typhoon The Strongest Ever?
Super Typhoon Haiyan blasted across the central Philippines Friday, leaving incredible devastation in its wake.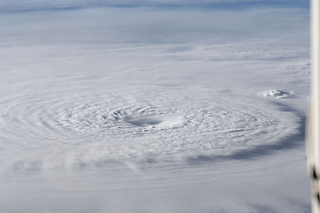 Ranking an 8.1 on a storm magnitude scale that normally goes only up to eight, Haiyan may very well be the largest storm to hit land in recorded human history.
SEE ALSO: Huge Typhoon Hits Philippines
CNN reports:
With sustained winds of 315 kph (195 mph) and gusts as strong as 380 kph (235 mph), Haiyan may be the strongest tropical cyclone to hit land anywhere in recorded history. It will take further analysis after the storm passes to establish whether it is a record.
According to CNN, the National Disaster Risk Reduction and Management Council has reported three people dead and seven injured, with some 125,000 taking refuge in evacuation centers across the affected area.
Death tolls are expected to rise as aid workers reach affected areas, where flood waters reached a height of 10 feet.
The storm is now swiftly moving toward the coast of Vietnam with projected wind speeds of over 130 miles per hour.
Track the storm at CNN.
Reach Executive Producer Francesca Bessey here; follow her here.