Politics
President Obama In L.A. To Meet With Industry Executives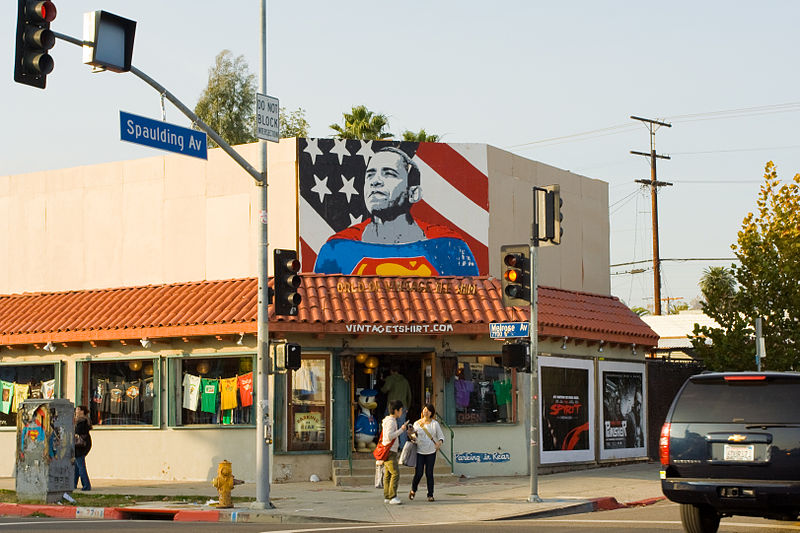 President Obama touched down in Los Angeles this afternoon to fundraise for the next election, and also speak on the economy at DreamWorks Animation in Glendale on Tuesday after the fundraiser.
This is the President's 16th trip to Los Angeles and he is hitting all the stops. Obama will attend high-profile fundraisers in Beverly Hills. One at Magic Johnson's house and the other at Haim Saban's, who is chair of the Saban Capital Group. The White House says Monday night's events are "joint DCCC/DSCC [Democratic Congressional Campaign Committee/Democratic Senatorial Campaign Committee] events." City News Service also reported that Tuesday's fundraiser is in Hancock Park at the home of Friends co-creator Marta Kauffman. The White House says this event is for the Democratic National Committee.
Many politicians are wasting no time to kick mid-term fundraising into high gear.
"As Jesse Unruh said 'Money is the mother's a milk of politics,' and if the president wants to avoid…historical losses in [his] second term midterm…for his party he needs an all out blitz and to do that he will need lots money," explained Dr. Brian David Goldberg, Co-Chair of the Political Science Department at the American Jewish University. "Republicans smell blood given the economy and poor roll out of Affordable Care act and want to challenge for control of Senate and expand margin in the house.
On Tuesday afternoon, the president will speak at DreamWorks to draw attention to the importance of the movie industry, as it has been slowly moving out of Hollywood due to high taxes.
Goldberg says Obama needs Hollywood money to help jump-start this fundraising effort. Hollywood's big players have been staunch supporters of the President and have attended multiple star-studded fundraisers and a few private meet-and-greets over the years.
In 2011, Obama hosted a private, undisclosed meeting with a handful of the industry's high-level executives and talent representatives, including Harvey Weinstein, CAA managing partner and music head Rob Light, ICM president Chris Silbermann, Modern Family creator Steve Levitan, Atlantic Records chairman Craig Kallman, producer/songwriter Bruce Roberts, talent manger and producer Jason Weinberg, UTA music agent Rob Prinz and others.
SEE ALSO: President Obama Arrives In Los Angeles (Video)
"His poll numbers are the worst they have been during his Presidency the economy in California has begun to take a step forward and he wants to capitalize on that," said Goldberg. "But more importantly, California's roll out of affordable care act had been the most successful in the nation"
He also does not believe the speech "will have a major impact" on how the American people view the recovery. Dr. Goldberg did say, however, "his numbers are so low any up tick will be seen as a positive."
Obama is expected to discuss how movies and the entertainment are big parts of the economy, especially in Southern California, and how they are helping the economic recovery. The president may also use DreamWorks and/or Hollywood as an example for creating jobs.
Based on a pool report from the president's flight to Seattle - the first stop of his West Coast trip - Obama could use the trip as an umbrella campaign speech for all of the Democratic candidates running in 2014.
SEE ALSO: President Obama Departs Los Angeles (Video)
City News Services reported via Beverly Hills Patch that there would be a rally against the Trans-Pacific Partnership. Beverly Hills Patch says the rally "is reportedly planned by individuals connected with No War with Syria and Occupy Venice Beach." Editor Matthew Sanderson reported that the organizers planned to gather at Will Rogers Memorial Park in Beverly Hills "between 3 and 3:30 p.m."
Before coming to L.A., the White Houses says the president will be in San Francisco to "deliver remarks at the Betty Ann Ong Chinese Recreation Center on the importance of taking action to pass commonsense immigration reform."
The White House also says he will take part in two Democratic National Committee events while he is in Northern California.
Reach Senior Reporter Max Schwartz here; follow him on Twitter here.